Lembeh Resort Set to Host "Turn the Strait Pink 2018"
We are proud to announce that we will be joining forces with Dive into the Pink and hosting the event "Turn the Strait Pink" from 10 – 17 March 2018 to help raise money for cancer research and cancer patient support. The week-long event will be hosted by the pioneering marine naturalist Larry Tackett along with photography and photojournalism Pros Andy Sallmon and Allison Vitsky Sallmon and of course our own in house Photo Pro and Marine Biologist . Turn the Strait Pink with us and as well as enjoying a great week of incredible diving and marine life presentations you'll be raising money for a worthwhile cause which touches so many lives.
Turn the Strait Pink promises to be an exciting event with a few surprises planned for throughout the week and some amazing prizes to be won. Participants (of course) are encouraged to wear pink and we'll be keeping a close eye out for other pink residents of the strait too including pygmy seahorses, a variety of nudibranch, frogfish and because this is Lembeh, who knows what else?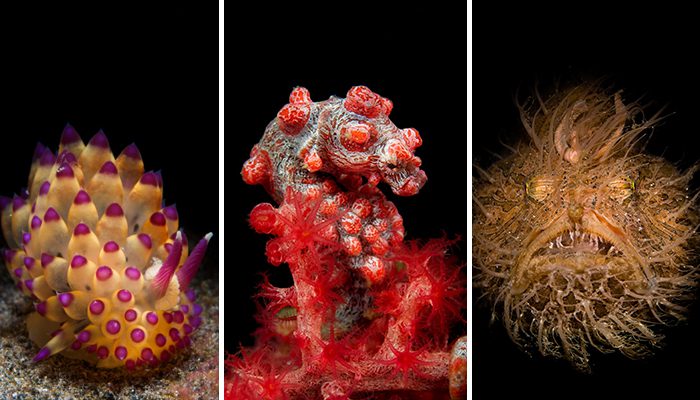 Lembeh Resort will be donating a proportion of all revenue raised to Dive into the Pink and proceeds will be split between the Young Survival Coalition (YSC) and the Guise Laboratory at Indiana University.  The YSC is an international organization dedicated to the critical issues of young women with breast cancer and the Guise Laboratory is part of the Department of Endocrinology at Indiana University.
---
Larry Tackett has spent 32 years exploring and photographing the oceans (along with his late wife, Denise, who discovered the pygmy seahorse Hippocampus denise in Lembeh). As a naturalist, Tackett's photos of coral reef life have been widely published in books and magazines worldwide. He and Denise authored two books together, one entitled "Reef Life, Natural History and Behaviors of Marine Fishes and Invertebrates" and the other entitled "Underwater Photography, A Guide to Creative Techniques and Essential Equipment."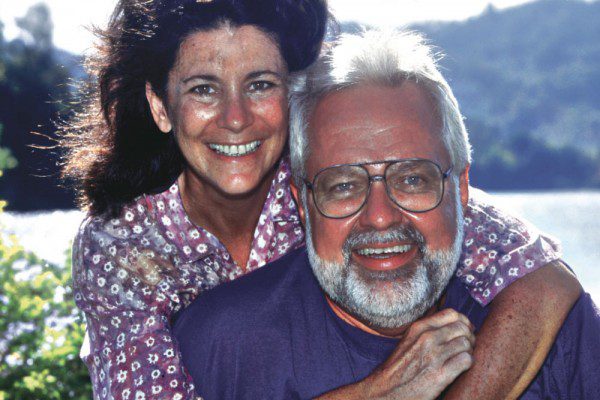 Larry and Denise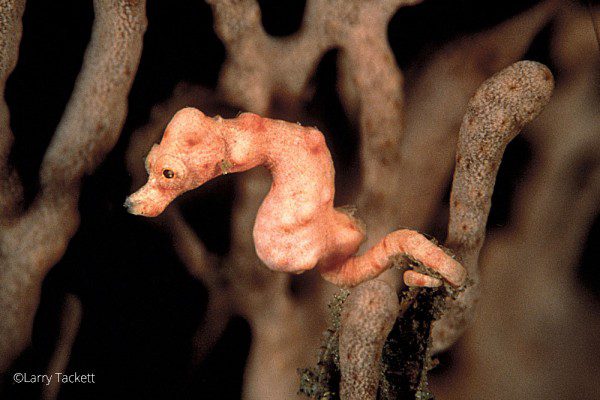 Hippocampus denise
---
Andy Sallmon and Allison Vitsky Sallmon (founder of Dive into the pink and breast cancer survivor) are a photojournalism/photography team who have been working together since 2010. Individually, their work has been recognized in international underwater and nature photography competitions, featured on the walls of aquariums and museums, and published in books and magazines on diving, nature, and photography. Their images and articles are among the most published in North American diving media today. The two combined have over 54 years of recreational and technical diving experience.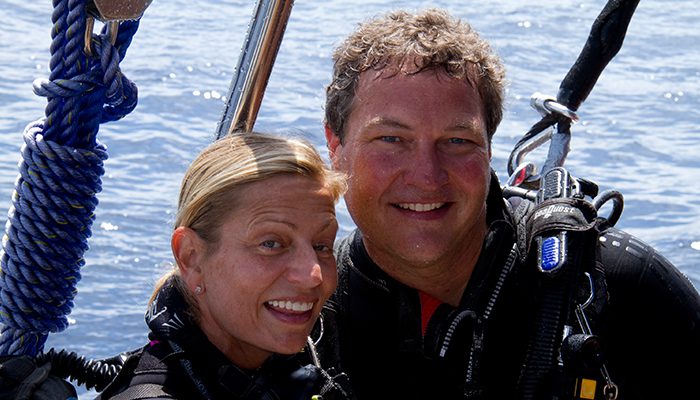 Andy and Allison
---
Turn The Strait Pink packages are as follows:
7 nights & 17 standard air dives: US$ 2,217 per person based on DOUBLE occupancy in a Deluxe Ocean View Cottage
OR
7 nights & 17 standard air dives: US$ 2,844 per person based on SINGLE occupancy in a Deluxe Ocean View Cottage.
*Nitrox surcharge for 17 dives: US$136 per person
Package prices include:
– 7 nights accommodation in a Deluxe Ocean View Cottage
– 17 guided boat dives with standard air or Nitrox (*surcharge applies)
– Unlimited complimentary unguided House Reef dives with standard air
– Arrival airport escort service (upon exiting terminal)
– Round trip transfers from Manado airport to and from resort
– All meals & snacks; free-flow drinking water, coffee & tea; taxes and free Wi-Fi
If you'd like to join this event, experience the luxury of Lembeh Resort, show your support for cancer research and get to know these world renowned dive and photography professionals, book your place on reservations@lembehresort.com (places are limited)
Snorkelers are also welcome to join the event and extensions and add-on packages (Manado, and/or Bangka and/Siladen are available.
Do you want to make your stay at Lembeh Resort even more special? Why not upgrade to our new Cliffside Suit with your own private pool and 180 degree views of the jungle covered shorelines of the Strait?
We look forward to welcoming you to Lembeh Resort and to Turning the Strait Pink!