Photo Center
Photo Center
Cameras@Lembeh Resort – the first and only dedicated Photo & Video Center in Lembeh Strait with full time on site photo pro – located at Lembeh Resort and operated in conjunction with Critters@Lembeh Resort.
Underwater photography is in our DNA at Lembeh Resort and Critters@Lembeh Resort. All of our guides and dive staff understand not only what you are looking for, but also what it takes to successfully photograph it. Whether you are new to UW imaging or a seasoned pro, Cameras@Lembeh can provide the support to maximize your underwater photography experience at Lembeh Strait. This is the premiere muck diving destination in Indonesia for divers who love not only critter diving but also underwater photography, macro photography and wide angle photography. Visit our Video Gallery to view the videos produced by our Photo Pro.
Cameras@Lembeh Resort was started in 2010 by renowned Photo Pro Steve Fish and is currently operated by Fred Juneau. An expert in all types of underwater photography, Fred has years of experience and can provide instruction and equipment repairs in all areas. He is originally from Canada but has also worked and lived in South East Asia since 2010.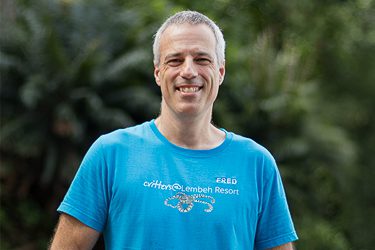 Our Photo Pro offers underwater photo and video courses ranging from entry-level point-and-shoot instruction to advanced DSLR and underwater video production courses. All courses are customized to the students' abilities and usually taught one-on-one for the most individual attention. In addition to formal courses, Fred is available for critiques and photo coaching to help you solve problems with your photo equipment or improve your technique to capture unforgettable images from your macro diving adventures in Lembeh Strait.
A wide range of underwater photography and video equipment is available for rental at the photo center. Depending on your needs, you can choose between several point-and-shoot, DSLR or video systems. Cameras@Lembeh also has a good selection of "bits and pieces" such as flashes, sync cords, optics and video lights available for rent.
If you have a problem with a balky piece of gear, repairs are available onsite. Small parts can even be fabricated to replace broken, lost or forgotten pieces. Our goal is to get you up and running, and keep you shooting great images throughout your stay, diving North Sulawesi.
Expand the section below to read our Photo Pro's Tips & Techniques.
TUESDAYS TIPS & TECHNIQUES