Pool & Spa
Pool & Spa
Pool
Cool off in our freshwater swimming pool or relax on the comfortable sunbeds in the shade of an umbrella, the pool and sitting area is just meters from the seaside and offers stunning views of our surrounding volcanoes and spectacular sunsets across the Lembeh Strait. Towels are provided for your use.
Pool Bar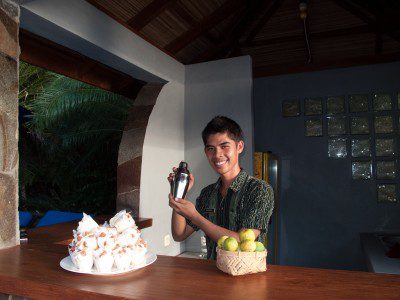 Newly built, our pool bar staff offers freshly made snacks between dives, ice-cold beverages and coffee & tea. If you are so inclined order an espresso, café latte or a homemade ice cream after lunch. Beautiful sunsets and ice-cold beer Bintang or tropical frozen cocktails are a superb way to end your dive day.
Spa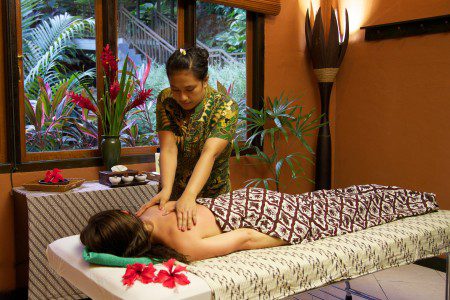 After an amazing day of diving, unwind by treating yourself to a relaxing massage at our spa. The spa is open from 2:15 p.m. to 10:15 p.m. Select from a range of treatments from a 30-minute reflexology session to 2.5 hours of pampering. Details are listed below.
Manicures, Pedicures & Foot Treatments
Lembeh Footsy Signature $45
1.5 Hours
Our complete foot care to soothe your sore feet. Ritual starts with foot wash followed by traditional reflexology, and ends with foot scrub and moisturizer.
Lembeh Happy Feet Reflexology $35
1 Hour
Indulge your feet with our pure reflexology treatment. An hour of full concentration for your tired feet.
Manicure & Pedicure $45
1 Hour
Pamper yourself with two therapists doing your treatment simultaneously.
Manicure $22
1 Hour
Delightful manicure with a hand scrub, shoulder and arm massage.
Pedicure $25
1 Hour
Relaxing pedicure with foot scrub, soothing foot massage and finished off with our homemade moisturizer.
Body Treatments
Lembeh Sensational Body Aromatherapy Massage $35
1 Hour
Enjoy a full body massage that will help release tension from your muscles and your mind.
Lembeh Rejuvenation Massage $45
1.5 Hours
Enjoy our sensational body massage followed by a face and head massage.
Lembeh Body Scrub $45
1.5 Hours
Say goodbye to dull dry skin with our Lembeh Sensational Body Aromatherapy massage together with your choice of body scrub—Javanese 'Lulur', Green Tea or Coffee.
Lembeh Warm Stones $50
2 Hours
Lay back and enjoy a deep relaxing massage that will ease away all muscle tension coupling aromatherapy massage with Javanese warm stones.
Lembeh Signature Treatment $60
2.5 Hours
Enjoy a relaxing Signature Treatment for those of you who really want to pamper yourself. Begin with foot reflexology followed by a relaxing body massage, body scrub and facial.
Face Treatments
Lembeh Refreshing Facial $35
1 Hour
Enjoy a refreshing facial that uses natural ingredients to help your skin look young and glowing.