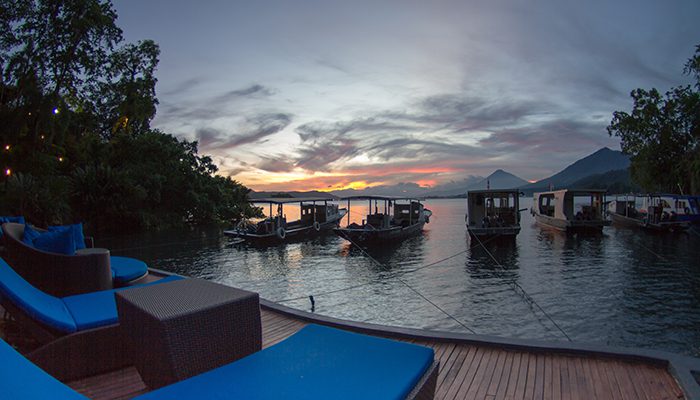 Exclusive Diving in the Lembeh Strait
The Lembeh Strait is not only home to some of the best dive sites in Indonesia but is also renowned for being the "world's best muck diving destination" and we believe that phenomenal dive sites should be explored with phenomenal Dive Guides.
Our commitment to delivering you the best possible Lembeh diving experience means that we limit our groups to a maximum of just 4 divers per Dive Guide so that you'll never find yourself diving in a crowd and you'll receive the same level of personal service underwater as you do in our resort.
---
Our Dive Guides undergo intensive training programs with our Marine Biologist and Photo Pro and with a combined total of over 70,000 Lembeh Strait dives and extended training in Bunaken and Bangka you can rest assured that you are diving with professionals. Our Dive Guides listen to what you would like to see and which sites you would like to explore and strive to make it happen. They'll also set up your equipment with care and respect so it is ready for you every time you board one of our boats and they'll even write down the names of each critter you saw on their slate so that you have a complete list for your logbook at the end of each day.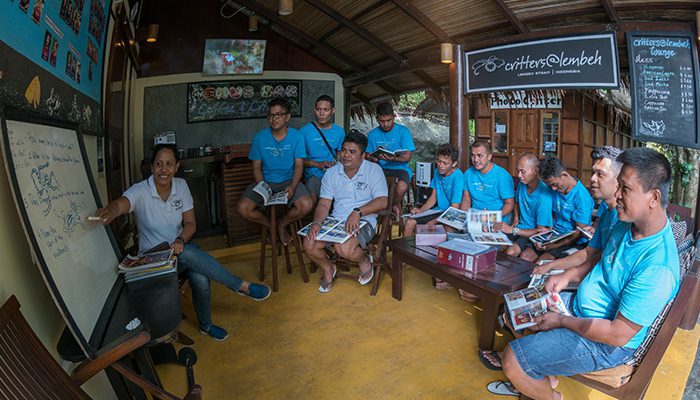 ---
If you would like to opt for an even more personalised service we also offer Private Guide and Private Boat options because we understand that different guests prefer different experiences.
Our Private Guide service is ideal for underwater photographers, those who enjoy more individual diving, less confident divers and those who'd like to develop their diving skills. Private guides are by your side every dive of the way and if you would like any underwater assistance from positioning strobes, snoots or backlights through to buoyancy tips and techniques they are there to help whenever you need them.
Our Private Boat service includes a private guide and gives you the flexibility to dive wherever you want, whenever you want and for as long as you want. You'll be able to make your own personal diving schedule for each day and if at any time you want to change your schedule you have the ability to do so. Private boats are stocked with snacks and refreshments in accordance with the trips you have in mind and our friendly and professional boat crew are at your service to ensure that you enjoy a truly remarkable Lembeh diving experience.
---
If you would like to know more about our diving packages, Private Guide and Private Boat services or to book your stay, contact us at: [email protected]
We are looking forward to sharing our incredible dive sites and marine life with you soon.