New Photo Pro at Lembeh Resort: Frederic Juneau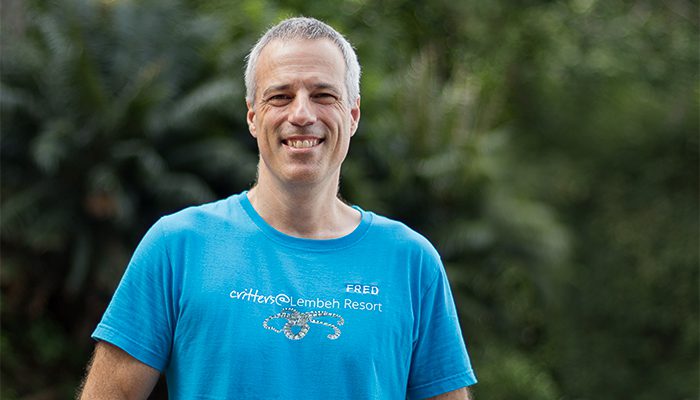 After five years of service, tens of thousands of awesome images and countless hours of incredible underwater video footage we finally say "Bon Voyage" to Photo Pro Sascha Janson. We wish our good friends Sascha and Lauren the very best of luck in their next adventure in the Maldives!
History shows that the prestigious role of Photo Pro at Lembeh Resort only comes available twice a decade so it was no wonder we were inundated with literally 100's of applications from extremely worthy and impressive professionals. One Photo Pro, Frederic Juneau, stood out from the crowd with not only his outstanding photography and videography skills but also his list of accolades, awards, editing skills, technical and product knowledge, extensive experience in presenting and teaching and of course, his passion for critters!
Canadian born "Fred", who has now officially taken over the role as Lembeh's new Photo Pro, has spent time at Lembeh Resort and worked alongside Sascha Janson previously. Fred has been based in South East Asia since 2010 and also has extensive experience of diving in the Strait. Prior to entering the world of underwater imaging Fred's background was a mix of computer science and military engineering before following his photography and diving dreams in 2010 which led to a move to Thailand. Fred is no stranger to travel and during his military service he served in numerous countries including Afghanistan, Turkey, Georgia and India.
Fred's impressive list of accolades and achievements (which is why some of you may be familiar with his name already) include: Underwater filming for VOX television channel (German), NatGeo MyShot Daily Dozen, Spotlight Photographer by Underwater Macro Photographers, Photo Exhibition contribution at Diving Resort Travel (DRT) Show Manila in 2015, guest speaker at both ADEX (Asia Dive Expo) Singapore and TDEX  Thailand in 2016 and his articles have been published by Canon Asia Snapshot.
When asked about joining the team as the new Photo Pro here in Lembeh Fred says, "I'm extremely excited to be part of such a fantastic team. Macro photography and muck diving are a personal passion which I'm looking forward to being able to share with others. I'm thrilled about having the opportunity to work with like-minded guests from around the world in such a unique location. I've also discovered the incredible chocolate lava cake on Saturday nights!"
"While it's a change of location for me there are also a lot of familiarities. The Photo Center here at Lembeh Resort is an incredible facility and I have personally used or retailed many of the same cameras, housings, strobes and accessories including the Canon advanced compacts and DSLRs, Sony video cameras, Olympus cameras, INON strobes, i-Torch lights, INON / Subsee / Nauticam wet lenses etc. While based in Phuket, Thailand I was also retailing underwater products from Nauticam, INON, Olympus, i-Torch (and others) so it's all equipment I have extensive knowledge of already. I also use the same editing software as Sascha, Adobe Lightroom and Photoshop for stills and Final Cut Pro X for video footage. As the new Photo Pro I'm looking forward to being able to develop further the range of cameras and accessories we have here in Lembeh as technology continues to develop at such a fast pace".
Now the big question – what is Fred shooting with? Fred is currently shooting topside images with his Canon 5DmkIII with numerous commercial photography lenses, flashes and accessories. Underwater Fred uses his Canon 7DmkII in a Nauticam housing, INON Z-240 strobes, i-Torch, Light & Motion SOLA and Scubalamp video lights, SmallHD external monitor, and a range of lenses and accessories (it's a long list!).
Will Fred be teaching photography and videography courses here in Lembeh? "Absolutely. Sharing my knowledge and passion for photography is one of the highlights of being here. I love seeing novice photographers develop and discover a new and exciting passion themselves. Likewise, teaching advanced courses and more specific programs gives me a lot of satisfaction when I see an experienced photographer master a concept which had previously eluded them. It was fun being here in December during the annual Capturing Critters in Lembeh Workshop and I'm looking forward to presenting my own tips and techniques as the new Photo Pro in future workshops at Lembeh".
Will Fred be available for all guests in resort who want advice, guidance and able to give help in the event of camera malfunctions? Yes. Fred is based full time in the Photo Center and is looking forward to meeting you all. Fred has shot video for television and over recent years has leaned more towards still photography but in Lembeh he will be doing both and able to help and tutor underwater photographers and videographers.
Are you planning your next underwater imaging trip to Lembeh? Take time to call into the Photo Center and meet our new Photo Pro Fred – he's already been shooting incredible footage and images in the Strait and has a wealth of information, tips and techniques to share with you.
Are you also interested in shooting wide-angle during your stay? Join us on one of our Bangka or East Lembeh Island day trips for kaleidoscopic reefs, pinnacles, drifts and the chance to see passing sharks, rays and even dugong.
Have you heard about our new luxury cottages? Find out more here.
We look forward to welcoming you to our beautiful Indonesian resort soon – Sampai Jumpa!