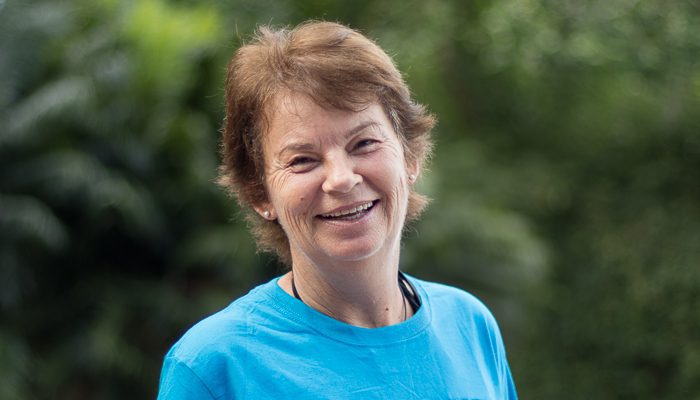 New Dive Center Manager: Welcome Brigitte Gassner
We are extremely proud to announce that we have welcomed Brigitte Gassner to our team as our new Dive Center Manager. The critters@ Lembeh Resort Dive Center Manager's role is a prestigious position which has only come available twice in the last decade so to say it's a rare opportunity is not an exaggeration.
Brigitte, known as "Gitti" was one of literally 100's of applicants for the role but her CV and impressive background made her the perfect match for here in Lembeh and we are all very excited!
Gitti is originally from the Munich area in the south of Germany and she began diving in 1998 in the Philippines. For many years after her Open Water, Gitti was a globetrotting adventurer, combining diving with exploring. Professionally, Gitte started out as a photographer and she spent 11 years shooting in studios as well as at weddings and taking portraits. Gitti still enjoys taking pictures today both underwater and top side.
Later, Gitti moved into hospitality and she was the co-owner of the Lake Constance Yacht Club restaurant in Germany. Gitti even donned a drysuit to explore Lake Constance and took her Advanced Open Water course there!
In 2002 Gitti took her Divemaster program and began working on a Red Sea liveaboard on which she later became the Cruise Director in after taking her Instructor exams. After 4 years in the Red Sea she headed to the Maldives for a further 4 years before making the leap to Indonesia in 2012 when she took became the Dive Center Manager for Wakatobi Resort in South Sulawesi.
Gitti says, "I was bitten by the bug and quickly fell in love with Indonesia. The diving here is incredible and the people are so friendly. During my time at Wakatobi I took holidays to Lembeh and on my initial 3 night trip, I extended to stay longer because I enjoyed the diving so much! Lembeh to me is like a playground. I love finding new critters and watching unusual behaviour. Lembeh never gets boring as there is so much variation here – so many rare and unusual critters combined with stunning reef diving at the north end of the Strait as well as the pinnacle sites and reefs on the east of the Island and at Bangka. The muck is phenomenal and there are so many other opportunities too. That's what makes Lembeh so unique. I'm excited about trying black water diving here too to see what more surprises the Strait has in store for us!"
Brigitte is a certified PADI, SSI and SDI Instructor with over 5,000 dives in her logbook. Despite having dived so extensively, Gitti still has a passion for marine life and marine biology and she loves working with our team of Dive Guides, Marine Biologists and guests to identify more species in the Strait. Brigitte also speaks fluent English and German as well as basic Bahasa Indonesia.
Gitti commented on Lemebeh, "The critters here are amazing, I love to see nudibranch and frogfish as well as anything new. It's not just the underwater critters that are impressive here, I love the resort itself and being surrounded by the nature of Lembeh Island – it really feels as though the resort is in the jungle. In the mornings the bird sounds are beautiful and I've spotted numerous species around the resort and even found a place where the tarsier monkeys can be seen (and heard). The environment on land is just as unique and special as the underwater scene in the Strait… I've had many 'firsts' here in Lembeh already, including watching a gymnodoris nubibranch eating another nudibranch and finding a tarsier monkey in a tree by myself. I'm also looking forward to exploring the nearby Tangkoko Nature Reserve to see the black macaques in the wild".
So what does Gitti have planned for the Dive Center here in resort?
"Critters is already a fantastic operation and the team of Dive Guides are all extremely talented. I'm looking forward to helping them all to continue developing and to expanding some of the diving opportunities here in and around the Lembeh Strait. There is a wonderful family feeling and team spirit which I feel very fortunate to be a part of.
People travel from all over the world to dive in Indonesia and see the rare critters here in Lembeh and I'm looking forward to meeting them and sharing my knowledge and passion for marine life. Lembeh Resort offers guests a very special stay in North Sulawesi and I'm excited to ensure that people have the best diving experience possible".
When you are here in resort you'll meet Gitti when you come go the Dive Center and she'll be ready to greet you with a warm welcome and assist with any diving queries.
Are you planning your next trip to North Sulawesi? Join Gitti and our team here in Lembeh and dive the world's best muck, explore the Lembeh Strait and relax in our beautiful Indonesian Resort. To make a reservation or for more information, contact us on: [email protected]
We look forward to welcoming you to Lembeh Resort soon.