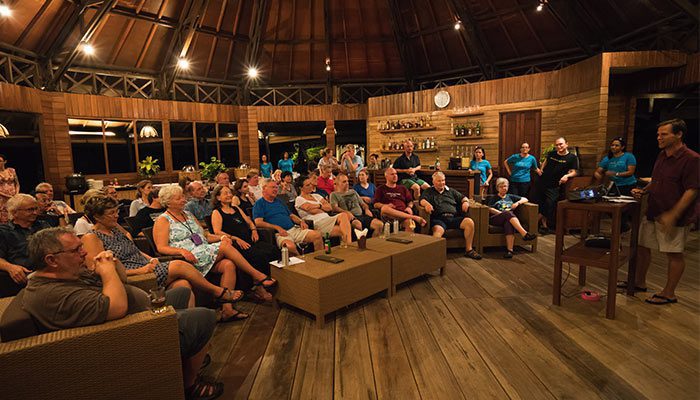 Opening Capturing Critters in Lembeh UW Workshop 5 – 12 December 2015
We would like to welcome this year's participants to our 4th Annual Capturing Critters in Lembeh Underwater Workshop. During this unique & fun event our guests will participate in fascinating seminars to enhance both their Underwater Photography Skills and their understanding of Underwater Videography. Everyone is geared up and ready for critter diving.
Participants will also have time to sit with the Pros to review their work with 1 to 1 instruction. Various topics will be covered such as Macro Essentials for Photo/Video, Snoot Photography, Fluoro diving Photography, Beginning/Advanced Lightroom development, plus many more subjects.
Guest Speakers include Steve Fish (www.fishtalesfilms.com), Kerri Bingham and Hergen Spalink (www.gotmuck.com), our very own in-house photo pro Sascha, and our in house Marine Biologist Dimpy Jacobs.  If you would like to keep up to date with this exciting event Andrew Raak (www.raakbottomimaging.com) will be covering this event day by day on our video blogs, which will be shared via our social media channels!
Check out our Daily Reports…