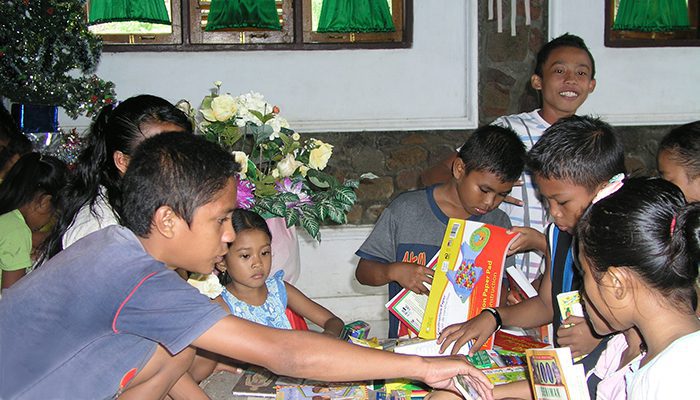 New Learning Centers on Lembeh!
Imagine the difference it can make to a child to have free, public access to a library and computers in their village for the very first time.
With the help of donations from our generous guests, the two closest villages neighboring Lembeh Resort now each have a computer and a small library that every child can use.
The two villages, Pintu Kota Kecil and Pintu Kota Besar, are inhabited by the families of small-scale fishermen and computers and books are still a rare commodity there.
We believe that education is the most important tool for empowering people to make positive changes in the community, and environmental awareness is crucial in a country where most of the population has strong ties to the ocean. Dimpy Jacobs, our in-house marine biologist, did a brief but very interesting presentation about the importance of protecting our oceans. Besides explaining the consequences of overfishing and littering we also showed a beautiful underwater video made by our Photo Pro, Sascha Janson. It was fun to watch the amazed faces of dozens of children who marveled at the beauty of the aquatic world.
Besides the computers we also bought educational books for both learning centers and with future donations, we hope to improve the libraries and buy an additional computer. The children now have access to basic English books and DVDs to help them improve their English skills, since many aspire to work in tourism.
How can you help? By donating books and/or school materials or by donating funds that will enable us to expand the learning centers.
If you wish to contribute financially or offer to help with any of these projects, please e-mail us. The warm and welcoming people of North Sulawesi, as well as the glorious natural resources here, make Lembeh such a special place and you can help us protect it. Please see our website for updates on the progress of this and future projects and thank you for your support which helped us make this idea a reality.