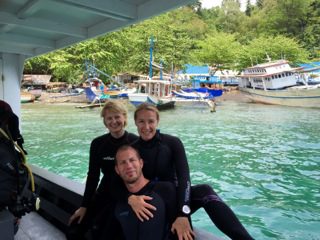 We are a triple of two repeaters (4th time) and one new guest.We had (again) a great time at Lembeh Resort and loved every minute. Also the dives were fantastic and all the staff as well in the resort and of the dive center was amazing and made us feeling welcomed and like home. A special thanks to our always smiling guide Sandro, thank you for being so patient:-) And to Ana and Miguel, we love your style running the resort.
It's also the second time for two of us that we have been able to celebrate our anniversary here. You made this day very special for us so we want to say thank you so much again! For the beautiful flowers,the cake and the very special congrats!
To say it with Arnie: We will be back!
Axel pictures we will give you on your memory stick later!!!