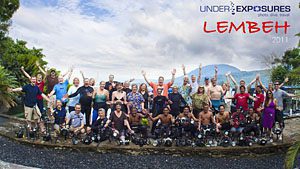 Jean Reilly: I believe the appropriate word is WOW!!!!Thank you for great diving, great critters, personal service and a wonderful time. I'll be back!
John Damas: Thanks so much to all of the staff at Lembeh Resort. This is the place where you are made to feel welcomed as a friend, not just a client, by all of the staff. They were never too busy to give you a big smile and a cheerful "Good Morning". The dive staff were all very professional and efficient in their duties. They never failed to find critters in the muck. Thanks again to everyone for all you have done to make this a fabulous dive trip!!
Kelly & Rick Mitchell: We had a great time–our first trip to Lembeh and we will be back. Staff is super attentive and the dive guides were very accommodating. It was live aboard service at a land based resort!
Becky Briggs: One word describes my experience at Lembeh Resort- AWESOME! Diving, food, staff & view are the best. I will be back!
Craig & Susan Bloomfield: Awesome Diving as always! Great critters spotted by the excellent dive guides. Great staff and fabulous service, we will be back again!
Peter S:Thanks very much for great diving, lots critters and very friendly service! I will come back!
Linda Chase: This is our second trip to Lembeh in 18 months, again a great resort and fabulous diving! The guides were excellent, we had a great vacation and will return again!