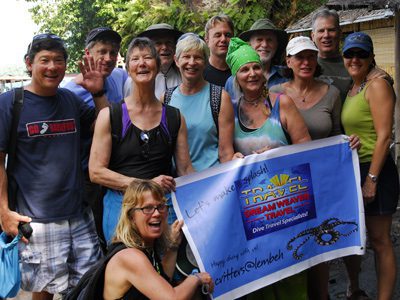 Stella Gornicki:This is THE place to go to see rare critters that are only found in a few places on the planet. Blue-ringed octopus, mimic octopus, lots of cuttlefish, nudibranchs up-the-wazoo….
Accommodations are wonderful, and the staff takes care of your every whim.
Karen:
This is the most amazing resort. The people are wonderful, the accommodations are great, and the diving is beyond amazing. The dive staff takes care of everything you need and makes sure that your dive experience is great. I would NOT hesitate to recommend this resort to anyone who likes to dive and see critters you cannot see anywhere else. Also the day trips to the village and the rainforest were awesome too……the best place ever!!!!!
Jane Steinbrecher:
My second trip – already planning my return. The critters still amaze, and the staff is the best.
Thanks to all and I look forward to seeing you soon!