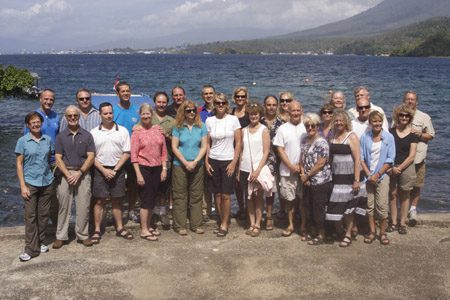 Steve & Beth Watson:Had a wonderful time. Dive staff was great, very knowledgable…Fandiver (Fandy) was awesome!
Thanks for a great time!
Sharon Hildebrand:
Thank you for and amazing resort and dive experience! Both dive and resort staff was friendly "from the heart". Abner is the greatest as dive guide!
John Amador & Corby Van Duff:
Really great service! Friendly faces every day, great dive guides, everyone remembers your name. The accommodations were great as well. Love it all!
Steve Denney& Michele Fernandez:
To infinity and beyond, was way beyond a froggie hairy was beyond!
Bill & Karen Plank:
We really enjoyed the resort. Great staff!
Great diving the dive staff are wonderful!
Karen & Michelle:
We had high expectations and you exceeded them. You deserve a lot of credit for making an otherwise wonderful diving experience a very warm and personable experience as well! Thanks again!
Glenda Pruner & Steve Cover:
This was a fabulous trip. Lembeh strait was totally amazing. The dive masters were phenomenal & made sure we found the most amazing stuff. Boat staff, restaurant staff and all were terrific. If I get the opportunity, I will be back! To me that says it all!
Jimmy & Susan Sparkman:
Awesome… wrapping up a trip at Lembeh resort and truly enjoyed the experience. Kerri and Helen run a tight ship! Kerri's dive crew makes the diving fun finding and pointing out critters… thank you Joni! Helen does a great job coordinating hotel activities. I think there are a lot of resorts that could take a lesson from the way the resort runs and how all of the staff work together. I will point friends to Lembeh Resort! Thank you guys… I had a terrific trip!