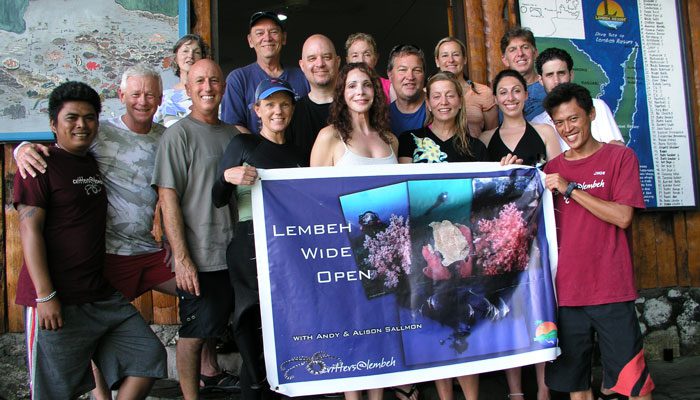 Andy & Allison Sallmon:
Andy: We just returned from "Lembeh Wide Open", the trip we hosted at Lembeh Resort & [email protected] for wide angle photographers. We had 12 uw photographers join us for 9 days of diving with daily wide angle seminars, macro dives, night dives and day trips to the backside of Lembeh Island. The group produced some of the finest wide angle images to come out of anywhere that I have seen and much of it done in the less than optimum conditions of the Lembeh Straits!
Many thanks you's to the Lembeh Resort and [email protected] management and staff for making this seemingly impossible assignment come true.
Allison: What a phenomenal trip. Running Lembeh Wide Open was a dream of ours, and Lembeh Resort and [email protected] helped us make it a reality by enthusiastically encouraging us to move away from the standard Lembeh dive trip. We will be back, and we will definitely be repeating the Lembeh Wide Open workshop!
Ronda Allen & Michael Bonneu:
Critter hunting with the amazing guides of [email protected] is always an adventure into the land of weird. The entire staff works tirelessly to ensure your having a good time. I know for me, personally, each dive was filled with something I had not seen before and repeat visits of my favorites.
The dive and boat crew take good care of your gear and cameras. They are friendly, responsive to requests for dive sites and critters to find and all the guides made sure you enjoyed your time and came back safely. Thank you! Farewell till next time,
Doug Gulleson:
Thanks, [email protected] and Lembeh Resort for an amazing time here! Thanks also to Andy Sallmon and Allison Vitsky for an amazing Wide [email protected] time! You all rock!:-)
Cheers Diving