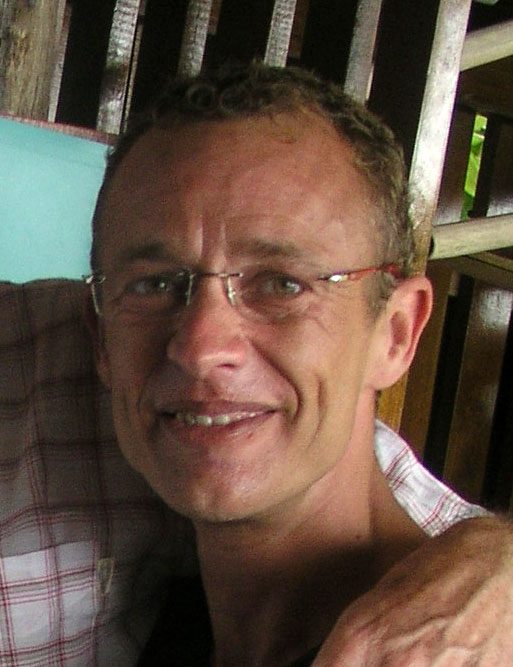 because it was already the 5th time in a couple of years I was visiting Lembeh Resort, I thought it would be nice to add a new-spot closeby.as I am a real "critter-hunter" and my photography is mostly concentrated on that, for me it was a new challenge to go to the newly-discovered Buyat Bay.
I always like to listen to people's stories and experiences on diveplaces, but for this place I had no opportunity. simply because I didn't meet people who already had been there.
so I was one of the pioneers for that place.
Buyat Bay used to be a gold-mining village/area which (in contrast of what a lot of people (might) have thought) was very well-controlled concerning waste coming from the mine. therefore the area is a flourishing area above water as well as below the surface. and you can tell once you enter the water. one of the greatest reef-ball projects started here and there used to be a lot of marine-patrol. because of this protection the area could flourish this well.
and although wide-angle sceneries do not always attract me that much (and that's just a personal thing) I was really stunned by the beauty and health of the nature in Buyat Bay. the colours of the (soft- and hard)corals are really amazing, the visibility fantastic (apart from a few crittersites, but that's what we are used to, aren't we 😉 ) and fishlife abundant. honest? it made me remind of Egypt in the old days.
and what's even better: you are almost the only one diving there. the first few days I was there alone with my diveguide. what more can you wish for as a diver?
there are even a few muck-sites. I didn't have time to see them all, but one site gave us a view in a yellow seafan with 4 pygmy bargibanti, of which one was pregnant. and not shy at all.
don't expect a luxurious place as lembeh resort to stay in. it's basic. the rooms have a fan and ac, a veranda, double-bed, basic bathroom and some places to store your clothes and gear. basically everything you need. it's only a 5 minute walk to the "harbour" where your gear is already aboard. the only thing you have to take yourself is your camera.
it gave me a fantastic opportunity to work on wide-angle shots. I've seen beautiful sceneries, cleaningstations with bowls of glassfish, leaffish in different colors, beautiful nightdives, amazing walls with healthy corals. table-corals as big as my room in lembeh resort ! big fields of staghorn coral, huge sponges and seafans. all in different colors.
I was pleasently surprised to see this so close (4 hour drive or 4 hours by boat) from lembeh strait (when you travel by boat you are able to do a dive on your way).
I could recommend it to anyone who would like to see something different close to their favourite muck-place Lembeh Strait.