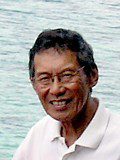 I can easily tell you that Lembeh Resort is definitely one of the most comfortable dive resorts I have stayed at.
For the diving, I really appreciated the quality of your divemasters; without them I would not have seen all the rare and strange creatures they pointed out to me during each dive. And, they are always most helpful in lending a hand on my equipment including the cameras. They were always alert in picking me up from the water, etc. And the boats are spacious, the available fruits and water sure hit the spot after my dives, etc. etc. The availability of Nitrox simply tops off all I need!
For the food, they are always served promptly and the quality is just simply excellent — especially my favorite tuna fish and steamed fresh vegetables.
For the room, I like it for being attended regularly. I like the outside shower (I call Balinese style), the big bottle of water in the room which lifted the standard one notch, and then definitely the refrigerator to keep my chocolate and film cool. The climbing of the stairs is not a problem for me, because I kept most of my equipment including my cameras in the camera room.
I also like the spacious camera room with ample tables for the gears. In short, I can't wait to come back to dive with you again.