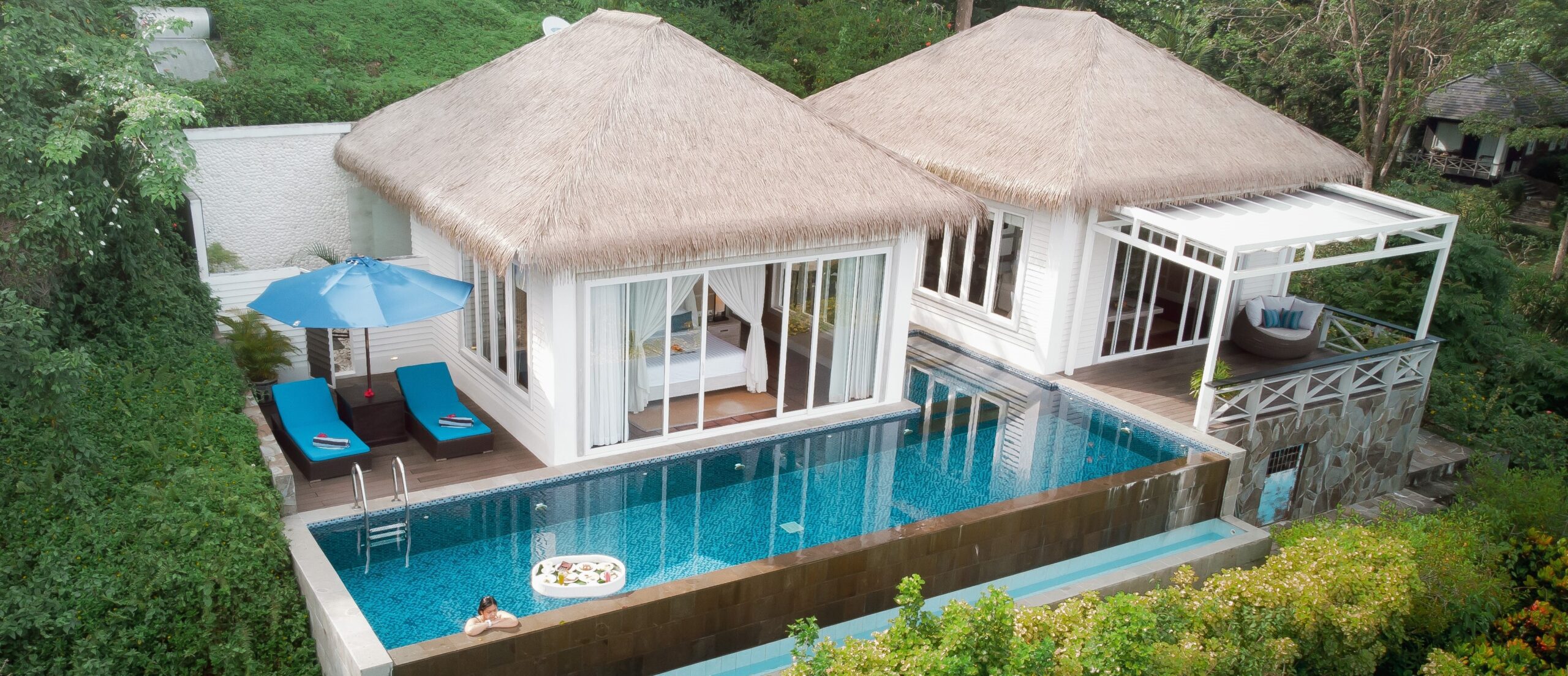 Scuba Diving Honeymoons at Lembeh Resort
If you and your partner are planning to tie the knot and get married or renew your vows, you'll be making a lot of decisions right now; which venue to hire, what color scheme, creating seating plans, selecting music, and the all important question, where to go for your honeymoon?
A honeymoon is unlike an ordinary holiday, it needs to be that little bit 'extra special' and provide you with amazing memory-making opportunities. Other common requirements include a peaceful destination, accommodation with privacy and exemplary service, incredible dining, stunning photography opportunities, and activities to take part in together. If that sounds like your list of wants and needs then a honeymoon in our cliffside villa checks all of the boxes.
Honeymoons in Lembeh Resort's Cliffside Villa
Our stunning cliffside villa sits at the peak of Lembeh Resort which affords it with 180-degree panoramic views of the Lembeh Strait. This free-standing property is not overlooked by any other accommodations and has its own private access. The villa includes a master bedroom with an ensuite bathroom, a tastefully designed living area, and an outdoor deck leading to your own private infinity pool. All rooms have been strategically positioned to make the most of the phenomenal views. 
We can arrange for private romantic dinners to be served at the villa and we include a complimentary bottle of wine and spa treatment too. Honeymooners staying in the Cliffside Suite are provided with a cell phone, and a designated butler so anything you might need is literally at the tip of your fingers.
The Cliffside Villa has been sustainably built and is energy efficient. If enjoying a luxury honeymoon while minimizing your carbon footprint, and impact on the environment is as important to you as it is to us – we have you covered! Our commitment to sustainability, marine protection, and environmental conservation is evident throughout our operations at Lembeh Resort – and it doesn't mean a compromise in standards of service or comfort.
Honeymoon Scuba Diving at Lembeh Resort
The Lembeh Strait is world renowned for having the highest density of rare and unusual marine life on the planet. If there's a scuba diving destination worthy of a honeymoon, it has to be the Lembeh Strait. To maximize your time here in Lembeh, our Dive Guides are all trained in marine biology and underwater photography and if privacy and exclusivity are important to you, we offer private guides and private boat services.
Learning to Dive on Honeymoon
If you are new to scuba diving, it's an incredible activity to learn on your honeymoon. Scuba diving brings people together as you learn how to dive and learn more about each other as buddies! Our team of experienced PADI Instructors will guide you through the PADI Open Water Course through a series of skill practice sessions in our swimming pool and phenomenal dives in the Lembeh Strait.
If you are interested in taking the PADI Open Water Course during your honeymoon, you can get started online now, by enrolling in PADI's Open Water Diver eLearning.
Not only is learning to scuba dive a great activity for honeymooners, but you'll also be earning a life-long certification which is your ticket to a lifetime of travel and adventure opportunities. The Open Water Diver Certification is your ticket to exploring our blue planet!
Dining Experiences at Lembeh Resort
Our kitchen team at Lembeh Resort has been trained by our international food and beverage consultant. Our carefully curated menu includes locally sourced, sustainable ingredients to ensure that our dishes are packed with freshness and bursting with flavor. We can thoughtfully incorporate options for a range of dietary requirements and preferences through our menus which include modern Asian fusion dishes as well as traditional Indonesian plates and classic international favorites. 
A honeymoon wouldn't be a honeymoon without cocktails and a fabulous sunset over the ocean! Our cocktail and mocktail menu includes international classics as well as some modern twists to incorporate a taste of the tropics. Lembeh Resort is the only resort in the Lembeh Strait that boasts a temperature-controlled wine cellar and a handpicked selection of red, white, and sparkling wines.
For the morning after the night before, let our barista-trained serving staff create an impressive selection of specialty coffees to put a spring back in your step before another day of world-class diving in the Lembeh Strait.
Spa Treatments in Lembeh
We understand that the period leading up to any wedding can be a busy and often hectic time for couples. From the moment you arrive at Lembeh Resort, we aim to ensure that you have a relaxing stay and there is no better way to relax than with a soothing spa treatment. Let our spa therapists work their magic on tired muscles with a rejuvenating treatment. Our couple's treatments are a wonderful way to enjoy this experience together.
Reservations
If you are planning your honeymoon and would like more information about what we can offer at Lembeh Resort, or if you would like to make a honeymoon reservation, contact us today.