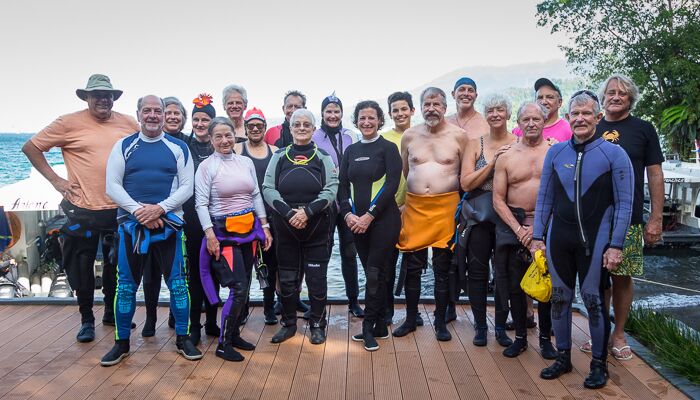 It's All About The Fish – Fish Geek Week
Over the last week at Lembeh Resort we have been enjoying "Fish Geek Week" with marine life experts Mark Erdmann and Gerry Allen. Alongside these two world class professionals we've also been privileged to have Burt Jones and Maurine Shimlock who are pioneers of diving and underwater photography in the Lembeh Strait.
With these 4 experts in resort it's been a fascinating Fish Geek Week of presentations and incredible dives in the Lembeh Strait. Here are just a few of the highlights and intriguing facts which guests have been treated to…
Did you know that Lembeh and North Sulawesi are home to a host of endemic species? Some of our favorite critters can only be found right here in North Sulawesi, including the Banggai Cardinalfish – Pterapogon kauderni (first discovered in 2013 at Critter Hunt), Togean Flasherwrasse – Parachilinus togeanensis, Threadfin Pipefish – Kyonemichthysrumengani, Denise's pygmy seahorse – Hippocampus denise and the Hairy Ghost Pipefish – Solenostomus paegnius  – to name just a few!
How many species of frogfish have you seen before? Did you know that in Lembeh we have 8 known frogfish species? Frogfishes in Lembeh include the Hairy Frogfish, Giant Frogfish, Hispid Frogfish, Painted Frogfish, Warty Frogfish, Randall's Frogfish and the Ocellated Frogfish.
Lembeh is not just all about bottom dwelling critters! Did you know that the marine bio-diversity of the Lembeh Strait includes an incredible 1149 species of fish in 95 families. Small fish are also a major highlight of diving in Lembeh which is home to 112 wrasses and 102 damselfish species!
How much do you know about gobies? Lembeh is home to 166 species of gobies and our guests this week learned a lot more about these, often overlooked, little fishes. The goby family is the largest of all fish families, with over a 2,000 species, they are among the smallest fishes in the world and they also have some of the shortest lifespans (around only 20 days). In Lembeh we have 35 species of shrimp gobies alone!
Did you know that clown fish are born as males and in any group of clown fish there is only one female? When the females dies then one of the males will become female and take her place!
There were so many other facts and marine life knowledge which was shared during this incredible week and we hope you have enjoyed these snippets. A big thank you from all of us to our amazing experts for another phenomenal Fish Geek Week.
Are you planning your next trip to Lembeh? Did you know that we also have two full time Marine Biologists on our team as well as a in-house Photo Pro? In addition to this, all of our Dive Guides are marine biology and underwater photography trained to ensure you have the best experience possible.
To make a booking or for more information, contact us on: reservations@LembehResort.com
We look forward to welcoming you to North Sulawesi soon.