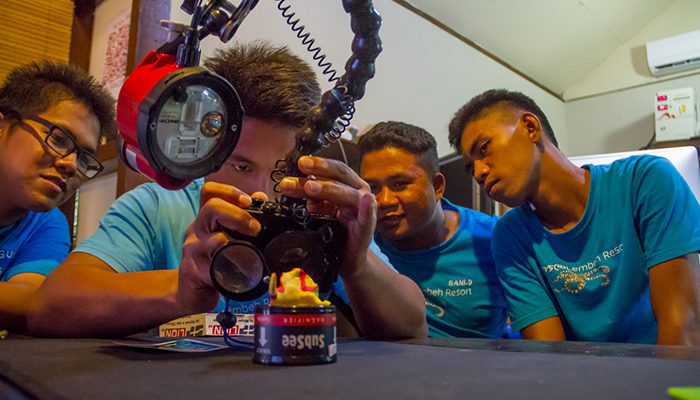 Underwater Photography Guides at Lembeh Resort
Dive sites in the Lembeh Strait are listed time and time again as being among the best dive sites in Indonesia because of the strange and unusual marine life that resides here. We don't just have one or two "special critters" we have an abundance of rare fish, cephalopods and crustaceans. Where else could you expect to find Blue ring octopus, Rhinopias, Harlequin shrimp, Coconut octopus, numerous species of Frogfish, the exquisite Banggai cardinalfish, Pygmy seahorses, Bumblebee shrimp, Mimic and Wunderpus (Octopi), Upsidedown jellyfish crabs, Spearing and Smashing mantis shrimps all in one area? And this list barely scratches the surface! With so many wonderful species to take images of, a high calibre guide will enhance your experience and help you to maximise every single photography opportunity presented to you.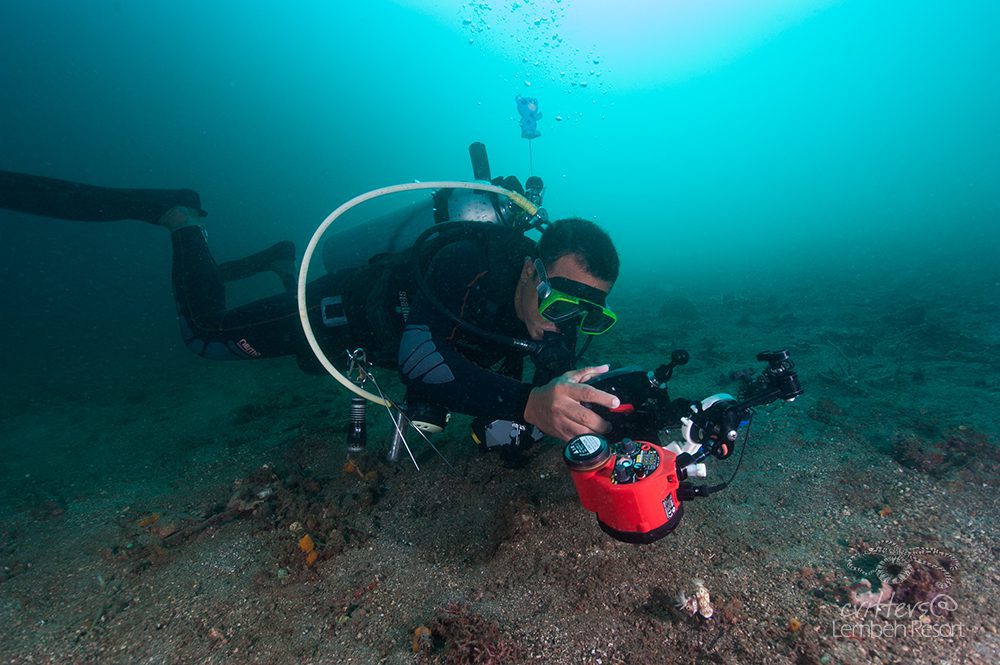 ---
What is a Specialist Photography Guide?
A Photography Guide at critters@Lembeh Resort is an experienced Dive Guide that has not only completed our rigorous Dive Guide Training (which includes Critter Log testing, 4 levels of critter testing, annual rescue training, marine biology training, thousands of dives in the Lembeh Strait gaining experience in critter identification and behaviour, underwater photography training and extended training in both Bangka and Bunaken) but they have also completed advanced underwater photography training.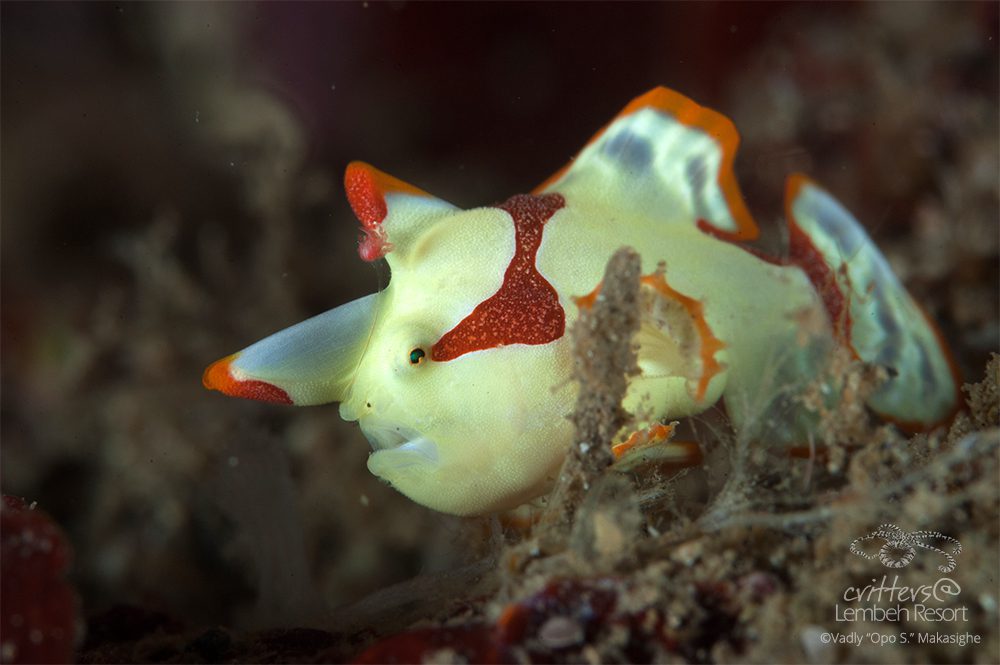 Clown Frogfish – Photo by Vadly "Opo S. " Makasighe
Critters@Lembeh Resort photography training includes hours of classroom learning as well as hands on practical training and practice with our renowned in house Photo Pro Sascha Janson. Our Guides are encouraged to join some of the many photography workshops which we host at Lembeh Resort and which often feature world-class photographers.
---
Blue Ring Octopus – Photo by Fekia "Opo K." Luas
All of our Guides are passionate photographers themselves and spend hours underwater practicing their skills. Through developing their own photography techniques and learning about advanced shooting skills they are perfect for photographers. They understand how important good lighting is and how to get the best effects. If you want something backlit they will understand what you need and assist with positioning your lights in line with you and the subject, and they also have experience with positioning and using a snoot.
---
Phyllodesmium koehleri in our House reef – Photo by Agustian Peloa
Through their own practice, experience and training they are experts when it comes to knowing how the different critters of the Strait all react differently to photographers and strobes and they know just how close you can get to each critter without disturbing it.
---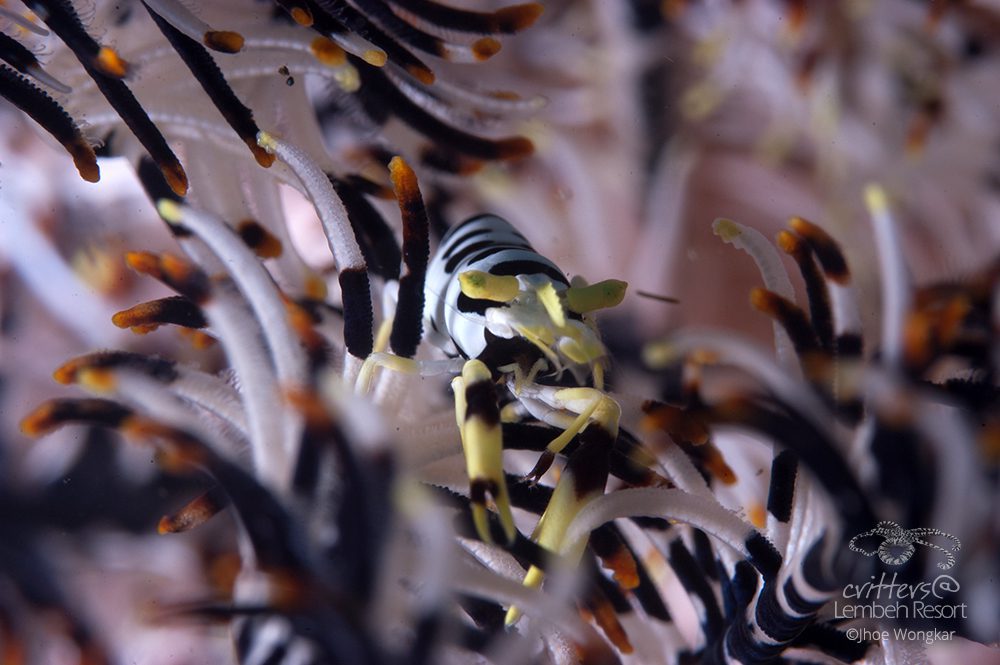 Crinoid Shirmp – Photo by Jhoe Wongkar
Of course the first step in photographing any critter is being able to find it and our photography trained Guides are our best spotters. They know the dive sites like the back of their hands and because they are in the water everyday they know exactly which sites are "hot" for which critters throughout the year. Their number one priority is to find you the critters you are hoping for and to direct you to the best possible shot.
---
Wunderpus Octopus – Photo by Sandro Maabuat
If you are looking for a more personal service why not hire your own private Guide? You'll be diving some of Indonesia's best dive sites and your guide will be with you on a one on one basis which means no waiting for other divers and their only focus will be on finding the specific critters that YOU want to see.
---
Blue Ribbon eel – Photo by Vadly Bawata
Have you looked at our amazing Lembeh Critter Log? All of our Dive Guides are Critter Log trained as well, and many of the images contained within the log were taken by our own guides!  The Critter Log is used in every dive site briefing and during the dive our guides will make notes on which critter species you saw – you can use this list to complete your logbook when you return to the resort.