Welcome To Critters@Lembeh Resort
Here at critters@Lembeh Resort we are not just a dive center. We are at the forefront of diving in the Lembeh Strait and our team is made up of dedicated professionals striving to meet one common goal: Sharing their knowledge and passion with our guests and making your stay in Lembeh an experience like no other dive trip you have ever experienced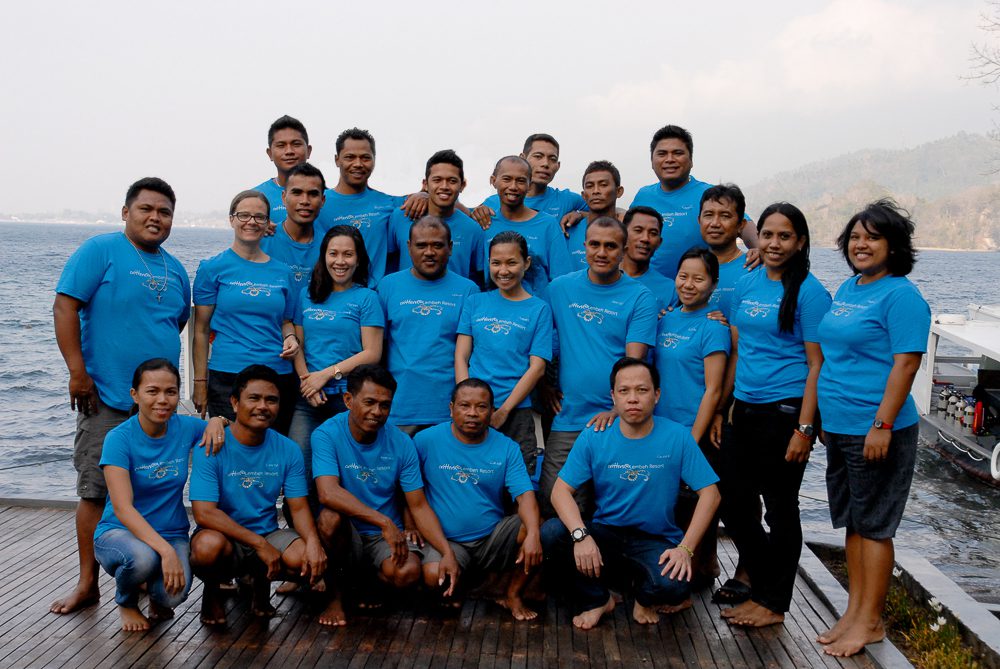 We don't just have staff that know a bit about marine life: We have on-site, full-time Marine Biologists who are studying and continuously making discoveries about the marine life here in Lembeh. We don't just have dive staff that are interested in photography: We have an on-site, full-time dedicated Photo Pro whose work has been published internationally. Dive Guides at Critters@Lembeh are not just trained as guides – they spend hours in workshops with our professionals learning about photography, marine life identification and behaviors and when they are not studying in the classroom, they are diving! With a combined total of over 70,000 dives in the Lembeh Strait there is little that they do not know about the area.
We hope that by visiting this page you will see what makes our team so very special and stand out from the crowd. Our dive staff will treat you as a friend while showing you every available critter underwater, respect your gear, captivate your enthusiasm as only well-trained, experienced, professional dive staff can do and deliver a level of service unlike any other.
At Critters@Lembeh and Lembeh Resort, we pride ourselves on our strong partnership and teamwork that ensures our guests a second-to-none experience.
Our dive team's infectious enthusiasm for muck diving and underwater photography will exceed your expectations, keeping you engaged and excited throughout your Lembeh Strait adventure. Whether you are already an expert in macro photography, underwater photography and muck diving, or just getting to know the magical experience of diving Indonesia, we are your friends in Lembeh Strait. Our guest-to-guide ratio of (maximum) 4:1 ensures personal attention that will help you see most, if not all, of the critters on your wish lists. Unlimited diving is offered to resort guests, with the majority of the 50+ sites within the Strait only a quick, comfortable boat ride away.
Our unique team thrives on developing our employees and we provide a foundation whereby each individual has the opportunity to learn and grow. Visitors often comment on the great team work they experience during their holiday. We believe one key factor is that everyone working here not only understands effective team work but is committed to providing service above and beyond "normal" standards. All staff members genuinely care and assume a responsibility toward each other and to every single guest that passes through our resort. This has to be why so many of our guests return year after year and we hope that you will be one of them.
History
Founded by Danny Charlton and his wife Angelique Batuna, Critters@Lembeh has been diving Lembeh Strait for Lembeh Resort since 2002. Danny, an American and Angelique, originally from North Sulawesi, have been working together with Lembeh Resort founder Alex Rorimpandey and his family, also from North Sulawesi, since before the resort's opening.
DIVE CENTER NEWS