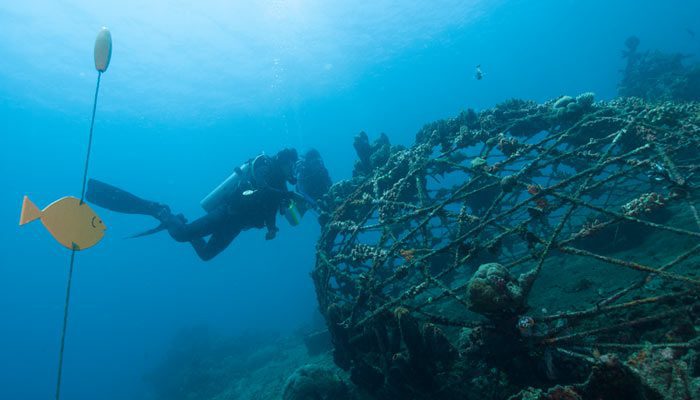 2015 Oh Buoy!
Easier Self-Guided House-Reef Dives
We currently have a new marine biologist from Java on site and together with in-house marine biologist Dimpy Jacobs and the critters@Lembeh Resort dive team, Arif has revamped our underwater buoy system for people who wish to do self-guided dives on the house reef. Our new buoys are bright yellow for maximum visibility and come in different shapes to clearly mark out 4 different routes. One route (triangle symbol) takes you to the Biorock structures; a previous project covered in our environmental programs page. The second underwater trail goes to the Fish net installations (fish symbol), another to the Fish Houses (square symbol) and another goes to the Reef Balls (dome symbol). This will make it even easier for guests wishing to check out points of interest and marine life hotspots on our house reef at their own pace, whenever they wish.
critters@Lembeh Resort staff love diving our house reef just as much as our guests do. We encourage all our staff to try diving so that they understand what attracts people from far and wide to Lembeh and so they can tell the community why it's so important to protect this unique natural heritage. Recently our two compressor staff, James and Chris, took the plunge and did their first ever dives. They loved it and can't wait to continue their diving education!