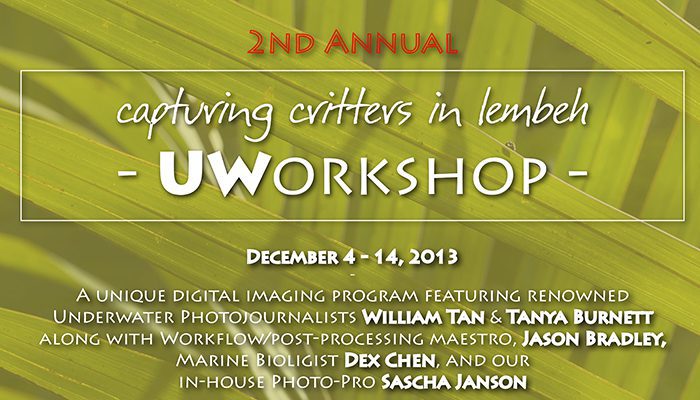 2nd Annual Capturing Critters in Lembeh – UW Workshop December 4-14, 2013
[postgallery_image width="180″ id="35″ height="175″ slidesetid="UWWorkshopIntro_2013″ align="alignleft" animation="fade" tween="linear" navigation="disabled" timeout="4″ /]
Join us in December for "Capturing Critters in Lembeh" our 2nd Annual Digital Imaging Workshop hosted by Lembeh Resort & [email protected]

Learn the latest tips and techniques from Professional Photojournalists William Tan, Tanya Burnett and enhance your post-processing workflow under the guidance of Jason Bradley. For this year, Marine Biologist and friend, Dex Chen is complementing the Pro team.
Take control of your underwater photography or take it to the next level.
This unique 10-Day Workshop will include:
– Daily seminars by our Professional Presenters on a variety of topics ranging from Intro to Black Sand Photography & Selecting Subjects to Advanced Macro Techniques to Workflow.
– "Office Hours" (one-on-one) time with the pros; our presenters will be available each day for to help you get the shots you want and master the techniques presented.
– Dive Guide attention unmatched in any workshop and Resort service to compliment the entire event.
US$2,975 – per person in double occupancy cottage
10 nights & 24 guided boat dives
Price includes everything:  airport transfers; all meals & snacks; unlimited drinking water, coffee & tea; tax etc.
Click Here to make reservation or contact your favorite dive travel agent.
[reveal title="View 2012 Schedule" ]



2012 Schedule was based on Participant Survey.
We will do the same for this year, therefore, schedule will change depending on desires of Participants
[/reveal]
[four_columns ]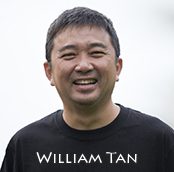 William Tan has been fascinated with the creatures of the sea since since childhood. While studying at the Johns Hopkins University (USA), much of his spare time was spent gazing at the extensive marine collection of the National Aquarium in Baltimore.
A violinist with the Singapore Symphony Orchestra, William earned his scuba diving certification in 1994. Thereafter, without his prized antique Italian violin, he travels extensively between concert seasons throughout the Pacific region judging competitions and photographing marine life for scientific institutions, camera companies, underwater housing manufacturers, tourism organizations, dive magazines, and resorts. He has collaborated with other photographers to produce two books: "Silent Symphony" and "Gorontalo: Hidden Paradise".
[/four_columns] [four_columns ]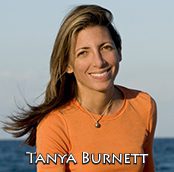 Starting with a passion born from a youth spent in the warm waters of the Caribbean and matured by a BA in dive business and a minor in photographic technique at Miami's Barry University, Tanya has never strayed far from the sea. After graduation, she started a successful full service dive operation called H2O Scuba and eventually selling it to start her dive career in other arenas – including being a founding partner of the TDI/SDI training system.
Tanya has over 25 years of experience in every aspect of diving from instructing the basic novice to participating in advanced technical dives in the most remote locations. She has led tours and traveled solo to areas around globe with cameras always in hand.
Tanya's published work has appeared in Dive Training, Scuba Times, Sport Diver, Scuba Diving, Nat Geo Adventure, Outside, ISLANDS, Coastal Living  and in several books and newspapers distributed internationally. Based in Palm Beach, Fl she continues to juggle an ever changing schedule of monthly travel articles, photo expeditions, gallery exhibitions, expanding stock image portfolio, and has an eco-chic line of jewelry called Calypso Sea.
[/four_columns] [four_columns]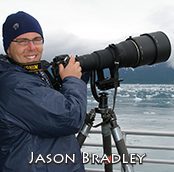 Jason is a nature and underwater photographer based in Monterey, California and is happiest photographing and telling stories of aquatic ecosystems. In nature or in the studio, Jason is a self-taught photographer with a dynamic portfolio consisting of land and seascapes, wildlife, portraiture, science, conservation issues, adventure sports, and still life's in a myriad of styles.
Jason runs Bradley Photographic Workshops, providing field and classroom seminars for photographers, and he's partnered with Wetpixel.com to lead many of their photo expeditions around the world for underwater photographers. Jason's seminars instruct on digital photo techniques, retouching and post processing, digital asset management, digital printing, and he specializes in Adobe software such as Lightroom and Photoshop.
Jason also operates Bradley Photographic Print Services offering archival pigment ink prints for photographers along with file processing and retouching, icc profiles, and consulting. Furthermore he serves on the Education Committee for the Center for Photographic Art.
[/four_columns] [four_columns_last ]

Fascinated with the natural world at a young age, Dex was a keen follower of David Attenborough's documentaries and decided on picking up Scuba Diving after serving his National Service in Singapore in 2007. Since then, Dex has embarked on a journey to become a Marine Biologist and graduated from the National University of Singapore in 2010. His experience as a trained Marine Biologist exposed him to a variety of marine habitats and provided him the opportunity to observe and understand marine life behaviour.
In his spare time, Dex also travels around to photograph and share the beauty of the underwater world. By applying the knowledge he has acquired as a Marine Biologist, his photos have won him placings in underwater photography competitions and were also published in articles magazines like ScubaDiver AustralAsia and Asian Diver. Recently, he has also started to provide workshops in photography, marine life behaviour and reef restoration to share his passion and create awareness for marine conservation.
Dex hopes that through his images, he can ultimately communicate the wonders of the ocean and encourage various stakeholders to cultivate long-term concern for and preservation of the rich and amazing marine systems.
[/four_columns_last]
Contact Us for More Information >>