3rd Annual Capturing Critters in Lembeh – UW Workshop December 3-13, 2014
Join Us For Our 3rd Annual
"Capturing Critters in Lembeh" Digital Imaging Workshop
December 3 – 13, 2014

Adobe expert Erin Quigley and UW Photo pioneer Keri Wilk join together with support from our In-House Photo Pro Sascha Janson and In-House Marine Biologist Dimpy Jacobs for our Capturing Critters in Lembeh 2014 workshop.  This well-rounded team of experts will provide presentations, seminars & one-on-one time on topics including the best time to photograph a critter, creative shooting and lighting techniques, and finishing and editing strategies.  This is the perfect workshop for learning the pros' techniques and skills to get the images you've always wanted to produce.
Included in this unique 10-Day Workshop:
• Daily seminars by our professional presenters on a wide range of customized topics followed by practical in-water application.
• "Office Hours" (one-on-one) time with the pros: maximize your learning curve during surface intervals and master the techniques presented or sort out your processing woes.
• Unsurpassed dive guide attention and superlative resort service to compliment the entire event.
• 10 nights & 24 guided boat dives
US$3,275 – per person in double occupancy cottage
Price includes:  airport transfers; all meals & snacks; unlimited drinking water, coffee & tea; and taxes.
Click Here to make reservation or contact your favorite dive travel agent.
[reveal title="View 2013 Schedule" ]



2013 Schedule was based on Participant Survey.
We will do the same for this year; therefore the schedule will be customized to the desires of participants.
[/reveal]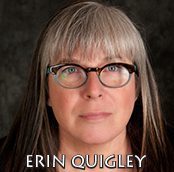 "Like magic, Erin introduced me to tools in Photoshop I never knew existed. Erin's the best!" ~ Max Aguilera-Hellweg, National Geographic Contributor
Erin Quigley is an Adobe ACE certified digital imaging consultant specializing in customized workflows and editing strategies using Adobe Photoshop and Lightroom. She is an award-winning underwater photographer and video editor, and creator of GoAskErin.com, which provides one-on-one instruction, custom video tutorials, and Photoshop and Lightroom resources specifically developed for the underwater photographic community. Along with her private consulting business, Erin runs the Go Ask Erin digital help desk online and at The Digital Shootout.
Erin began her career as the resident costume designer for Chicago's famed Steppenwolf Theatre Company , during which time she earned two Tony Award nominations for her work on Broadway. In the ensuing years, she returned to her hometown of Los Angeles and designed the television sitcom "Roseanne", along with many other stage, television, and film projects. Later, Erin worked as a producer and development executive for 23 Red Productions, in collaboration with 20th Century Fox and Warner Brothers Television.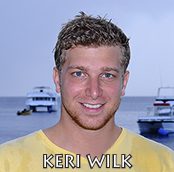 Even at the age of 28, Keri has accumulated 18 years of underwater photography experience. Being formally educated as a mechanical engineer, he currently co-owns and develops products for ReefNet, has been a regular contributor to DivePhotoGuide.com since 2009, and does freelance work for several popular dive magazines.
Keri's photography has evolved to a tremendous degree since he took his first underwater shots. He began his career by shooting images to be used primarily in ReefNet's electronic marine life field guides, but soon grew bored of the monotony of clinical side-profile identification shots. Wanting more from his time underwater, he expanded his photographic horizons, hoping to capture images of interesting and unusual behaviours in the underwater world. His success in this field was impressive, winning him several international underwater photo competitions while still a teenager.
His early competition wins made him realize that he had the potential for much more, so he began shooting all styles of underwater photography, and pushed the boundaries of what was possible with the tools available to him. His competition successes accelerated, but he eventually reached a point where existing tools were too limiting to allow him to create the images he visualized. So, combining his engineering knowledge with his love for photography, Keri began designing innovative products for ReefNet that have since enabled him to accomplish his creative visions — most notably the popular SubSee Magnifier, and fiber optic snoots. He has literally changed the sport by revolutionizing super macro and underwater snoot photography, and continues to develop additional unique tools that will allow photographers to create underwater images that were previously not possible.
Keri's work has appeared in countless magazines, scientific journals, field guides, books, and museums. His images have garnered well over 100 awards in international underwater photography competitions.