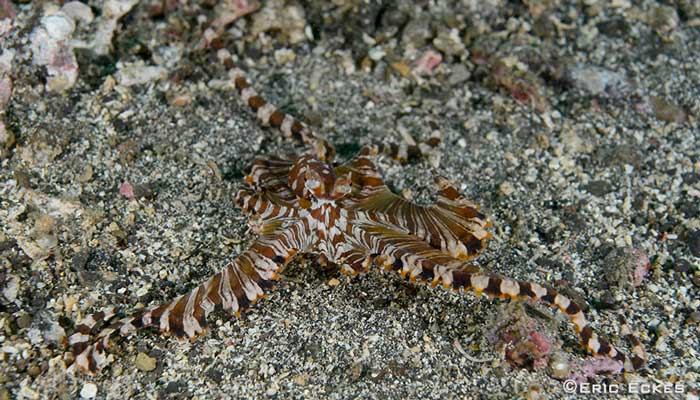 Amazing Dive Operator!
Eric and Margi Eckes, and Timothy and Robyn Williams wanted to see octopus during their visit here and during a week of diving they saw a great variety: Wunderpus octopus, Algae octopus, Mimic Octopus, Starry Night Octopus and Coconut Octopus. Two species remained elusive: the Blue ring octopus and Hairy Octopus, which just means there is always a reason to come back to enjoy the critter diving in Lembeh. Below is a short testimonial from Eric about his recent visit to Lembeh Resort and Critters@Lembeh.
Critters@Lembeh is an amazing dive operator! We were impressed that upon check in we were asked to provide our critters wish list. Even better, you helped us check off most of them during our visit. Your staff is amazing from the dive shop staff to the boat crews and our incredible dive guides, Fandy, Agus and Opo. We wish we had their eyes for the small staff! A big thanks to Sascha for saving our video camera upon arrival. Many great memories recovered via camera and video. Finally each day started off just right with Rosa's amazing lattes. One last thanks to everyone at Critters@lembeh for making our vacation most memorable. We'll see everyone here really soon!