First Ever Backscatter Authorized Photo Center Officially Open
Our new Photo Center is the first Backscatter Authorized Photo Center in the world! Our  onsite Backscatter certified Photo Pro has the depth of knowledge that Backscatter is famous for in shooting technique, instruction and underwater imaging gear. The Photo Center also has a much wider range of underwater imaging equipment and accessories on sale and available to rent than ever before. This is great news for anyone who is visiting Lembeh Resort with a view to underwater imaging. Not only can we offer our existing services but also, guests  can now experiment with more rigs, strobes, lights and other items before making a purchase.
Moving from the old photo center into our new building has been planned for some time. The plans were drawn up, and drawn up again … and again, until we found exactly the right set up for our needs and then our old offices were rebuilt from the ground up to create a beautiful, double room Photo Center. The new Photo Center is much more spacious and lighter and brighter with plenty of displays for camera equipment and accessories available for guests. The Photo Center is complete with a teaching area for courses being taught by our Photo Pro as well as repair and maintenance stations and editing space.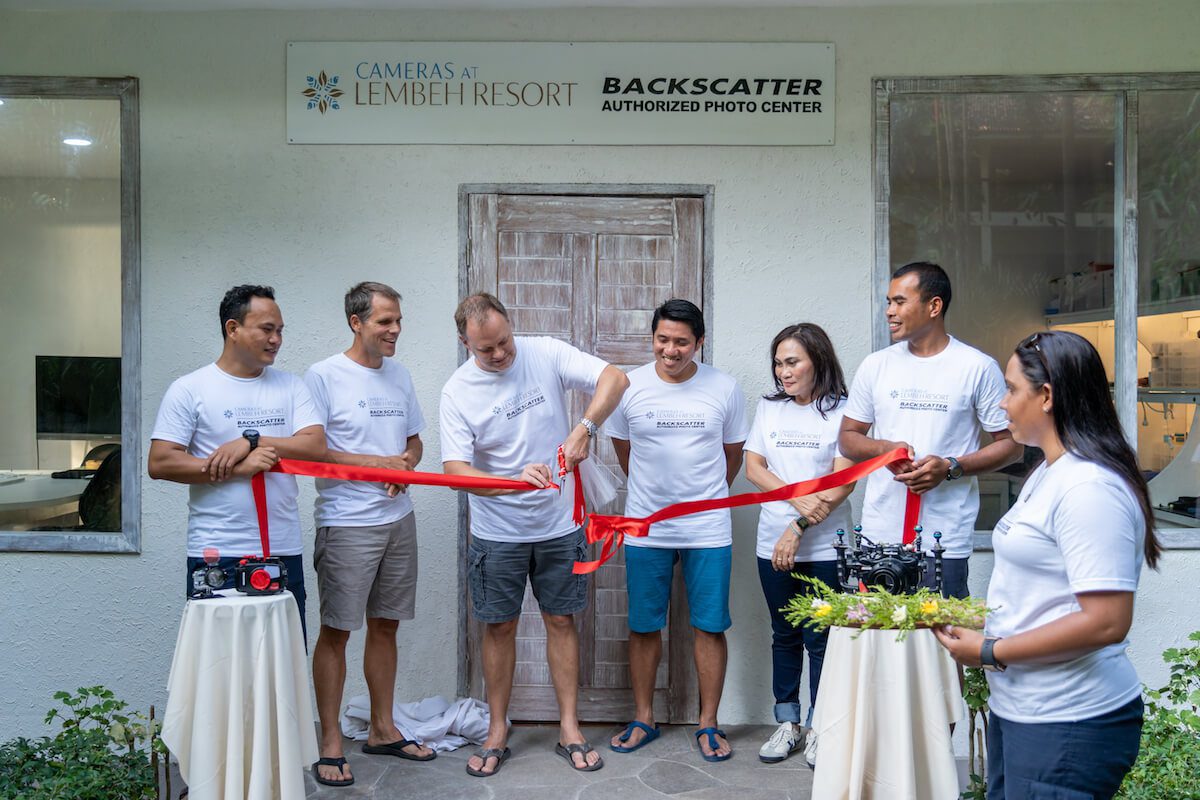 Jim Decker, CEO of Backscatter has been at Lembeh Resort this week for the official opening of the Photo Center with Ibu Kouni Lomban, the wife of the Mayor of Bitung. Jim has also been enjoying phenomenal dives with our Photo Center Team in the Strait.
"The photographic opportunities in the Lembeh Strait are amazing, the abundance and diversity of photographic subjects is unparalleled. If you want to take a picture of a hairy frogfish there are multiple opportunities – you will get the shot. It's always possible to go back for additional shots, retakes and to try different techniques. It's a truly unique destination and the perfect location for Backscatter to have an authorized Photo Center". (Jim Decker)
Jim is delighted with the new Photo Center which is located in the heart of the resort and combines both teaching, editing and workshop areas under one roof. The Photo Center is stocked with its usual array of camera equipment, housings, lenses, spare parts – and of course, Backscatter add-ons and essential items.
In addition to equipment, our 3D printer is located in the workshop area along with our substantial selection of tools for carrying out repairs. The 3D printer enables us to manufacture spare parts and custom-made diopters.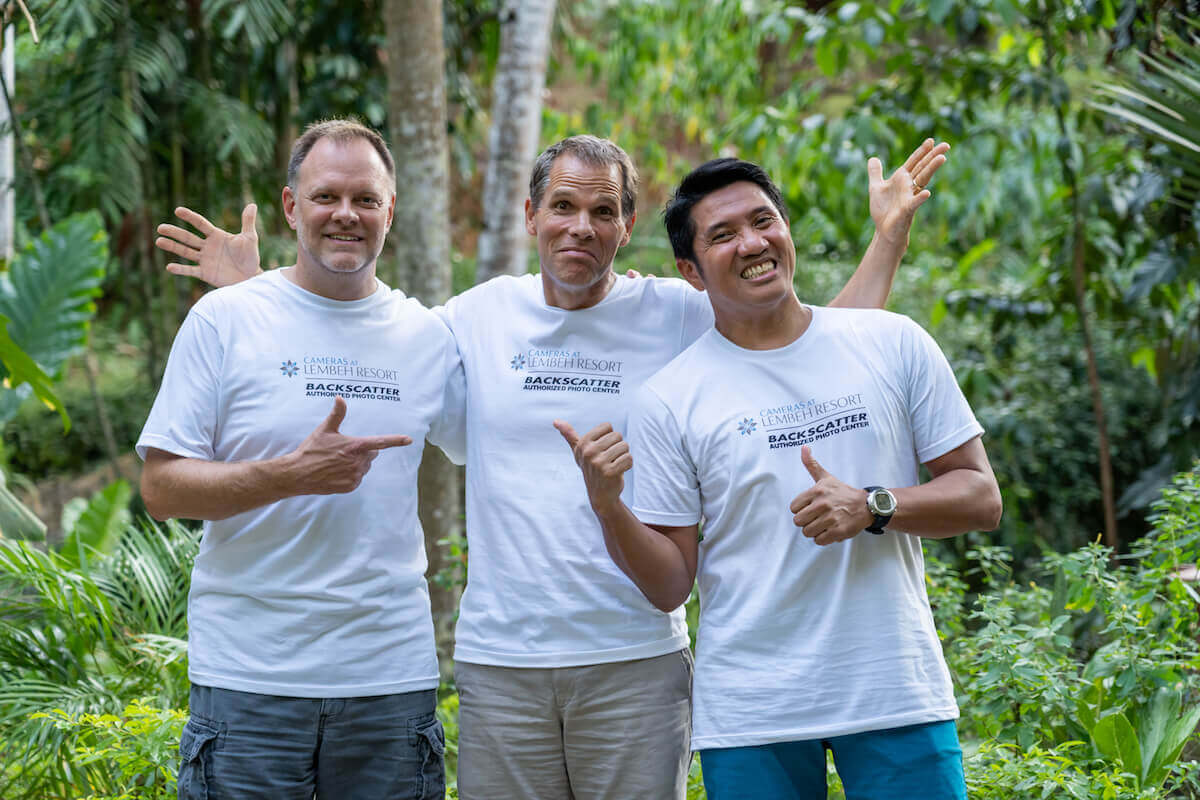 The Photo Center at Lembeh Resort and Backscatter have a longstanding relationship, spanning over 10 years.
"Lembeh Resort and Backscatter have been working together for the last 10 years so Lembeh Resort was an obvious choice for us. (Lembeh Resort) is an excellent resort and it has the largest and most developed Photo Center in the Lembeh Strait with an in house Photo Pro, Assistants and Marine Biologists – we are very excited to be taking this relationship to the next level". (Jim Decker)
Danny Charlton, co-owner of Critters at Lembeh Resort and Ray Rorimpandey, owner of Lembeh Resort, joined Backscatter's Jim Decker in cutting the ribbon and declaring the Photo Center officially open.
"We are completely stoked to partner with Backscatter to create the world's first Backscatter authorized Photo Center.  Having the only dedicated Photo Center in Lembeh Strait (& North Sulawesi,) we are now able to better provide a broad spectrum of services & support. This partnership is fantastic for our guests, and will open more doors for our Dive Guides & all staff and it is yet another example of leading the industry with innovative relationships & offerings". (Danny Charlton)
Backscatter Trained Photo Center Team
Our team of Photo Center Assistants, have had a fantastic week of training with Jim, which has included in-water shooting techniques using Backscatter supplied gear, underwater lighting assistant training, product knowledge and troubleshooting development.
At Lembeh Resort we often say that underwater imaging is in our DNA – and it's true. We know how important your underwater imaging equipment is to you and our number one aim is to ensure that a broken piece, a forgotten part or a small fault does not keep you out of the water. Our team are dedicated to finding practical solutions to keep you shooting and now we are even better placed than ever before to ensure you have the best imaging opportunities possible here in Lembeh.
Our three Photo Center Assistants are all experienced underwater photographers who have received training from numerous world class Photo Pros from around the world. Our own full time Photo Pro is available  to assist with technical questions, gear related enquiries, general advice and offers a range of tailor-made courses to meet individual needs.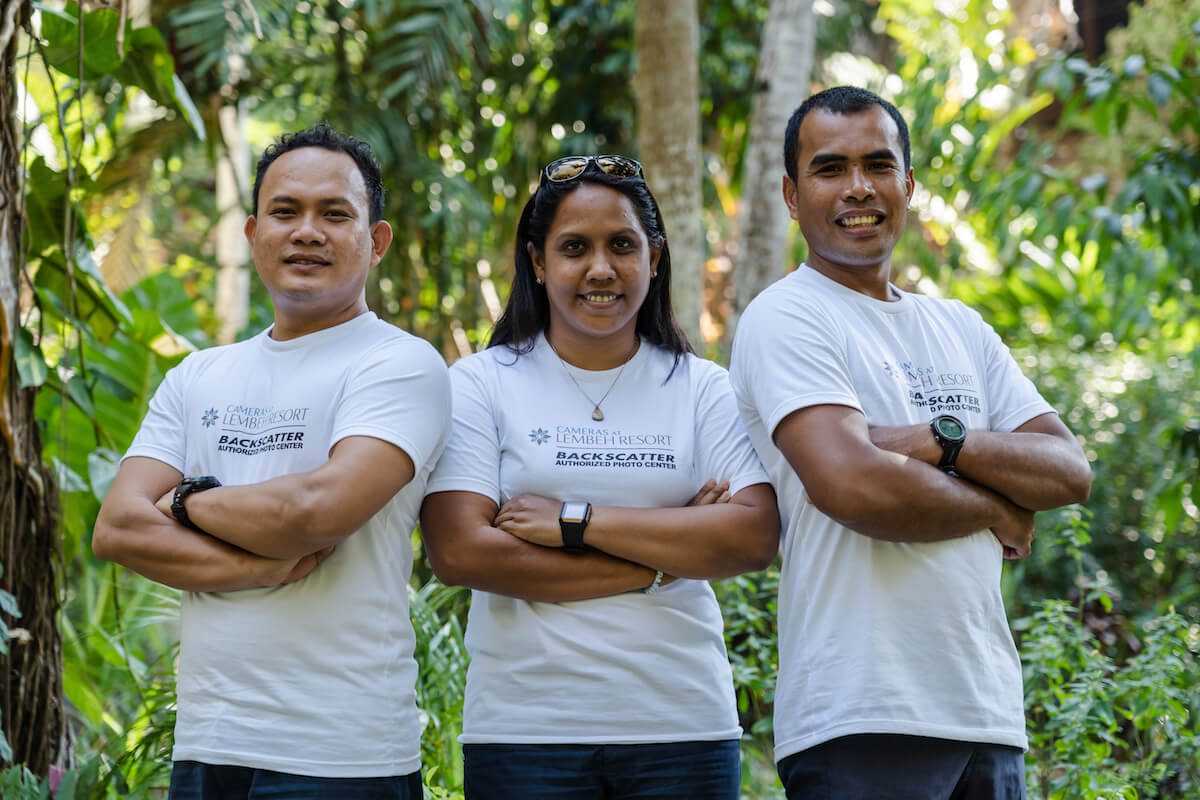 Staying at Lembeh Resort
When you are not capturing underwater images, Lembeh Resort's secluded location ensures you enjoy an exclusive and relaxing stay. Our tropical gardens, incredible wildlife and exotic flora form a natural backdrop while luxury and elegance come as standard. We hope to not only meet your expectations, but to exceed them.
We offer three accommodation options (Garden View Rooms, Luxury Cottages and the Cliffside Suite). All accommodation is offered on a full board basis with three exquisite meals a day including à la carte dining in the evenings. Our team of professional chefs can cater for special dietary requirements and requests.
Stay with us at Lembeh Resort and discover  the world's best muck diving and macro photography with a touch of luxury.