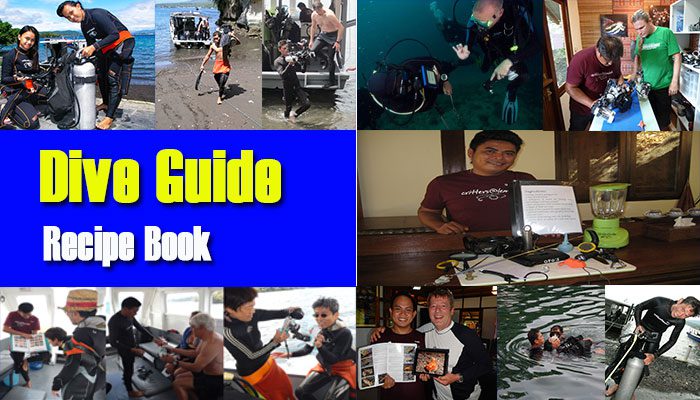 Best-Trained Guides in Indonesia – Part II
At [email protected] we pride ourselves on having the best-trained guides in Indonesia, and perhaps in the world.
As the saying goes, "Safety First", and every year we do courses for all our staff, including guides, in first aid, rescue simulations, emergency oxygen use and CPR.  They also benefit from frequent training sessions by our in-house marine biologist and are regularly tested on their critter knowledge. Our guides know the full scientific name of just about every nudibranch seen in Lembeh and will write down the name of everything they show you on special underwater slates both during and after the dive.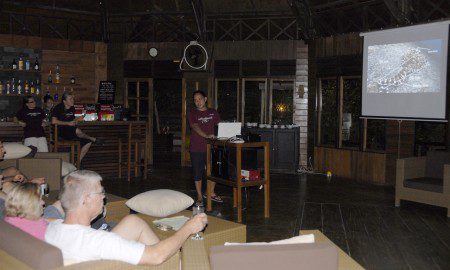 We also encourage our senior guides to do short presentations for our guests on a topic of their choice. This allows them to learn even more about marine life and gives guides and guests the chance to mingle socially in an informal setting. Past presentation topics have included rhinopias, mantis shrimp, and how to tell the difference between mimic octopus and wonderpus (do you know how to distinguish between the two?)
In addition to critter knowledge, it is essential that our guides understand the needs and challenges of photographers. The only way they can do this is to take photos themselves, so all of our guides receive training from our in-house Photo Pro and regularly take out [email protected] equipment when they are not guiding guests. All of our guides understand the basics of how to get a good shot but several of them have become accomplished underwater photographers in their own right. To see some examples, check out our guides profiles.Additionally, our guides are encouraged to move up the professional ladder and expand their skills so that they can do other things in addition to guiding, such as become dive instructors, dive equipment technicians, or do computer work. The result is that the more experienced guides stay on to mentor the younger ones and pass on the benefit of their awesome knowledge and experience. Did you know we have guides with over 8,000 dives each, and that the combined number of dives for the team is over 60,000?
After diving with such guides you'll see the difference dedicated training and experience makes to both the safety and enjoyment of your dives.
Written by Lauren Siba