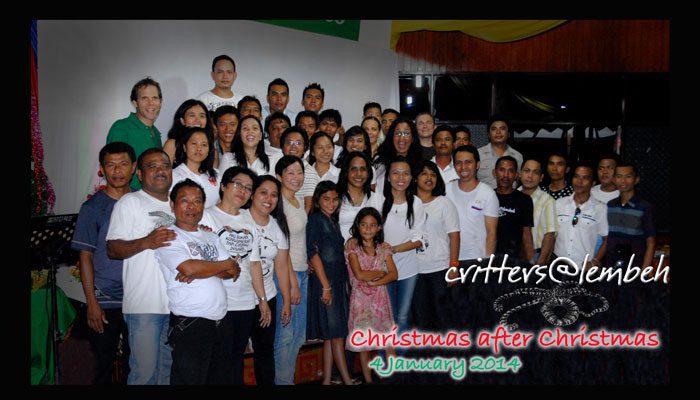 Work First, Play Later
Last night we celebrated our annual Christmas after Christmas party.  This tradition started years ago and stems from being so busy during the actual holidays we decided to focus on showing guests the best diving in Lembeh first then kick up and party after the new year.  Super MC, James (compressor operator), surprised dive guide Jhoe, office staff Lisa and captain Ona with the task of giving a comical speech on their work highlights of 2014.  Danny & Angelique talked about opportunities and challenges for 2014 and managers, Lauren & Sascha, gave a thank you tribute to everyone.
Several staff earned Best Attendance awards and bonuses:  (Linda P., Lee, Dimpy, Abner, Fandy, Ferry, Sandro, Julia)
Drum roll please for the Calendar Competition Winners:
Best Photo Winners – 1st Place (January) Opo S.;  2nd Place (July) again Opo S (is he cheating or just totally awesome);  3rd Place (March) Dimpy
Best Drawing Winners – 1st Place (January) Ita (Resort Front Desk); 2nd Place (November) Fandy aka Fundiver (Dive Guide) and 3rd Place (February) Roy (Resort Front Desk)
Don't forget to participate the calendar contest this year.  Winners are decided by votes accumulated from In-House guests and our FaceBook fans.
Abner led us in blessing the meal.  We had plenty to eat and drink, gifts for all the children and a sang a couple of popular local songs.  Danny mother is visiting from Denver, Colorado and helped make the party more special by quizzing each staff member before giving everyone a pair of sunglasses.  The night was capped off by  Dimpy's annual, and more incredible each year, "Highlights of the Year" power point presentation.
Great Job everybody!
Special Thanks to The Committee, Iwan, Linda P, Opo K, Lisa, James, Naomi & Dimpy for your team effort in making our Christmas after Christmas party a huge success.