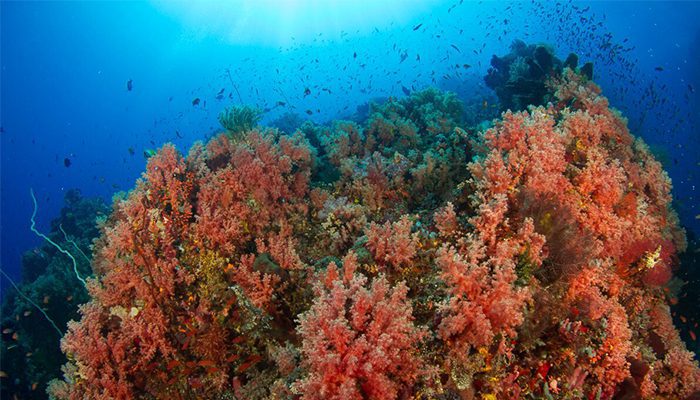 Featured Dive Site: Fireball, Lembeh Island
Featured Dive Site: Fireball, East Lembeh
As the original dive resort on Lembeh Island we have a natural passion for exploring and discovering new dive sites. Did you know that the famous Rojos dive site in the Lembeh Strait was named after Lembeh Resort Dive Guides? This month we have been venturing out to the east coast of Lembeh Island and it has been incredible! Fireball is a dive site which few other operators (if any) have on their dive site maps but it's one that we love to revisit whenever we have the opportunity.
Here are some of the highlights of this epic dive site and a day of diving on Lembeh's stunning east coast.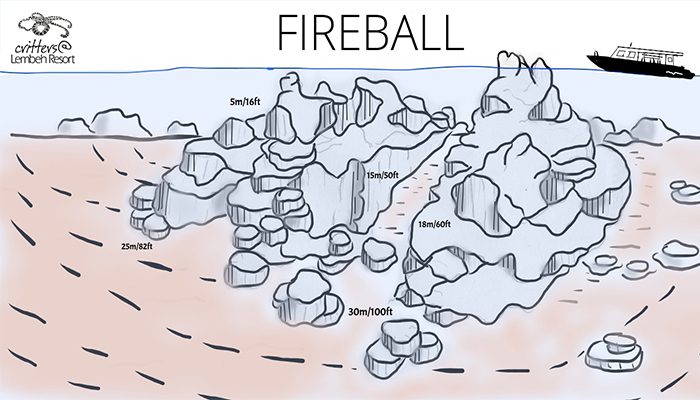 Discover More of Lembeh
Lembeh's famous black sand muck diving sites are located in the Lembeh Strait, which separates the west coast of Lembeh Island from mainland North Sulawesi. When we take a trip to Fireball we sail around the entire island so you'll see another side of Lembeh (literally) both underwater and on land. Relax on board our comfortable dive boats and be prepared for some breath taking scenery along the way.

Remote Dive Sites
Escape other divers and enjoy having Fireball all to yourself – there is something extremely special about knowing you are diving an area which so few people have seen before. We've never met another boat at Fireball which makes this an exclusive adventure.
Stunning Topography
Fireball is primarily a gorgonian encrusted pinnacle site with an abundance of healthy and vibrant soft corals. Away from the pinnacle you'll also find walls, drop offs, a canyon and slopes – if you like diversity, intriguing sea-scapes and a rainbow of colors then this site has it all.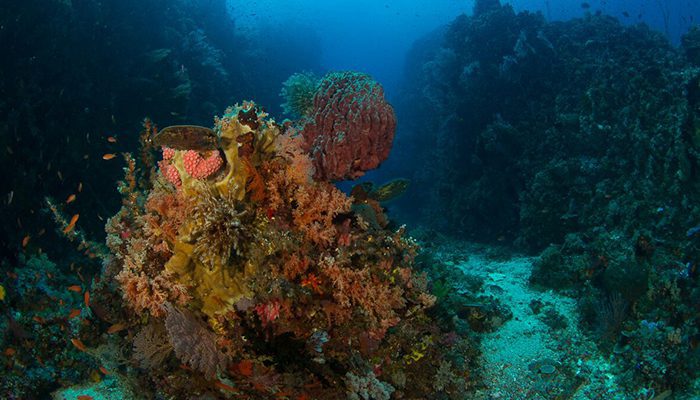 Incredible Visibility
Due to the density of coral coverage, which prevents underlying sand from being stirred up, visibility can be up to 30 meters. When the sun's rays filter down around the pinnacle is a breath taking sight and one that photographs beautifully.
Phenomenal Marine Life:
Big fish aficionados will not be disappointed. Fireball is frequented by both white and black tip reef sharks, mobula and eagle rays, turtles and sea snakes. When there is current at this site the action really begins; schooling rainbow runners, snappers and surgeonfish attract the attention of predators. Look out to the blue for hunting tuna, barracuda, sharks and other passing pelagics.
If you are diving in Lembeh for the critters then you certainly won't miss out during a day on the east coast! Fireball's incredible soft corals and sea fans are home to Pontohi pygmy seahorses, boxer crabs, candy crabs, xeno crabs, mantis shrimps and numerous species of nudibranch as well as a host of other macro marine life.
Underwater Photography at Fireball:
The toughest decision you'll have to make when diving Fireball is whether to shoot macro or wide angle as it lends itself to both. If you have wide angle equipment with you, we recommend using it as you have plenty of macro opportunities in the Strait. However, if your preference is to shoot macro, you won't be disappointed.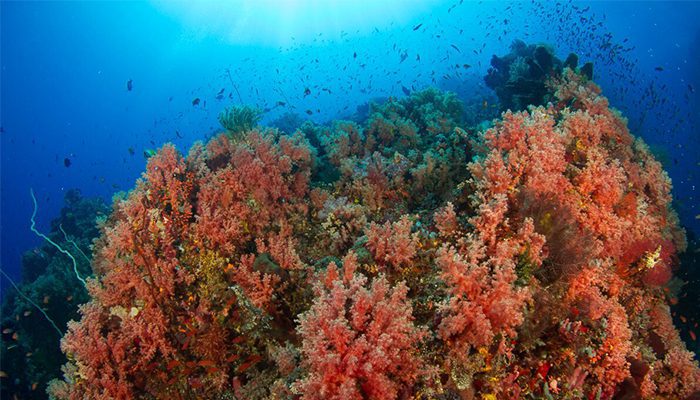 ---
If you would like underwater photography guidance or assistance during your time in resort, call into our Photo Center and meet with our on-site, full time Photo Pro for tips about shooting in Lembeh. We also have a range of rental cameras, strobes and accessories to ensure you capture your best images possible during your stay.
Comments From The Experts: Here's what our team have to say about diving Fireball…
Dimpy Jacobs (Marine Biologist): "I love the diversity at Fireball, it's an amazing pinnacle site with schooling fish, reef sharks and really beautiful soft corals".
Morten Lund Hansen (Resort Manager): "The soft corals are some of the best I have seen, the canyon that cuts right through the pinnacle which is encrusted with gorgonian fans is a highlight for me. Last time I dived Fireball we spotted white tips reef-sharks, schooling fish, turtles, sea-snakes, hunting jackfish and tunas. Being completely alone on a reef like this is special too".
Opo S (Dive Guide): "Fireball is a really beautiful pinnacle which is good for wide angle and macro underwater photography. There are for many species of sea fans with great macro critters on them. The entry to the dive site is also stunning with beautiful soft corals".
Jhoe (Dive Guide): "Fireball has great visibility and offers something totally different to the other dive sites in the Lembeh Strait".
Fandy (Dive Guide): "I love the different marine life which we see here compared to that in the lembeh Strait; white tip and black tip reef sharks, schooling snappers and rainbow runners".

Would you like to join us on a trip around Lembeh Island? We usually set out at 8.00am and return to resort around 3pm after making three dives and enjoying a leisurely lunch on the boat.
Are you ready to book your North Sulawesi diving adventure? Dive some of Indonesia's best muck diving and coral reef sites here in Lembeh. For more information or to make a reservation, contact us.
We look forward to welcoming you to our beautiful Indonesian resort soon.