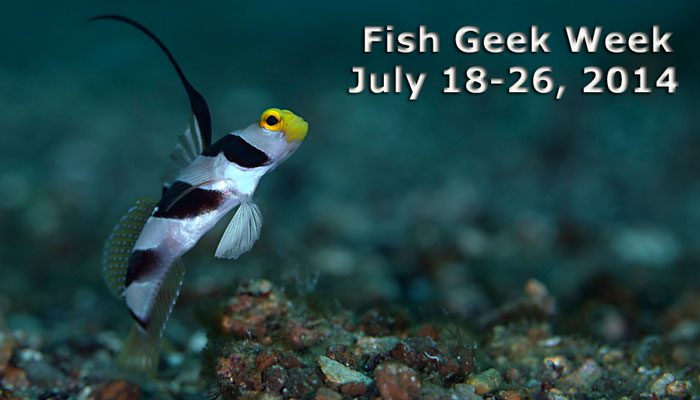 Fish Geek Week with Gerald Allen & Mark Erdmann – July 18 – 26, 2014
Underwater Geeks: Mark Your Calendars! 
What happens when two passionate marine biologists — with more than 60 years of exploring and describing underwater treasures – get together at Lembeh Resort & Critters@Lembeh?
Fish Geek Week!
We are delighted to host Gerald Allen and Mark Erdmann from July 18-26, 2014, providing our guests with an extraordinary opportunity to engage with – and learn from – two of the region's most experienced underwater naturalists. Throughout the week, Mark and Gerry will share their deep knowledge of, and passion for, Indonesian underwater life with presentations and seminars that are informal yet informative. And guests also will have the opportunity to engage with Gerry & Mark personally on dives and around the resort. Join us for all or part of their stay and be a part of this exciting, fun and informative event.
Presentations throughout the week will cover, but are certainly not limited to:
• An introduction to coral reef fish identification
• An introduction to North Sulawesi coral reef biodiversity
• Extreme Biodiversity – in search of eastern Indonesia's biodiversity epicenter: North Sulawesi to Raja Ampat
• Coelacanth, a living fossil & Mark's discovery in Manado
• Mimicry in coral reef fishes
• Specific presentations on families of fishes e.g. seahorses & pipefishes, moray eels, dotty backs, jawfishes, flasher wrasses etc
Co-authors of the recently published Reef Fishes of the East Indies, Gerry & Mark have collaborated on many projects and research papers, and have spent countless hours underwater in Indonesia and beyond. The wealth of information these gentlemen possess is fascinating, and during Fish Geek Week they are available to you. Their desire to share their experience and engage divers in just about any subject related to our underwater environment is amazing.
There is no extra cost to participate in this exciting opportunity. Attend all or part of Fish Geek Week with Critters@Lembeh at Lembeh Resort!