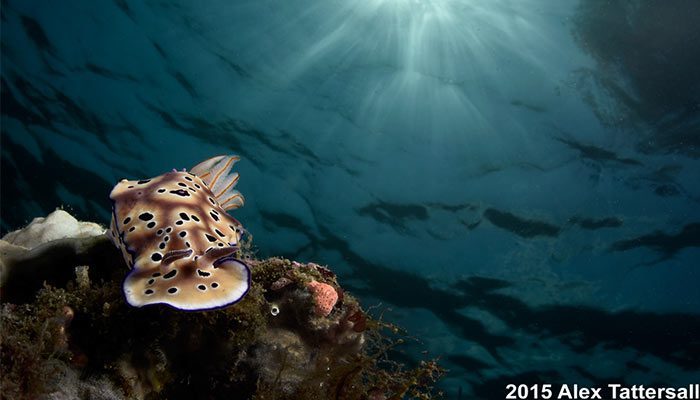 Muck Diving Meets Reef Diving in North Sulawesi
Reef Diving in Lembeh? Absolutely! The Lembeh Strait is a nutrient rich stretch of water in which coral thrives. Although the area is most famous for its black sand muck diving it is also home to walls, reefs, seamounts and drifts. Sites such as Nudifalls are well known to many divers. Nudifalls encompasses rubble, fields of soft coral, a healthy wall which supports gorgonian fans and a range of soft and hard corals but because of the rubble areas (which are home to numerous crustaceans and critters) it still has an underlying muck diving feeling to it.
---
Are there "true" coral reef sites in the Lembeh Strait? Yes, and they are stunning. Here are a few sites that you may not be familiar with and as you read on, prepare to be surprised – Lembeh really does have it all!
---
Angel's Window is situated to the north end of the Strait and it features a twin peaked coral pinnacle which comes within a meter of the surface. It's not just a seamount site – there is a large cave which offers a swim through for divers on the deep end of the pinnacle. This cave is where the site got its name from as the sunlight coming through the cave early in the morning makes for amazing underwater photography opportunities and if you don't have a camera, no problem. It's a sight that you'll remember forever! One side of the seamount is a coral slope levelling out onto a sand flat at 15 meters and on the other side is a wall to a shelf at 8 meters then there is a small plateau and another drop off down to 20 – 32 meters. Angel's Window is full of life, including many critters, so it's also excellent for macro underwater photographers. The Gorgonian fans are home to pygmy seahorses; bargibanti and pontohi and we also find here xeno crabs, robust ghost pipefish and even hairy shrimp. The toughest decision you'll have is whether to dive with a macro or wide-angle set up – either offer amazing photography opportunities!
---
California Dreaming is another of our favorite reef dives. This site is a beautiful seamount coming out from the island of Pulau Putus. It features twin coral peaks with a sand flat in between. The shallows sometimes host frogfish and tiny boxer crabs. The sea fans here are home to bargibanti pygmy seahorses, pontohi's can be found among the corals and reef octopus and tiger shrimp are also common. The coral slopes down on either side but the most exposed section is a series of steps formed by boulders and sand shelves which descend into the depths. A kaleidoscope of soft corals make this one of Lembeh's most colorful sites. Again wide angle or macro are possible here. The soft corals are a great place to find aeolid cowries for macro but the corals and colors themselves are great for wide angle.
---
Pulau Putus is a beautiful soft coral and sponge garden in a sheltered Bay. The scenery is the guaranteed highlight here but devil and eagle rays also sometimes seen so be prepared for anything! Ribbon eels, lobsters, pinnate batfish, estuarine stonefish can also be found by our keen-eyed guides.
Are you looking to go further afield? We also have day trips to Bangka Island which offers different diving topographies and conditions. Bangka has staggering, rugged looking rock pinnacles with drift dives and currents, vibrant, healthy colors and marine life ranging from macro to mammal! Dugongs are occasionally seen, sea snakes, sting rays, turtles and of course all of the beautiful critters that you would expect from diving in North Sulawesi!
---

If you are looking for diversity then Lembeh Resort is not only one of Indonesia's best dive resorts but one that offers something for everyone including spa treatments, rooms with views over the water, fine diving and a team of staff who are ready to welcome you and cater to your every need.