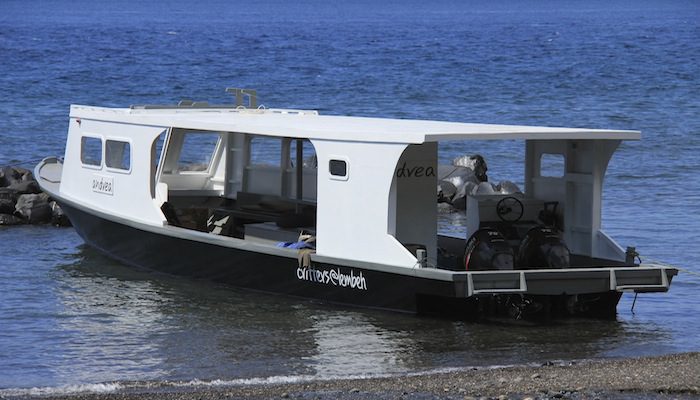 New Dive Boat
[email protected] has added a new dive boat to our fleet, the Andrea.  Very similar to a boat we launched two years ago, Larnia, powered by clean, quiet energy efficient 4 stoke engines, she can comfortably hold 8 dive guests. These new faster boats reach the dive sites quickly, and get our guests back to the resort with plenty of surface interval to relax by our pool, hang out in our cafe and enjoy a morning snack, or flip through our critter ID books with our Marine Biologist, Dimpy. Andrea comes with spacious area for people to move around in, separate camera storage section, tanks stand in the center of the boat, a section to hang wetsuits, and also toilet. These make her ideal to be used for dives within Lembeh Strait, or to the islands outside the strait such as Bangka and Buyat.
Built in Kalasey just next to Murex Dive Resort, Andrea was launched on Saturday, September 8th.  Always a fun event, more than 30 local villagers helped push & pull her afloat!  Andrea's maiden voyage from Manado Bay to Lembeh Resort, a distance of approximately 55 nautical miles, took just 2 hours & 45 minutes passing Bangka island and Tangkoko National Park.
Come dive in comfort with [email protected] aboard our newest boat, the Andrea!