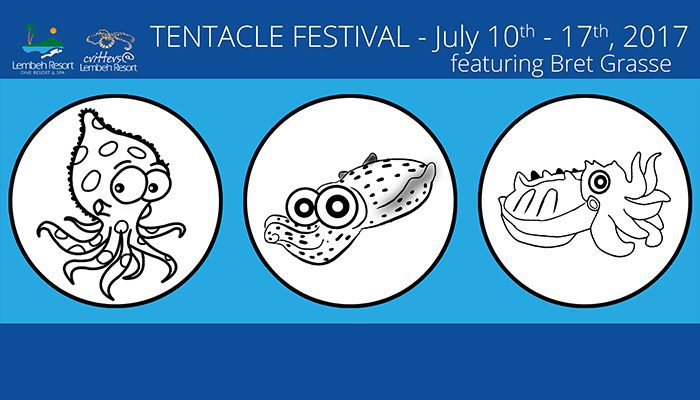 Tentacle Festival July 2017
Ceph lovers, mark your calendars! From July 10-17, 2017, Lembeh Resort is thrilled to host the first ever 'Tentacle Festival' featuring cephalopod expert Bret Grasse. Every day will feature action-packed dives in Lembeh Strait, famous for its amazing diversity of rare cephs such as the mimic octopus, wunderpus, flamboyant cuttlefish, undescribed species of blue-ring octopus and more. The best guides in the world will help you see these not-to-be-missed, fascinating animals. Bret will give daily presentations about octopus, cuttlefish and squid and his work with them at the Monterey Bay Aquarium.
Bret Grasse is a professional aquarist and marine biologist. He designed, opened and currently maintains the first ever large scale cephalopod exhibition in the world at the Monterey Bay Aquarium in California. Bret loves sharing his enthusiasm for marine life with others and in addition to his work at the aquarium, he has starred in fun educational videos for ScienceFriday, Disney Channel, PBS and more.
Bret says: "I manage the largest and most diverse collection of cephalopods in the world, BUT I have only had the opportunity to see a few in their natural environment.  This expedition will allow me to observe many more animals I work with every day in the wild."