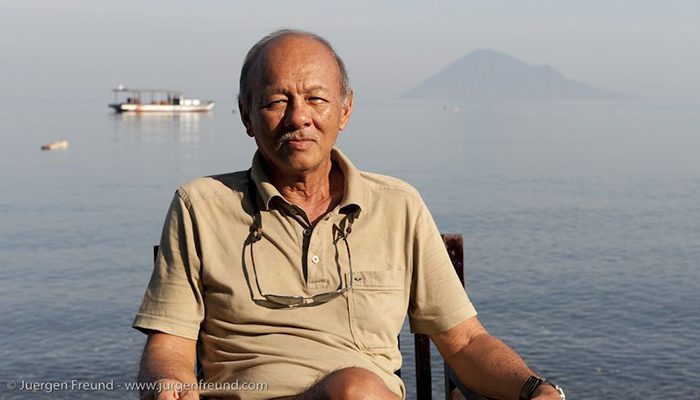 Tribute to Dr. Batuna – Our Friend and Father to [email protected] Owners
Danny & Angelique would never have started [email protected] nor been involved with Lembeh Resort had it not been for Angelique's father, Dr. Batuna who started Murex Dive Resort in 1987.
On May 23rd, we laid to rest a fine gentlemen, a pioneer, a man who helped thousands during his life, a wonderful father and exemplary husband, our patriarch, Dr. Hansie Batuna.  Hanny's colorful life was cut short unexpectedly Monday due to a fall while cutting weeds in his pineapple orchard a short distance from the ocean.  Besides pleas from many loved ones to wake up, no doubt the final sounds to Hanny's ears included the gentle sound of Manado Bay washing ashore.  They say the mark of someone who led a good life, a decent, honest life is they get to die where and how they want.  Enough said about this man who will be missed by many.
Although quiet, Hanny was always up for a good gathering.  There is no place on earth Hanny would rather have a gathering than his home, Murex, a place he built with love and a lot of sweat.  The funeral was postponed until Friday by virtue of family traveling from afar and cultural rituals.  As a result, all week people poured in to visit since news spread to show respect for Hanny, greet Mrs. Batuna and family and learn of what transpired.  Family and friends arrived from Gorantalo, Jakarta, Singapore, Bangkok, Denver and elsewhere.  Hundreds and hundreds came to visit.  Included were staff of 30+ years, both current and former Hanny recruited, trained and nurtured.   A full boat of villagers from the island of Bangka had a meal, sang a few songs and departed for their three hour voyage home.  Several from his beloved farm in Tulap came and stayed to help prepare meals and serve guests.  Many stayed up all night to keep Hanny company playing guitar, singing and reminiscing.  Brothers, in-laws, nephews & nieces, grand children hugged, laughed, ate (and ate and ate) and cried as family and friends.  No doubt Hanny is smiling as his grand children played, his friends relaxed in reflective but happy conversation and his family marveled in disbelief knowing full well Papa didn't want to bother anyone, especially his wife Ineke, with a long drawn out demise.  If we could hear Hanny again, he'd probably humbly say, "see, isn't this a nice place for everyone to have a party!"
Dr. Batuna touched the lives of thousands.  The dive tourism community in North Sulawesi started in large part as a result of his vision, generosity and tenacity and his willingness to stick up for our environment.  Of late, the situation on Bangka was deeply troubling.  He had no respect for business people and politicians who blatantly want to wreck these islands and reefs, skirt the law and greedily line their pockets.  Once Hanny was asked how he made Murex successful.  His answer was simple, "just keep it going".  Having dedicated so much of his life to selflessly giving, that's all he asks of us – keep it going, don't give up.  We owe this to him.
Considered by many as a second father, nobody can fill Hanny Batuna's shoes.  Murex will never be the same without their patriarch.  However, the spirit of this man will live forever in our hearts and in Murex.  His presence will always be felt…and always be missed.  May you rest in peace – but don't hesitate to send coordinates if and when we steer off course.  You will never be forgotten.  God Bless You.
All are welcome to visit for the traditional 40 day after passing ceremony at Hanny's home, Friday 27 June.