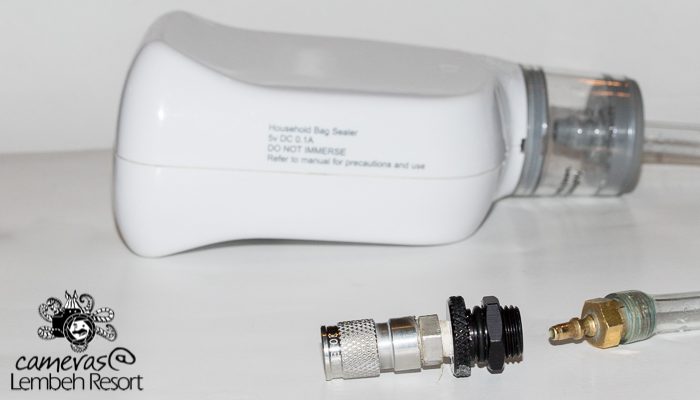 Tuesday Tips & Techniques from Photo Pro Sascha Janson #23
On select Tuesdays, Cameras@Lembeh Resort – the first and only dedicated photo & video center in Lembeh Strait with full time on site photo pro – will feature Tips and Techniques by Photo Pro Sascha Janson. Sascha will offer up a range of information, you never know what piece of wisdom he will impart.
Sascha says: Vacuum systems can save your camera!
Have you ever heard of a vacuum system for underwater housings?
What's the idea behind it? If the vacuum stays inside the housing, it means that air can't get inside, which also means that water cannot get inside.
You use a little pump which is connected to a fitting to pump a vacuum inside the housing. I use an electronic household bag sealer pump and a fitting screwed into a bulkhead sync cap, but there are a few manufacturers which have them on the newer housings now – if yours doesn't, you can also retrofit one yourself. One option is to get only the fitting with a vacuum pump, another one is to get an electronic circuit-board with the fitting and a vacuum pump which actually indicates a green LED light when there's a vacuum inside the housing and a red LED light when there's no vacuum inside the housing. So you pump the vacuum, wait for about 20 minutes and then check again. If the vacuum is still there, the housing is sealed, if air went inside the housing and the vacuum is gone, we have a leak and we shouldn't take the camera underwater. That way we know already if our housing is sealed before we dunk it in the rinse bucket or the sea. It provides peace of mind to know that all is good before the dive.
There are quite a few different options out there at the moment, just google for underwater housing vacuum system and you should be able to find something.
Stay tuned for more Tuesday Tips & Techniques