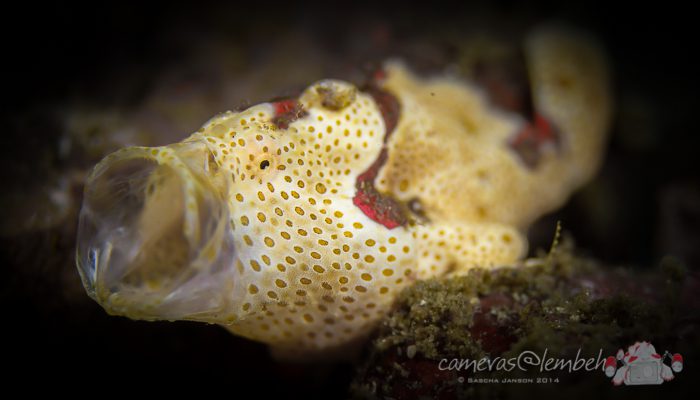 Tuesday Tips & Techniques from Photo Pro Sascha Janson #12
On select Tuesdays, [email protected] (the first and only Photo & Video Center in Lembeh Strait) will feature Tips and Techniques by Photo Pro Sascha Janson. Sascha will offer up a range of information, you never know what piece of wisdom he will impart.
Sascha says: Beat the Shutter Lag!
Most Point&Shoot cameras take a little while to focus and actually take the picture when we press the shutter release button down. This is called the "Shutter Lag". If we're shooting a faster moving subject like a fish, we often get images with no subject or we only have the tail of the fish in the frame. Or trying to get a behavior shot like a yawning frogfish can be very frustrating if we miss it all the time.
But we can beat the shutter lag: If we depress the shutter halfway, the camera can set its focus and we can do the fine tuning on our composition of the image and wait for the right moment to press the shutter fully down. The camera will be much faster this way. So we wait for the right moment while having the shutter half-pressed.
Some Point&Shoot cameras have a "Continuous AF – ON" function, which allows the camera to focus continuously without half pressing the shutter button. It will focus faster when you eventually half press your shutter button to take the image, but also uses more battery power. If you don't worry about battery life, you can switch the continuous auto focus ON.
Stay tuned for more Tuesday Tips & Techniques