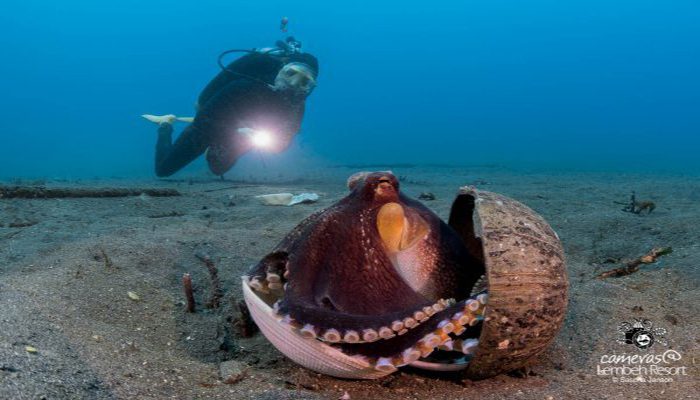 Tuesday Tips & Techniques from Photo Pro Sascha Janson #35
On select Tuesdays, Cameras@Lembeh Resort – the first and only dedicated photo & video center in Lembeh Strait with full time on site photo pro – will feature Tips and Techniques by Photo Pro Sascha Janson. Sascha covers everyday situations he sees or has been asked about when talking with our visiting underwater photographers, so stay tuned, Sascha will offer up a range of information to help you become better prepared for underwater photography abroad and overcome some situations that may happen on dive holidays. You never know what piece of wisdom he will impart. Interested in a photo or video course, maybe you need a flip mount holder made on our 3D printer for your new diopter (maybe you just want to see a 3D printer)? Stop into cameras@Lembeh Resort and Sascha can assist you in capturing the best images possible.
This Week's Tip: Wide-Angle and Close-Focus-Wide-Angle (CFWA)
If you ask seasoned divers about the Lembeh Strait the most common phrases that you will hear are "muck diving", "underwater macro photography", "critter capital" and words such as "bizarre", "weird", "unique" and "unusual". These are usually followed by a list of species such as hairy frogfish, blue-ring, flamboyant, pygmy, mimic and other Lembeh Strait "icons". It's not so often that you will hear people discussing wide angle photography.
But there are a range of subjects and dives sites in Lembeh that are great for wide angle photography. Sites such as Nudifalls, Nudi Retreat, Pante Parigi and Makawide, just to name a few, are home to beautiful coral in relatively shallow water – these sites (and others) provide great opportunities for wide angle shots.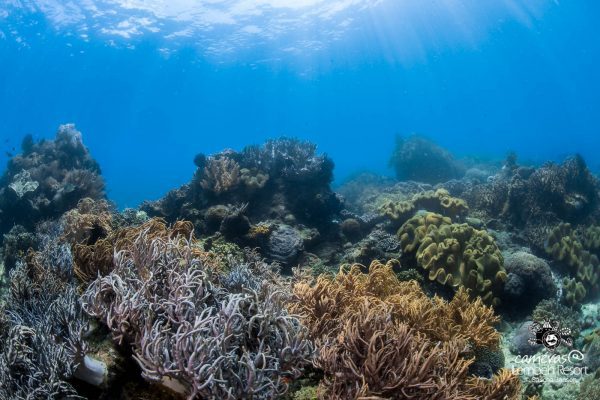 Shallow reef at one of our close by dive-sites, Tanjung Kubur, shot with – SONY A7RII, Canon 8-15 and ambient light
---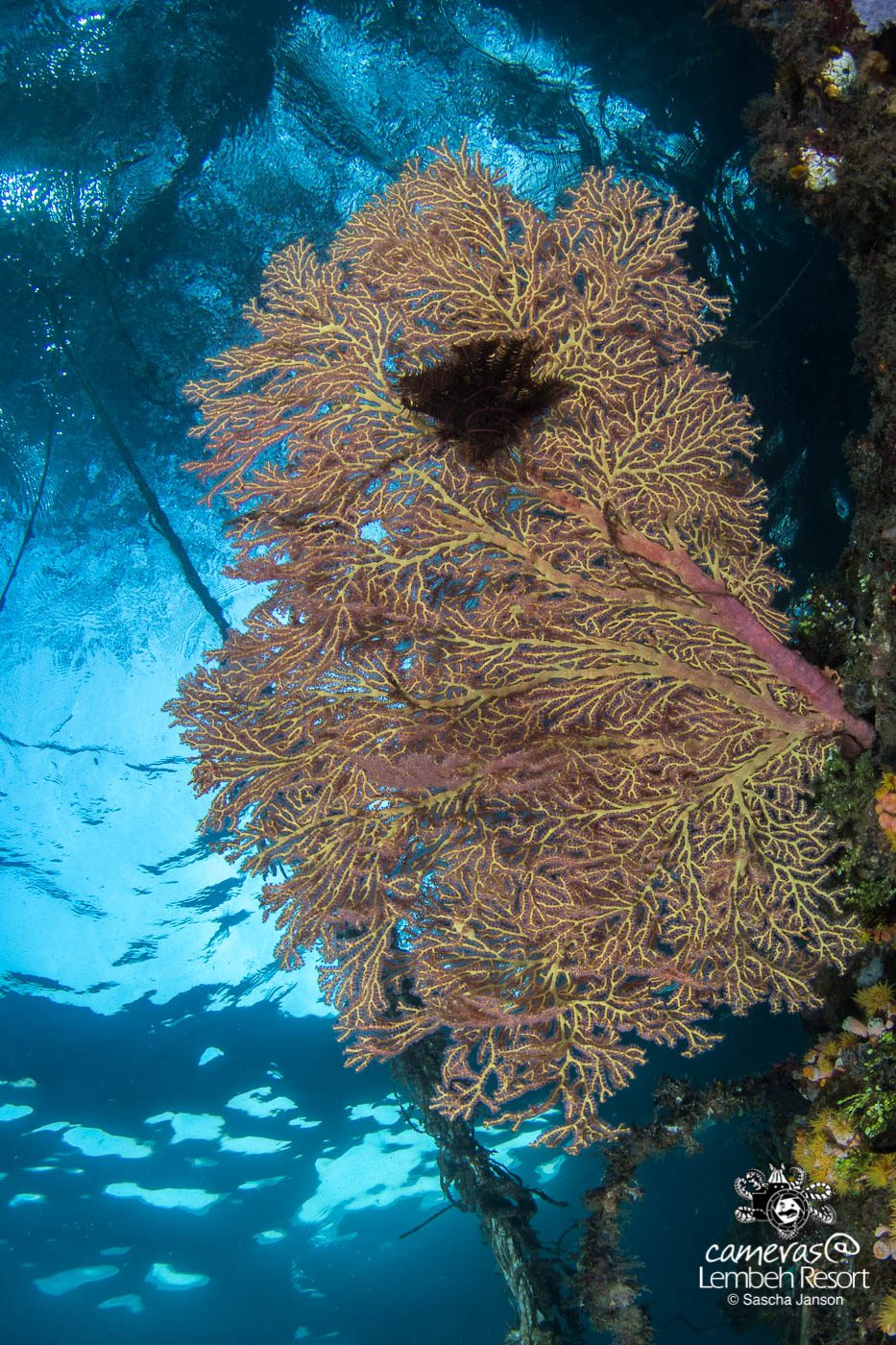 Shallow fan at Nudifalls – Canon 7D MarkII, Tokina 10-17 @ 10mm, 2x INON Z240
---
If you are keen to try shooting marine life with a wide-angle lens to get a different perspective look for some of Lembeh's larger critters such as the giant frogfish, coconut octopus, larger species of crustaceans and even anemones.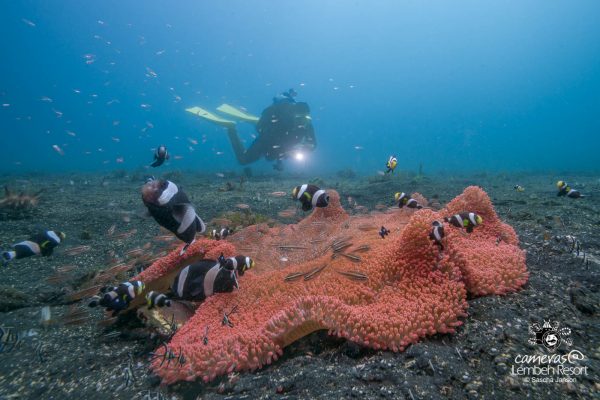 Anemone with diver model in background SONY A7RII, SONY FE 16-35 F4 ZA OSS @16mm, f22, 1/100sec, ISO640, 1x i-Torch Pro7, 1x Sea Dragon 1500
---
If trying out close focus wide angle photography on a wall site or sloping reef, try to position your camera so that you get a better background than just sand or the wall. Try angling the camera upwards to get a blue background and capture the sun light, or downwards to get a black background.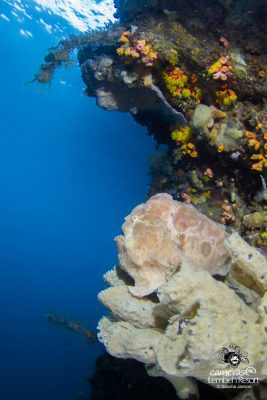 Giant frogfish (Antennarius commerson) shooting upwards to get a blue background – Canon 7D, Tokina 10-17 @10mm, f3.5, 1/80sec, ISO200,2x L&M SunRay 2000 LED lights
---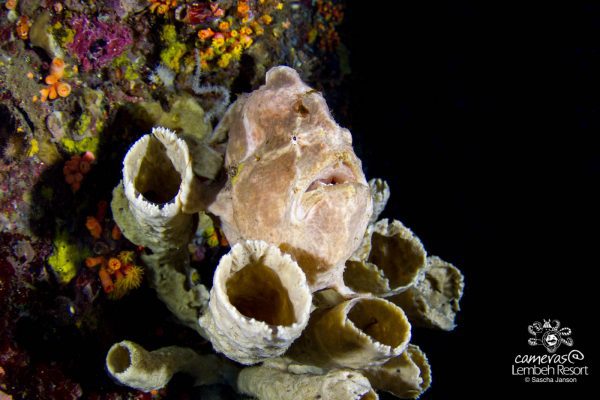 Giant frogfish (Antennarius commerson) shooting downwards to get a black background – Canon 7D, Tokina 10-17 @10mm, f3.5, 1/250sec, ISO200,2x L&M SunRay 2000 LED lights
---
For shooting CFWA, I recommend a mini-dome, because you can get very close to the subject (and very low) and when using a fisheye lens with an additional teleconverter, even smaller subjects such as nudibranchs are possible to shoot.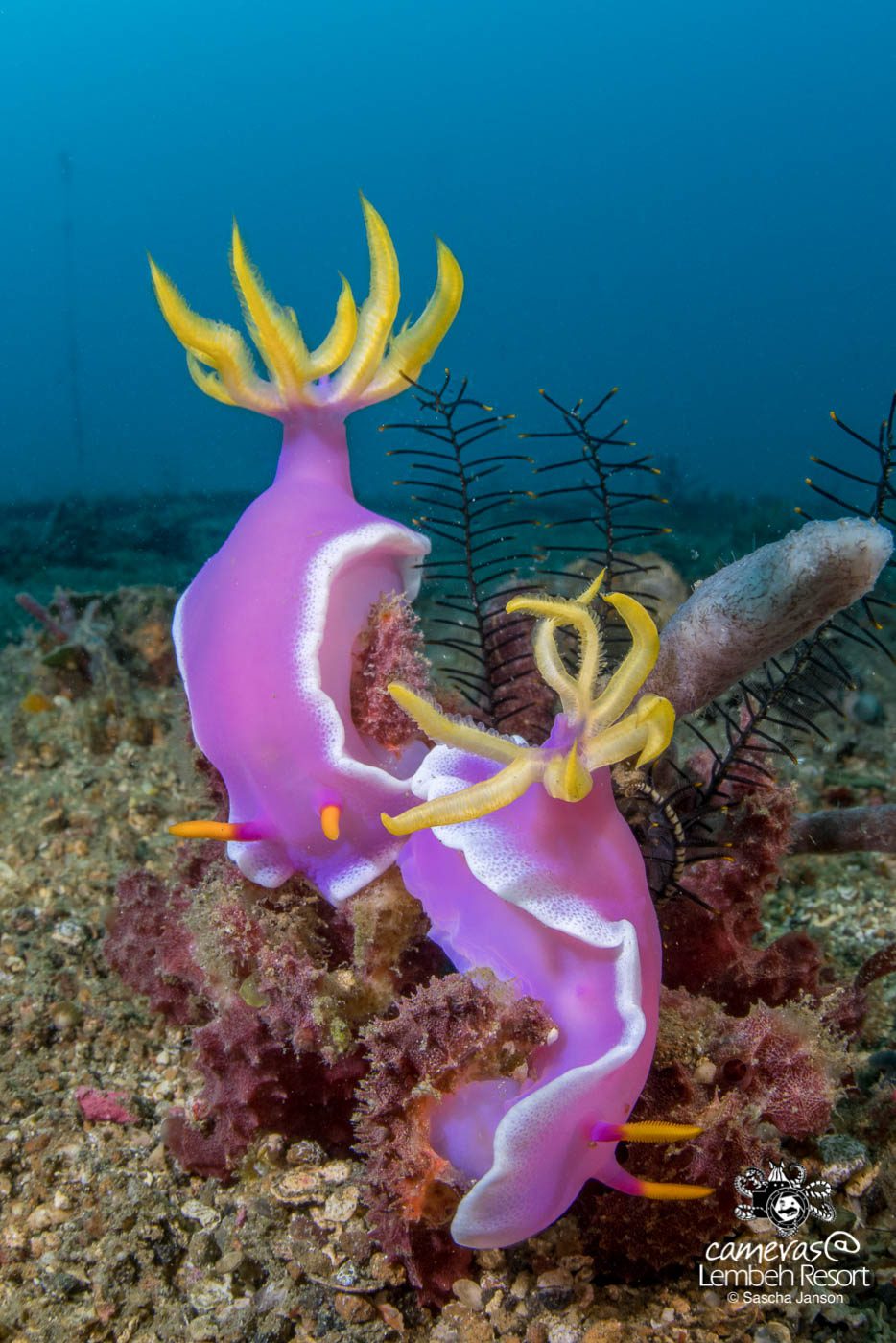 Hypselodoris nudibranchs (Hypselodoris apolegma) CFWA on the Lembeh Resort House-Reef – SONY A7RII in Nauticam housing with ZEN DP-100 mini-dome, Canon 8-15mm fisheye (@19mm), Kenko 1.4 Teleconverter, f22, 1/60sec, ISO640, 1x i-Torch Pro7, 1x i-Torch Venom c92
---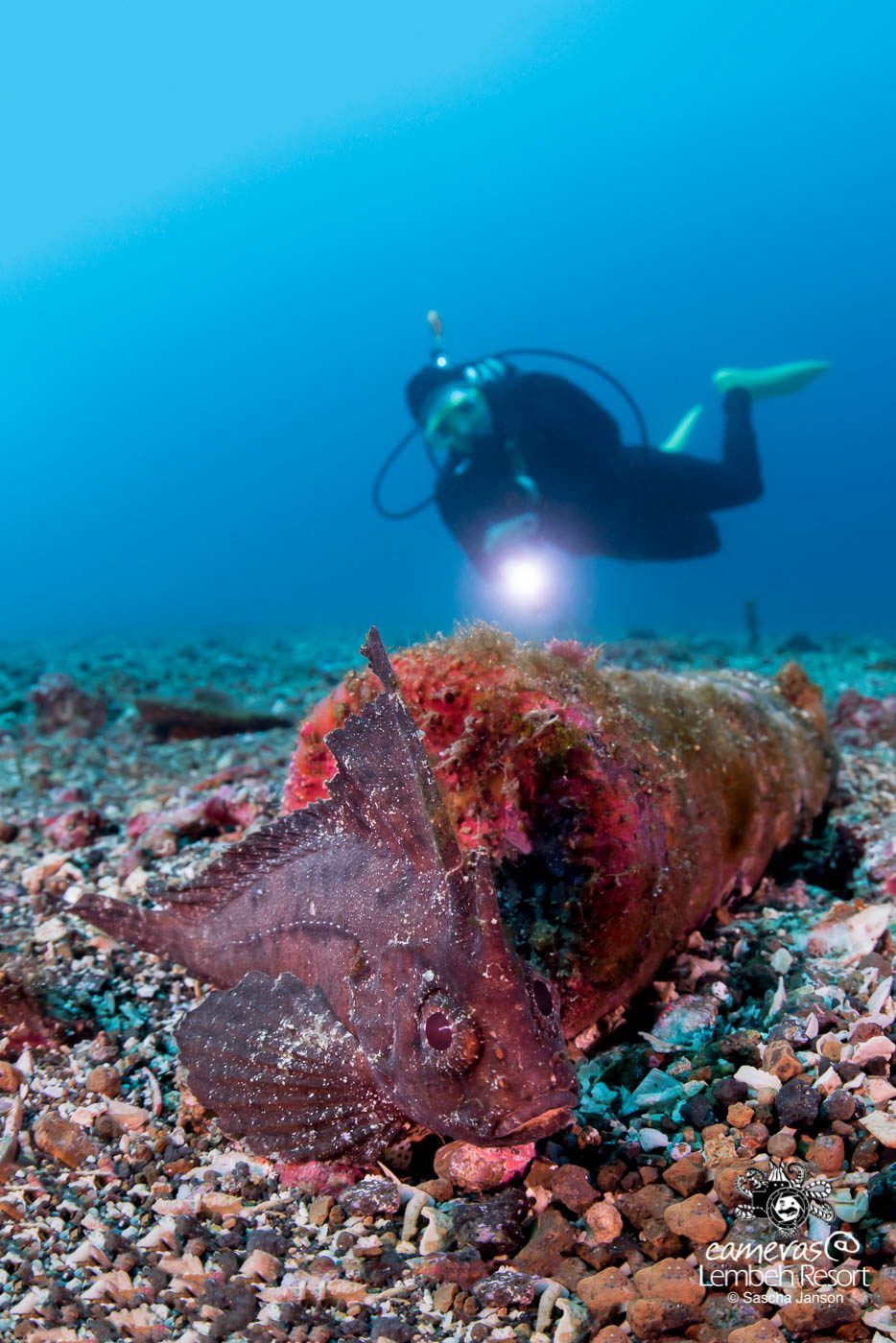 Cockatoo waspfish (Ablabys taenianotus) and diver – SONY A7RII in Nauticam housing with ZEN DP-100 mini-dome, Canon 8-15mm fisheye (@21mm), Kenko 1.4 teleconverter, f18, 1/60sec, ISO1250, 1x i-Torch Pro7, 1x Sea Dragon 1500
---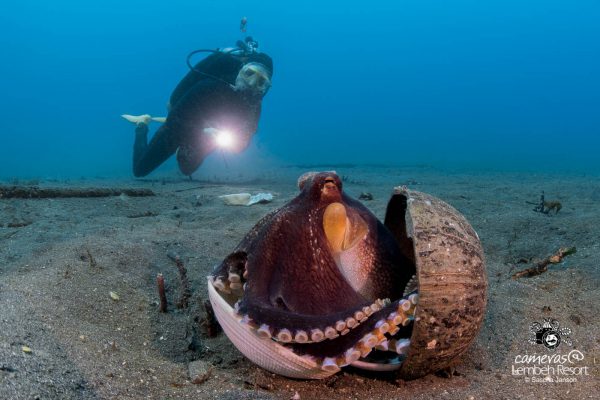 Coconut octopus (Amphioctopus marginatus) and diver -SONY A7RII in Nauticam housing with ZEN DP-100 mini-dome, Canon 8-15mm fisheye (@16mm), Kenko 1.4 teleconverter, f22, 1/60sec, ISO1600, 1x i-Torch Pro7, 1x Sea Dragon 1500
Stay tuned for more Tuesday Tips & Techniques