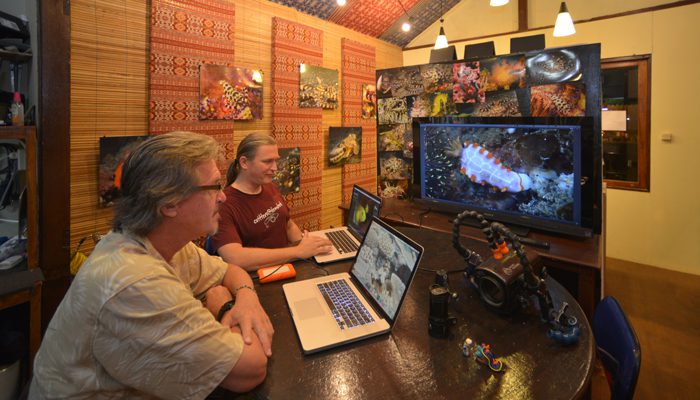 Underwater Photography at Lembeh Resort with Sascha Janson
Most underwater photographers have had the unfortunate experience of dealing with faulty equipment in a remote location, far away from service centers and photography shops. Something as simple as a broken sync-cable or a flooded strobe can result in inferior image quality and will most certainly result in lots of unnecessary frustration.
In attempt to avoid such situations Lembeh Resort is proud to be the only dive resort in North Sulawesi with a dedicated full time Photo-Pro, Sascha Janson.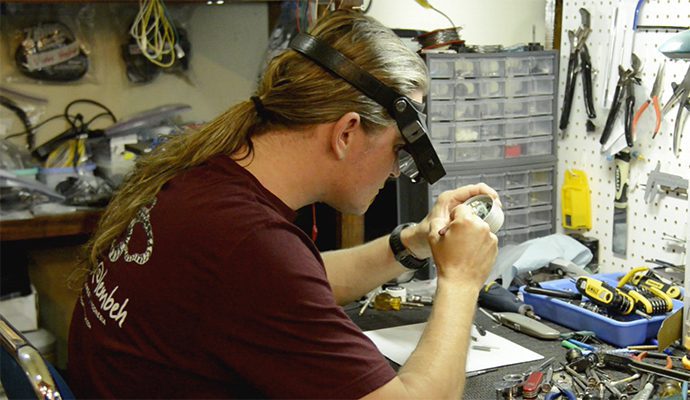 ---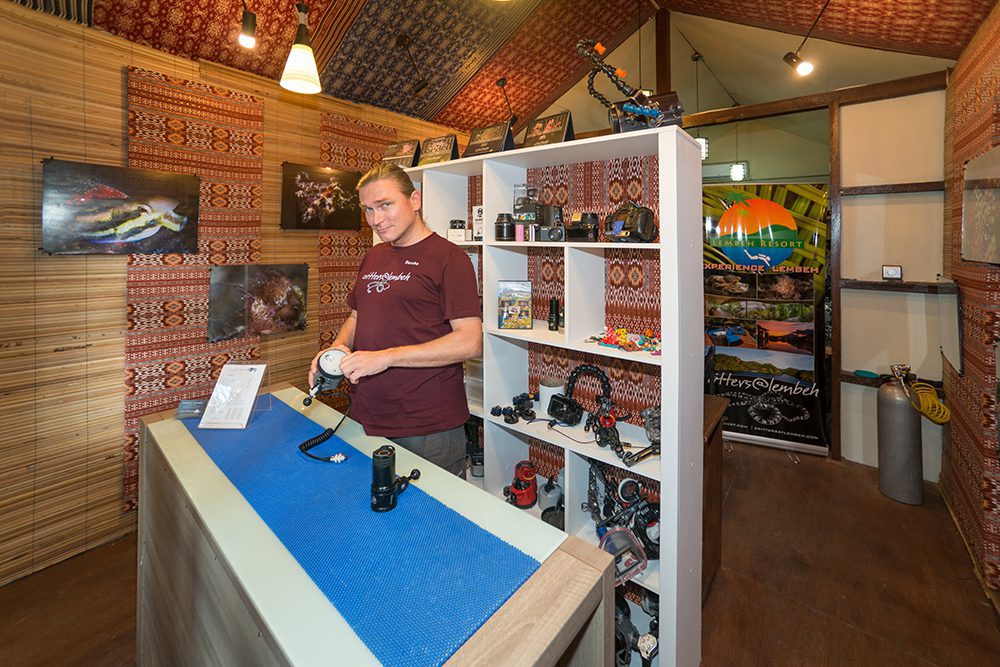 Sascha runs the well established Photo-Center which offers photography and videography training, camera and housing repairs and even a 3D printer to produce replacements for broken parts of even to produce custom made mounts and more. If a piece of equipment is beyond repair the Photo-Center also offers a range of camera bodies, lights, strobes, housings and more for rent.
The services above are just the highlights of what our photo-center has on offer; did you know that our trained photography guides have received extensive training from Sascha to ensure that they know where to position your snoot, how to hold your lights for the perfect effect and how to find critters that are in the best position to get you that winning shot?
It doesn't matter to Sascha if you are a beginner using a point and shoot or a seasoned diver with a DSLR, Sascha and our team are always ready to make sure that you get the best shots possible of the critters that you really want to capture.
The Lembeh Strait is an exceptional place to visit and we recognize that our guests want to take the best images that they can, we are here to assist every click of the way. We'll help you with your rig, we'll find the most photogenic critters and we'll help you get THAT shot.
---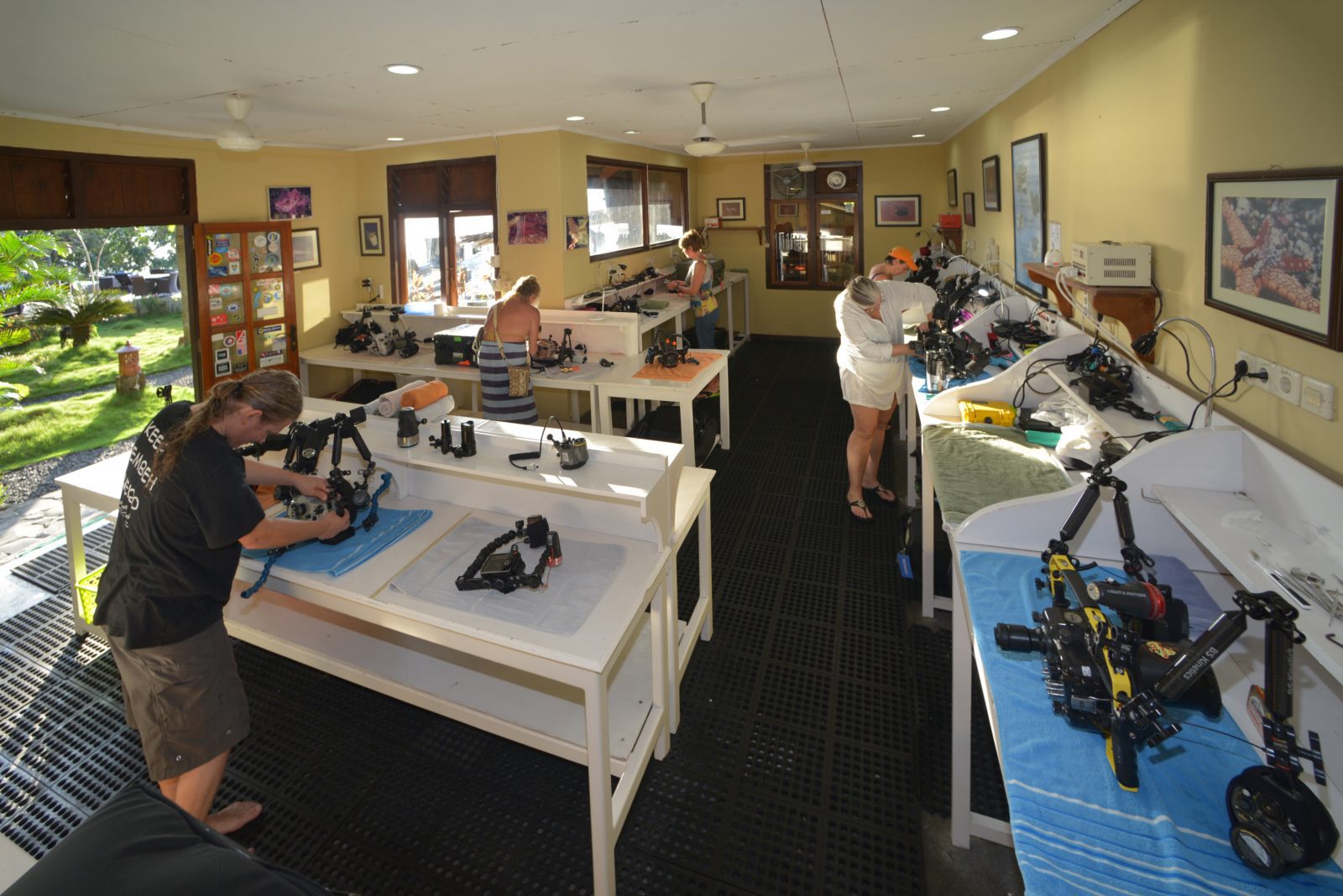 Our fully-fitted camera room is equipped with individual stations for each guest and each station has numerous sockets for charging batteries and strobes. The stations are equipped with bright lights, towels and tissues to make the camera assembly process as easy as possibly.
If you have any problems or need advice, guidance or training then visit Sascha in the photo center. Sascha has lived in Indonesia for 10 years and knows the critters of Lembeh better than most. With Sascha's experience in the Strait combined with his phenomenal photography and videography skills he has a lot to offer. Sascha is also well known as being an incredible "Camera Doctor", if you have leaks, breakages or malfunctions he is on hand to help. It is a regularly heard comment that "if Sascha can't fix it; throw it away", and thankfully we don't have many items heading to the trash!
---
Sascha's homemade "camera drying box" is vital for when accidents do happen. In case a piece of equipment cannot be saved then he has a full range of spares as well as some additional extras including diopters, snoots, strobes, synch cords and o-rings.
It is every photographer's nightmare that they have a camera malfunction early in a trip and can't shoot for the remainder of it. Here at Lembeh we will do everything we can to keep you shooting and improving for the duration of your stay.
Underwater photography is something that we take as seriously as you do which is why we have these facilities on offer. At Lembeh Resort you'll be well looked after – and so will your camera!
Author : Sarah Wormald