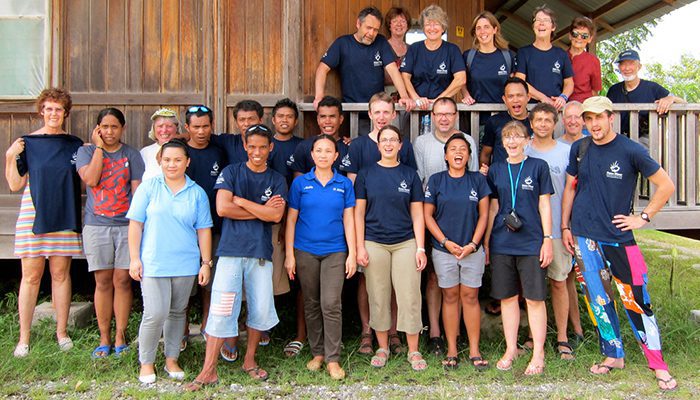 More than 300 Species of Fish on our House Reef
Dr. Patrick Louisy and his wife Sylvie Louisy are coordinators of the Peau- Bleu  Association from France, and they just finished their Fish Counting research in the Lembeh Strait from 6 April – 15 April 2012 with their group of 'fish watchers'!   They stayed at Lembeh Resort and dived with Critters@Lembeh to conduct their fish watching survey.  The goal of this particular trip was to conduct inventories of fish species according to the methodology Fish Watch at two different dive sites: Lembeh Resort's house reef, and the very famous Nudi Fall's, just a short boat ride away from Lembeh Resort.  This method was developed and used by the association since 2003 Skin Blue (Red Sea, Djibouti, Oman, Madagascar) and is meant to list the species present in each reef environment, giving them a qualitative index of abundance.  One can thus describe and understand the organization standards according to habitat, and make statistical comparisons between different sites.  The 'fish watchers' consisted of a range of divers, from first-time fish watchers, to very experienced photographers.  They were assisted by our in-house Marine Biologist Catherine «Dimpy» Jacobs, Hendrikwan Daluwu, and Fandy Sangi.  Patrick and Sylvie conduct their surveys all over the world, teaching all levels of divers how to observe, identify and count fish species.  The group's initial report puts the number of fish species on Lembeh Resort's house reef at at least 320!  At nearby Nudi Fall's, the numbers are around 260, with a global total of 400 different species in the two places.
This was Patrick's 3rd time to Lembeh Resort, and we would like to thank him, Sylvie and all their fish counters for all their hard work!