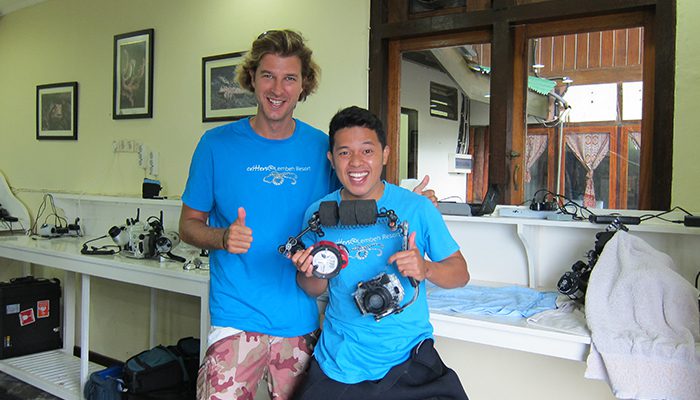 From Trainee to Trainer Welcome back Andrew Raak!
Some of you who visited Lembeh Resort last year may remember Andrew Raak who joined us for almost three months on an Underwater Photography Internship. As well as being an underwater photographer, Andrew is also a PADI IDC Staff Instructor, boat captain, marine science graduate, surf instructor and an avid explorer. For 6 months of the year Andrew is based in Murrells Inlet, South Carolina where he takes divers out to a variety of dive sites on the 46' Newton which he captains. When he is not busy there he is involved in numerous projects around the world so we are lucky to have him back in Lembeh Resort, and this time he's not joining us as a trainee – he's become the trainer. During his one month stay Andrew is conducting underwater photography training sessions as well as rescue and divemaster reviews with our Dive Guides.
Andrew has been taking underwater images for almost 8 years, the last 5 of which he has been shooting with a DSLR. Andrew's current rig comprises a Canon 60D, with Ikelite housing, DS 161 dual strobes plus Kraken 5000 video lights for when filming.
During his 3 months at Lembeh last year Andrew spent much of his time in the Photo Center learning from our full time, on-site Photo Pro Sascha Janson. Andrew says that, "By spending each and every day surrounded by some of the top underwater photographers around, I was not only able practice my craft but literally absorb years of experience on how to get the perfect shot".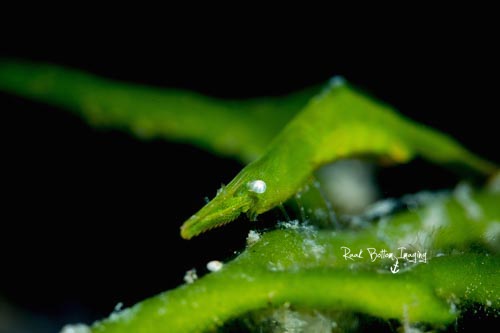 Since leaving Lembeh last year Andrew returned to South Carolina for another busy season, after which he was invited to be a co-host with Brandi Mueller at the Roatan Underwater Photo Festival in Honduras, and he has been invited back again this year.  Every October Andrew organizes groups to the island of Saba located in the Dutch Caribbean for the annual Sea and Learn event.  Sea and Learn is an environmental based festival in which renowned scientists present their research and allow guests to participate in projects around the island.  Andrew also worked aboard the research vessel Dardanella as relief crew, and a dive safety officer/underwater photographer before coming back to Lembeh – he's a busy man!
When asked how he feels about being back in a training role versus last year's internship Andrew says that "The main difference is confidence in the advice I am now able to give to the Dive Guides and guests regarding their shots.  Staying on the resort and working daily with Sascha meant that I was able to truly take my time and practice the tips he passed on to me.  Lembeh is an epicentre for underwater macro photography; and it's amazing to spend time with photographers who may have been shooting for longer than I have been alive".
"I like training the Dive Guides because their passion for critters shows in their photography.  Prior to the course they could only tell me about what they saw, and now they are able to capture that moment on camera.  Like the old adage says, a picture says a thousand words!"
Dive Guide Guntur was one of the first Dive Guides to receive training from Andrew who commented that "Being a full time guide his buoyancy was stellar.  I believe a photographer cannot master a camera until they master their diving skills.  Having students who are extremely comfortable in the water makes teaching photo courses much easier".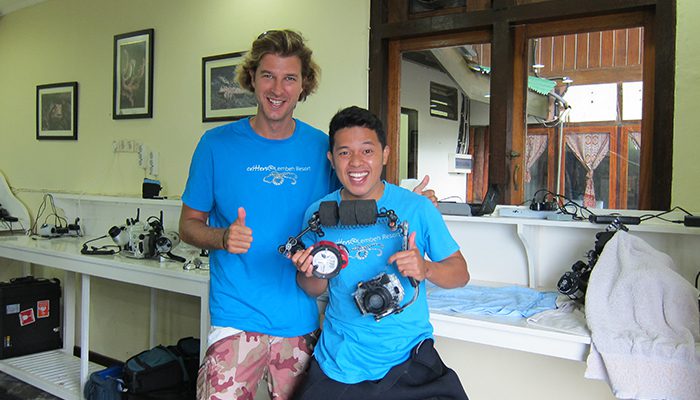 Guntur was delighted with the training, during which he was shooting with a Canon s120 with Inon D-2000 strobe. Guntur learnt a lot of new techniques to use when shooting but he said that the part he enjoyed most was the photo editing workshop with Andrew as this was a new skill for him and he loves learning! Guntur hopes that his new understanding of underwater photography will make him a better Dive Guide for underwater photographer guests.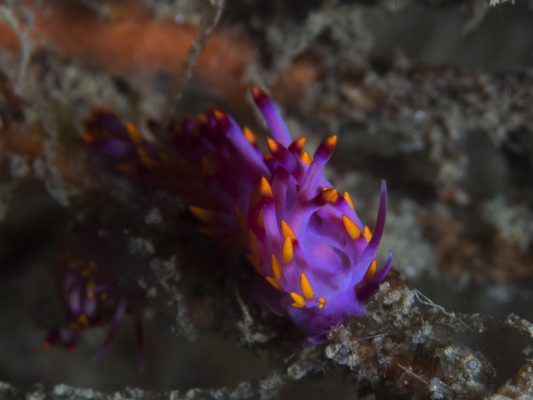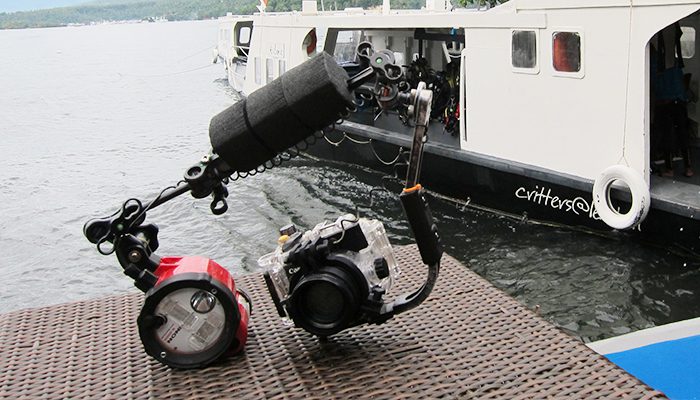 What does Andrew think of Lembeh as an underwater photography destination? "I look at the resort and the Lembeh Strait as an area where people can come to photograph the super models of the undersea world.  I was in disbelief as to the diversity of critters we can see on any given dive. A photographer looking to add an image of a frogfish or flamboyant cuddle fish to their portfolio might have multiple attempts on multiple different days to find and shoot that subject.  Then to top it off the resort has the underwater photographer in mind throughout the entire layout of the resort.   From the knowledgeable staff, to the camera room and photo centre – Lembeh Resort just gets it! Did I mention the food is amazing as well!"
"In twenty years of diving I've been to a lot of places from diving with manatees in the Florida Springs, to reef diving in the Bahamas, working aboard super yachts in the South Pacific, diving during surfing trips in South America but Lembeh is special. Not only for its abundance of critters but more importantly because of the people who help you find them!"
For those of you who'd like to follow Andrew's adventures, stay connected through his website: http://www.raakbottomimaging.com/
If you are looking to improve your underwater photography or videography skills we have a number of options available and you'll be developing your skills on some of Indonesia's best dive sites which are home to the undisputed best muck diving in the world.
Photo Pro Sascha Janson is a renowned underwater photographer and videographer and offers a range of courses as well as tailor made options. In December 2017 our annual Capturing Critters in Lembeh Underwater Photography and Videography workshop returns for its 6th year and from December 6th – 13th Sascha will be accompanied by our in-house Marine Biologist Dimpy Jacobs plus world class Photography Pros Alex Tattersall, Martin Edge and Ethan Daniels. During the week there will be daily workshops, presentations, one on one time with the Pros – and of course, lots of diving! Read about one guests experience first-hand at the 2016 workshop here.
If underwater videography is your main aspiration Sascha is heading up an exclusive underwater videography workshop from July 17th – 24th (limited spaces are remaining). To book your place contact us on reservations@lembehresort.com