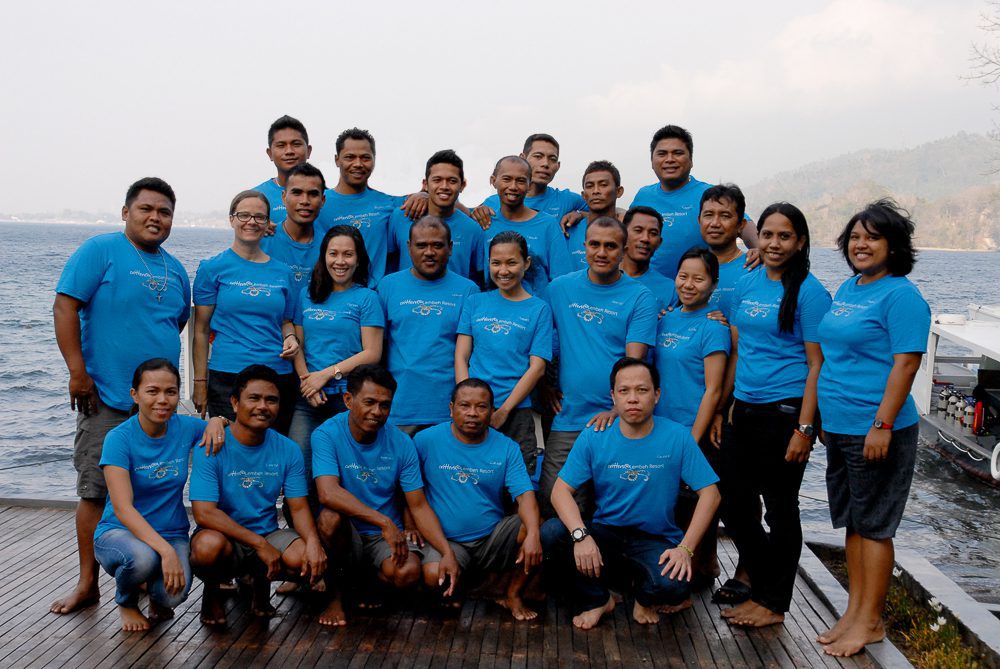 Here at Critters@Lembeh Resort we aim to provide you with the best possible team of dive staff and we are constantly seeking out new ways to develop ourselves and to deliver to you the dive trip of a lifetime.
Dive Guides:
It's not easy to be the best of the best. Our Dive Guides' training is extensive so that you receive the ultimate Lembeh experience, and our Dive Guide training program includes:
-Annual rescue training
-Marine biology training with our onsite Marine Biologist
-Photography training with our Photo Pro – hours of classroom study and hundreds of dives practicing and observing techniques
-Critter Log training
-4 levels of critter testing
-Thousands of individual dives in the Lembeh Strait identifying critters
-Combined total of over 70,000 Lembeh Strait dives and
-Extended training in Bunaken and Bangka
We believe that if you are going to dive in one of the most phenomenal places in the world then you should also have an equally phenomenal Dive Guide! Critters@Lembeh Resort Dive Guides are not your average guides – of course they will lead your dive, check your air and make sure you get back to the boat – but that is such a small part of what they do underwater. Our rigorous training program which develops their spotting skills (you will be amazed at what they can find!) includes hours of training with our onsite Marine Biologist learning about critter behaviors, habitats, scientific categorizations, and even includes four levels of critter testing!
We believe that an excellent guide should be able to work in a range of conditions and at varying sites so not only do our guides become experts in diving the Lembeh Strait they also receive training in Manado, Bangka and Bunaken. This gives them more opportunities and more experience – all of which can be put to use here in Lembeh.
Have you looked at our amazing Lembeh Critter Log? All of our Dive Guides are Critter Log trained as well, and many of the images contained within the log were taken by our own guides! The Critter Log is used in every dive site briefing and during the dive our guides will make notes on which critter species you saw – you can use this list to complete your logbook when you return to the resort.
Photography Guides:
We also have a team of dedicated Photography Guides who have undergone additional hours of classroom theory taught by our Photo Pros, participated in professional workshops and have hundreds of hours of in-water experience – often with some of the world's most esteemed photographers. Our underwater Photography Guides not only understand photography but they have a real passion for it and are always enthusiastic to help underwater photographers.  Our Dive Photography Guides are trained to:
-Understand good composition and lighting
-Recognise how different Lembeh critters react to photographers, lenses and lights
-Offer advice on lens selection and lighting
-Direct photographers to the best possible image opportunities
-Have second to none spotting abilities and
-Improve and correct images through digital editing
Want a more individual experience in Lembeh? Our Photography Guides are also available for private hire:
-No waiting for other photographers
-No waiting for other divers
-Capture images and critters unlike anyone else
-One on one , personal service and
-Choose your own dive site preference
On-Site Marine Biologist: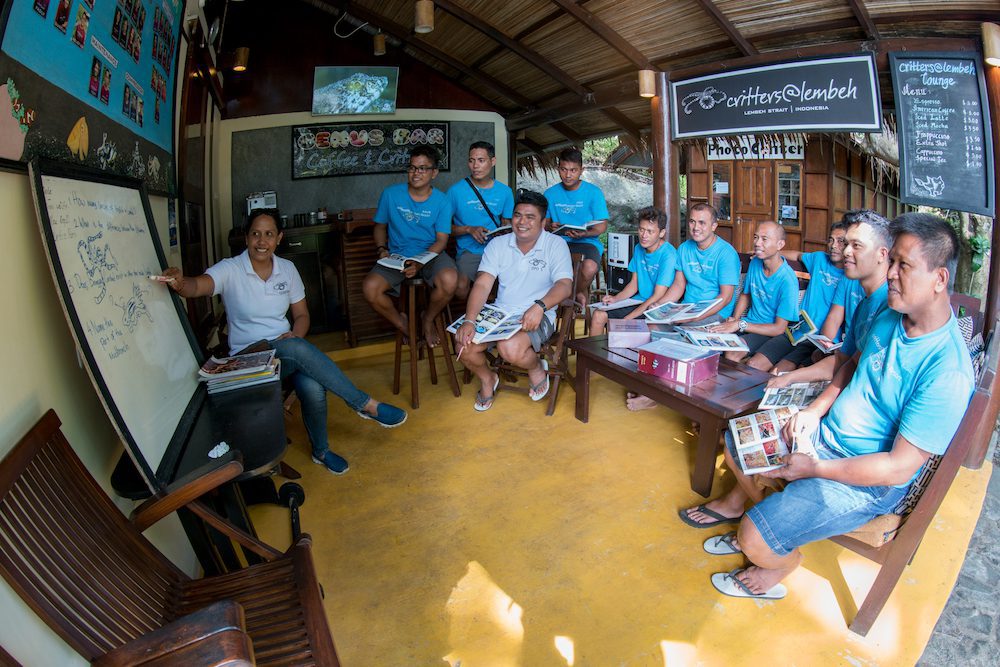 We don't just speculate on the marine life around us – we have a full-time, onsite Marine Biologist who not only trains our team of elite dive guides but is also available to answer any critter questions that you may have. Having a scientist on our team has means that we have been able to give back to the marine environment around us through coral growing projects, our ongoing House Reef project and we also assist other training or studying marine biologists with numerous other beneficial projects and studies here in Lembeh. It is no wonder that some of the world's leading ichthyologists choose critters@Lembeh Resort as their base when diving here! Some of our marine biology programs to date have included:
-Lembeh Resort House Reef project
-Coral Growing and transplant projects
-Artificial Reef construction and management and
-Underwater clean ups and marine debris removal
On-Site Photo Pro:
Our full time, onsite dedicated Photo Pro, Fred Juneau is considered a legend to those who he has helped in the past! Fred has many talents which include:
-Camera repairs, servicing and modification
-Extensive knowledge of numerous makes of camera bodies and housings
-Teaches one on one photography and videography courses
-Available to assist, support and advise photographers from beginners to experts
-Teaching editing and feedback photography courses
-Tailor-made courses to suit individual needs
-Extensive Lembeh Strait diving experience
-A collection if international accolades and achievements
Click here for more information about Fred and the Photo Centre.
Boat Crew:
We would not be where we are now without good boats and compressors. Our Boat Captains and crew are the backbone of our diving trips and we provide a range of training programs to ensure their continual skill development. Our technicians have been sent to seminars in Manado and have attended extended training programs at facilities in Bali, Jakarta and Makassar.
Explore our staff's personal photo pages below: