Exclusive Service and Luxury in the Lembeh Strait
Our commitment to service at Lembeh Resort
Lembeh Resort is not just about diving and accommodation, we believe in delivering you the best resort experience possible and our entire team are passionate about making this happen. From the moment you are greeted at the airport, to when we wish you farewell, we aim to anticipate and take care of your every need. It's impossible to list all of the little extras which we take of for you, but here are some of the ones that our guests often comment on – and please feel free to let us know what you enjoyed most about your stay or what you would like to see added to our service.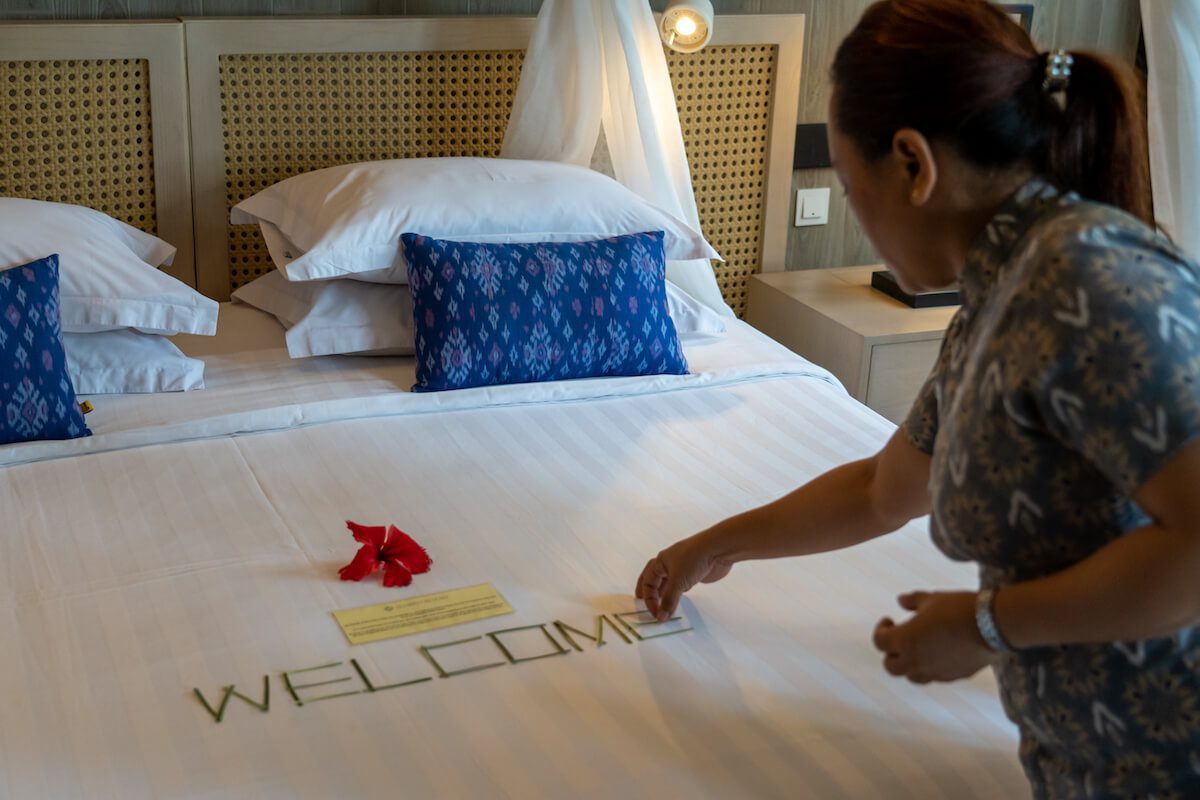 Welcome to Lembeh, North Sulawesi:
Our staff will be ready to meet you at the airport, regardless of what time your flight lands, you'll be greeted with a warmhearted welcome, a refreshing face towel and a cold drink – it's all part of our service. Needless to say your luggage will be taken from you and you won't need to carry another bag for the rest of your stay. You'll be taken directly to our private jetty away from the crowds and brought directly to the resort on one of our comfortable transfer boats. Upon arrival in resort your bags will be taken to your room, or to the dive centre according to your choice. You'll be made to feel at home the moment you step foot in the resort.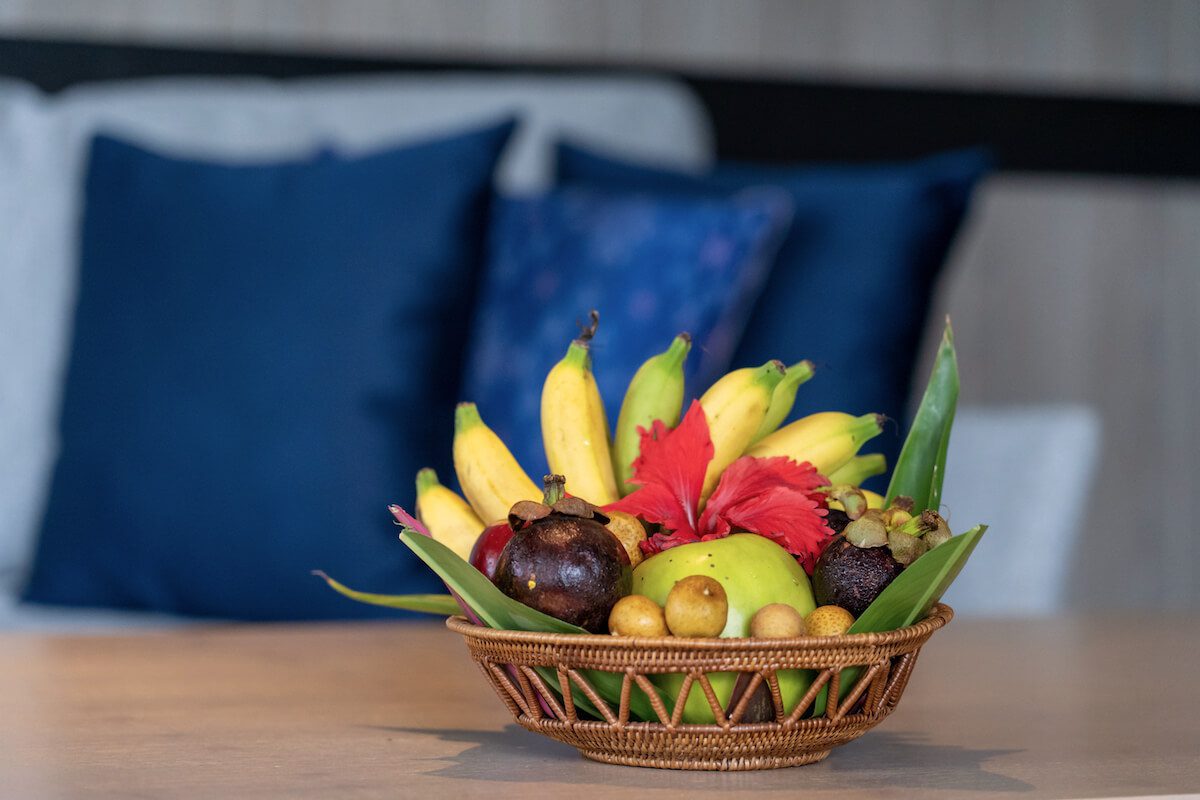 Accommodation at Lembeh Resort:
We understand that little extra conveniences all lead to a more pleasurable experience and we also understand that little niggles can have a big impact on the quality of your stay. For this reason, all accommodations have USB charging stations as well as ample plug sockets, reading lights are thoughtfully positioned on both sides of the bed and can be operated without needing to reach. Tea and coffee making facilities are in all rooms so you can relax in your accommodation without needing to venture to the main restaurant – unless you want to! We also provide each room with a complimentary fruit basket.
Our housekeeping service ensures that every guest room is serviced daily while you are diving to minimize any inconvenience. Every evening, while you are dining, your room will be turned down, outside lighting turned on for when you return after dinner and our staff leave you a small daily gift from Lembeh. To ensure you have a comfortable night's sleep you can choose between three different pillow types according to your preference.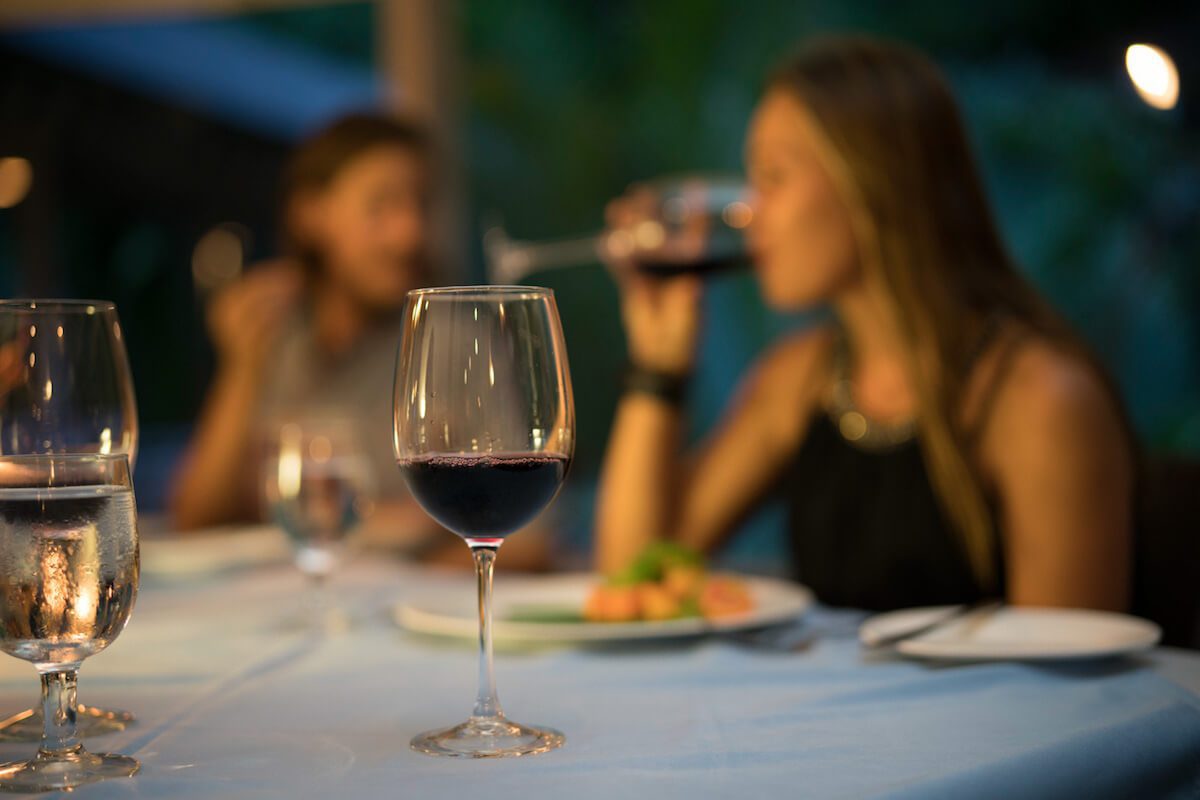 Dining at Lembeh Resort:
We understand that dining is an important part of your experience and we want you to enjoy your dining as much as you enjoy the diving! We source locally grown produce wherever possible to ensure that every bite is packed with the freshest of flavors. Breakfast and lunch are buffets which incorporate hot and cold dishes, both Asian and international choices as well as an à la minute cooking station. Fresh, tropical fruits and wickedly delicious desserts are the perfect way to end your meals. Evening dinner is à la carte with a range of options to tantalize your palate after a day of diving.
Lembeh Resort has the only temperature controlled wine cellar in Lembeh so you can enjoy a choice of cared for wines during your stay. We can cater to any special dietary requirements or preferences you may have and you can also enjoy delicious snacks, cookies and treats at the pool bar between your dives.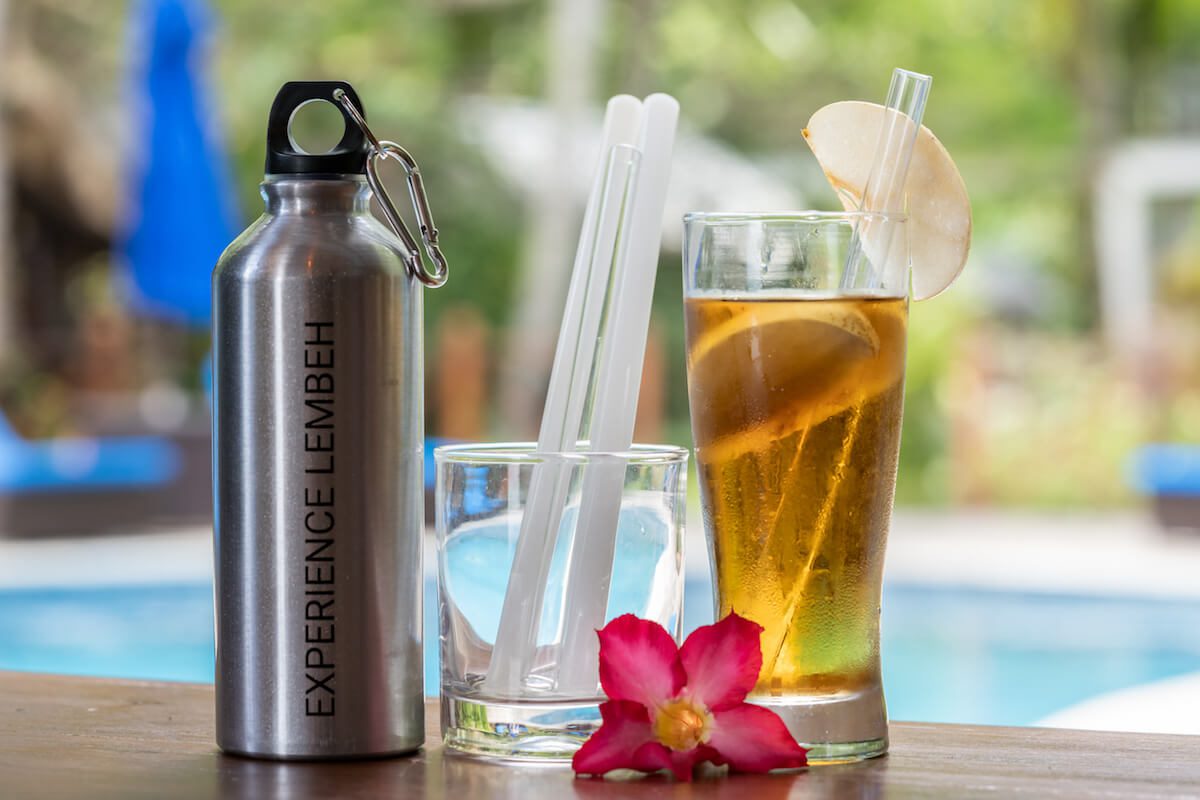 Sustainability and the Environment:
We pride ourselves on protecting the environment so you'll receive a complimentary Lembeh Resort aluminium water bottle to use during your stay and to take home with you as a small, sustainable souvenir. If you choose to try one of our tropically inspired cocktails you'll find they are served with stylish glass drinking straws so you can enjoy your drink plastic free.
All of our accommodation has been carefully designed and constructed to maximize energy efficiency and minimize waste water. Our AC water is collected and used for watering the gardens, all bathrooms have low flow faucets, windows are insulated and construction materials maintain cool temperatures indoors. To learn more about Lembeh Resort as a sustainable holiday choice, check our sustainability page here.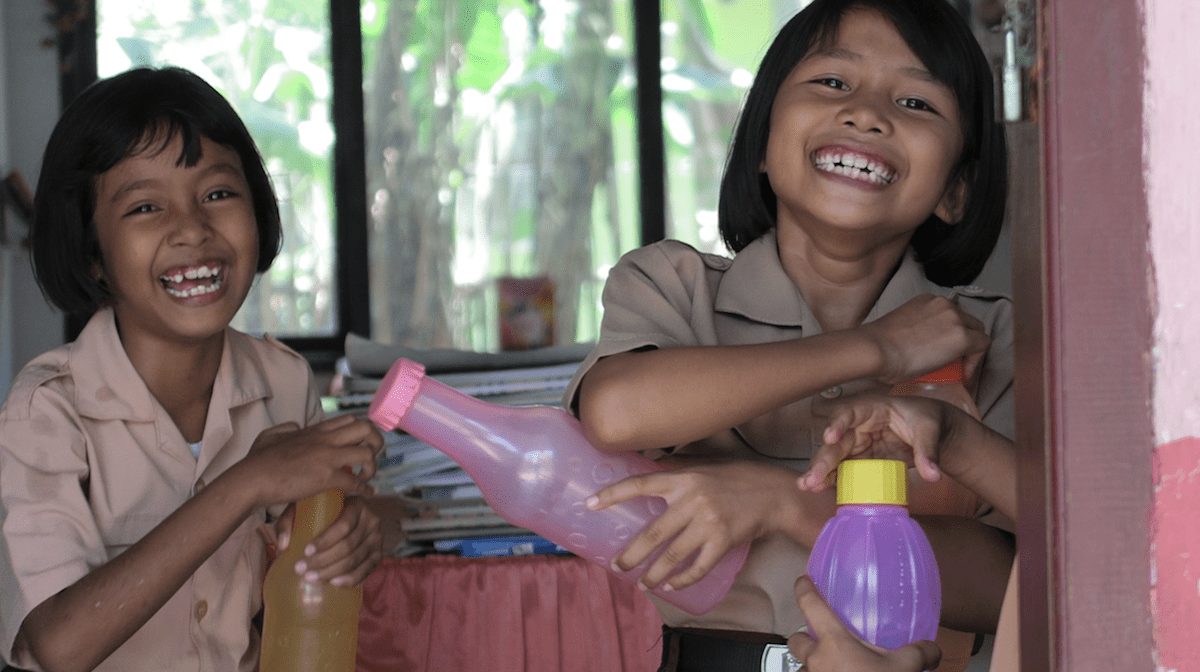 The Lembeh Foundation:
The Lembeh Foundation was founded by Lembeh Resort staff and is now an official registered Indonesian charity (Yayasan). The Lembeh Foundation works with our local villages in three major areas: (i) The Trash Bank and Plastic Waste Initiatives, (ii) The Green Library and Education, (iii) Cleanups and Plastic Repurposing. We host regular Lembeh Foundation presentations in the resort so please come along to find out more, alternatively take a look at the Lembeh Foundation website for our latest news and updates.
The Cliffside Villa:
If you'd prefer a more exclusive experience in Lembeh our Cliffside Villa offers 180 degree views of the Strait from your private pool. The Ciffside Villa is staffed with your own Butler to ensure personal service throughout your stay. You'll also receive a complimentary bottle of wine and spa treatment of your choosing, daily cookies and fresh tropical fruits.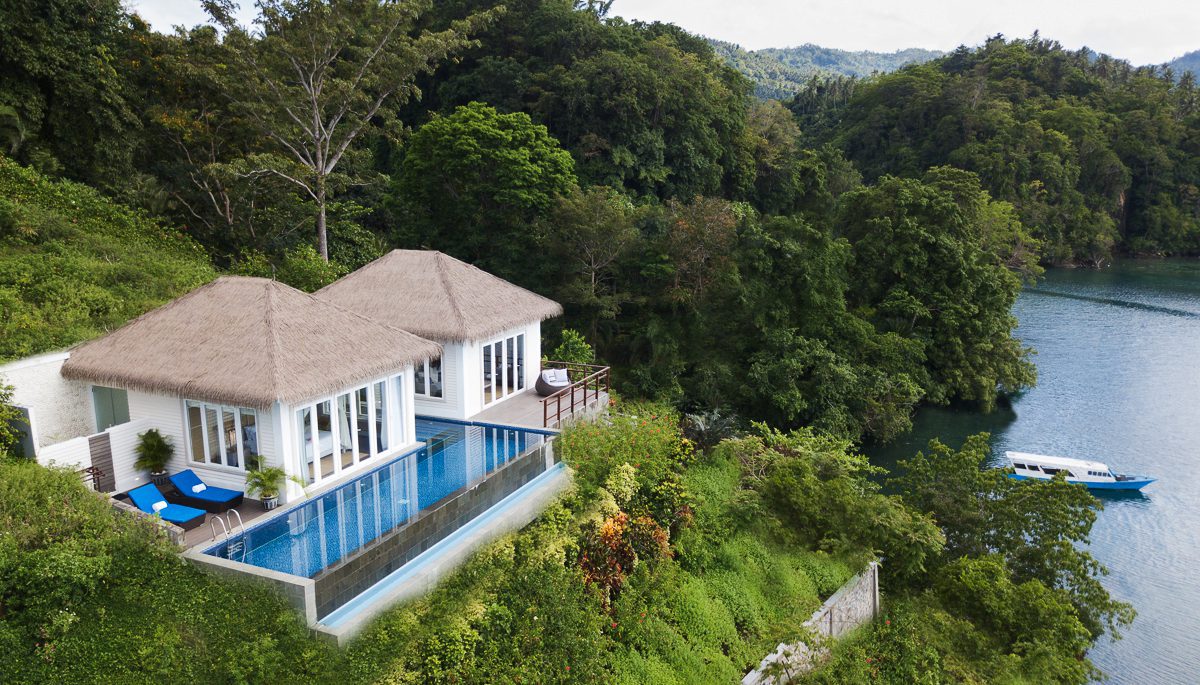 Saying farewell and see you soon
Nothing is more important to us at Lembeh Resort than your experience and enjoyment. If you have any requests or requirements we will do our best to make sure that they are not only met but that they are exceeded, that's why we believe so many of our guests return to us year after year. We hope that you will be one of them too.
Stay with us at Lembeh Resort, discover the wildlife of North Sulawesi and experience Lembeh with a touch of luxury.
For more information or to make a reservation, contact us at: [email protected]