Welcome to Lembeh Resort Kathrin and Tarkan
We are delighted to announce that Kathrin Heussner and Tarkan Sever have joined our team as the new Managers of Lembeh Resort! Kathrin will be taking the reins from Petra as the resort General Manager while Tarkan will be stepping into Morten's role as Guest Relations Manager. Kathrin and Tarkan come to us with years of experience in the diving industry and we are extremely excited to welcome them on board!
Kathrin and Tarkan have been managing dive resorts in Indonesia together for the last six and a half years, the first 3 years of which were also here in Lembeh. Kathrin and Tarkan say it's like coming home after their last three and a half years on the small island of Nabucco in East Kalimantan. As a couple they have always looked up to the high standards of Lembeh Resort and are excited to now be part of the team!
After a month of working together with Petra and Morten, Kathrin and Tarkan say, "We look forward to welcoming returning and new guests to Lembeh Resort and making sure that they have the best experience possible while they are here".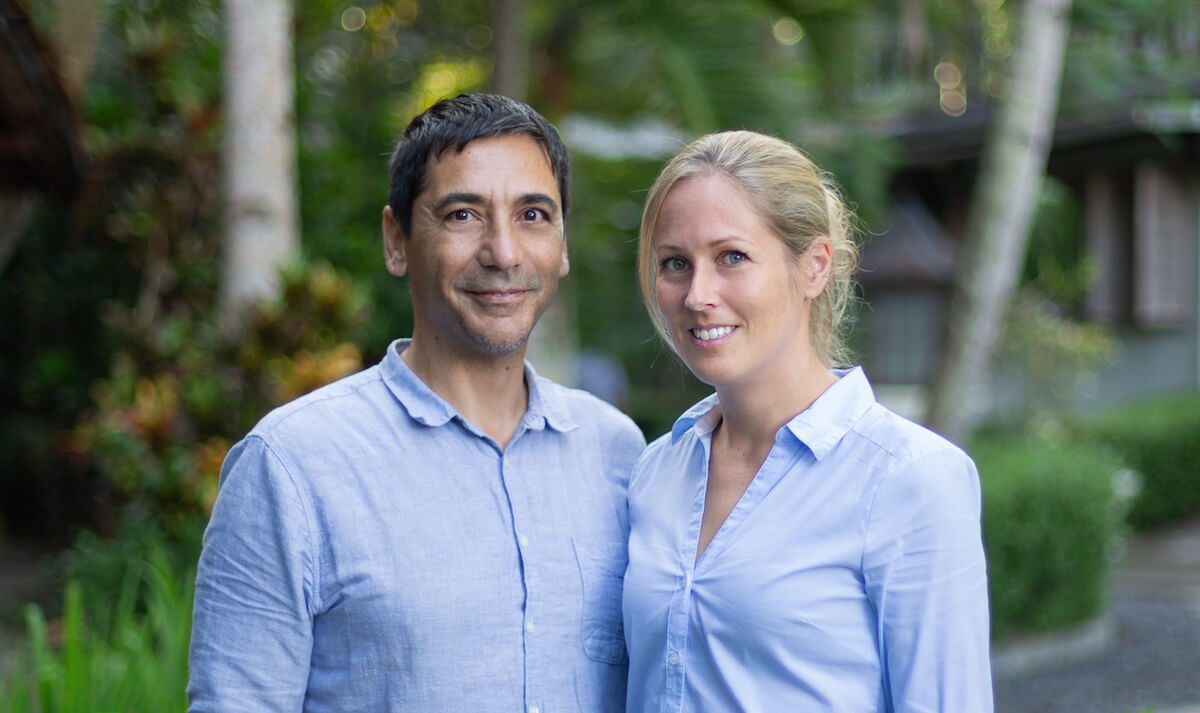 Kathrin originates from Germany where she studied tourism before leaving her home country in 2005. Prior to arriving in Indonesia, Kathrin started working in ski hotels in Switzerland followed by chalets in France, guest lodges in Namibia as well as spending time in Greece, Turkey, Jamaica and the Dominican Republic. Kathrin's one passion however was always diving so she became a diving instructor and spent two years working in Egypt before moving to Indonesia. Kathrin loves underwater photography and has a soft spot for the coconut octopus. Kathrin is a nature lover and couldn't be happier to be back in the Lembeh Strait.
Tarkan has always had a love of the ocean and from a young age he loved nothing more than spending his school holidays working in resorts as a windsurfing and waterskiing instructor. Tarkan started diving 26 years ago and immediately knew that he had found his passion in life – even though his first dives were in the cold waters of the UK.
Tarkan decided to move to warmer climes and opened his own dive centre in Turkey before meeting Kathrin and making the joint decision to move to tropical Indonesia as a resort management couple.
Tarkan is a keen underwater videographer and his favorite critters are shrimps – of which he has many to choose from and film here in the Lembeh Strait. Tarkan is passionate about delivering high standards of service and ensuring guests have memorable resort stays combined with phenomenal diving experiences in the Strait. He also has a love of chocolate!
As well as welcoming Kathrin and Tarkan to Lembeh Resort we say "Bon Voyage" to Morten and Petra who have managed the resort for the last four years. Petra and Morten will be missed by all of us but we are delighted that they are returning to family and friends back home in Europe. We say a huge thank you to them for the developments and changes that they made during their time with us and wish them every success in the future and hope to see them again soon.