Luxury Diving in Lembeh Strait
The Lembeh Strait is world famous for its critter and muck diving. It is widely believed that the Strait offers the highest density of rare and unusual marine species found on Earth. At Lembeh Resort we believe that such a unique location deserves equally special diving opportunities for those who come to explore this phenomenal region – and that's why we offer unparalleled dive services in North Sulawesi. We don't just want to meet your expectations; we aim to exceed them across the board. Here are just a few of the highlights and possibilities that are available when you are diving in Lembeh with Critters at Lembeh Resort.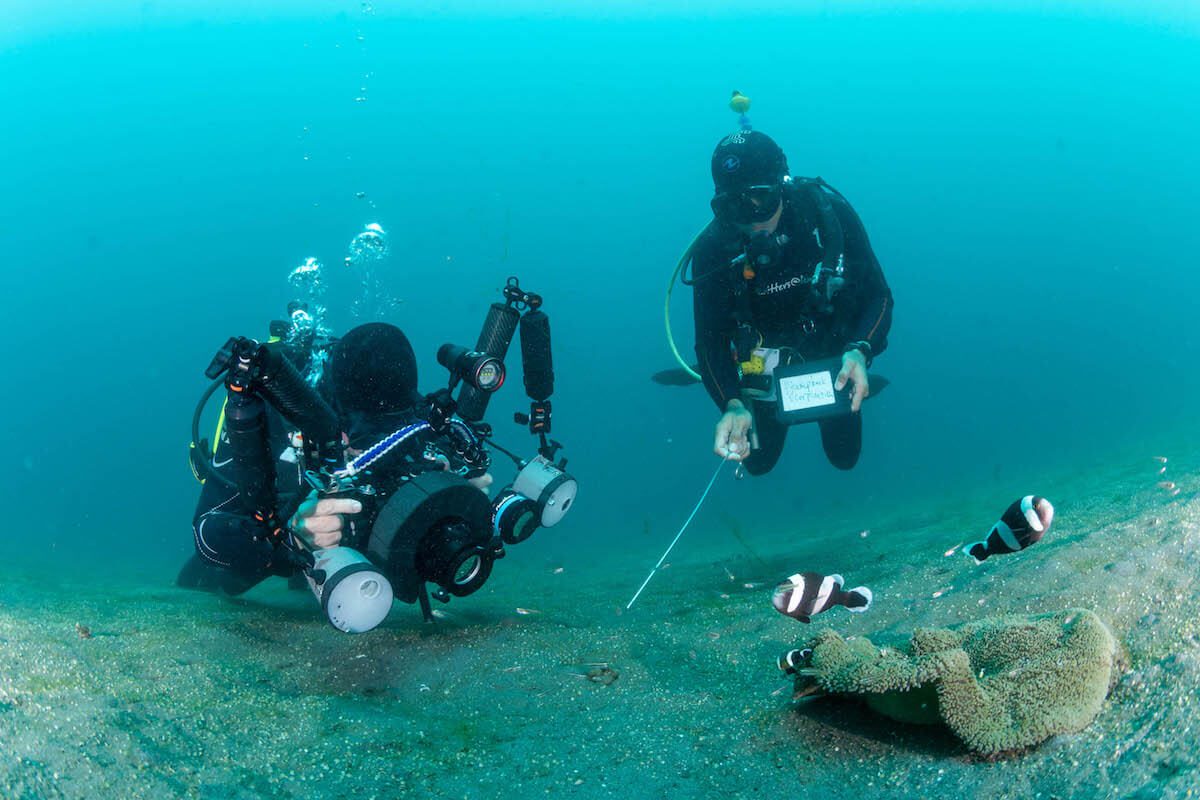 Onsite Marine Biologists
When diving in one of the most unique and scientifically diverse destinations known on Earth, doesn't it make sense to have a scientist on hand to answer your marine life identification questions? At Lembeh Resort we have two full time marine biologists on site who provide our Dive Guides with a wealth of additional knowledge about the critters found in the Strait. Through ongoing marine biology training our Dive Guides don't just rely on their excellent spotting abilities to find the most unique species for you. They know what each critter feeds on and the habitats it resides in, meaning that sightings are not left to chance. Our team are constantly pushing the envelope in Lembeh by seeking out new species and observing behavior in order to learn more about some of the lesser understood residents of the Striat. Our Marine Biologists (and Dive Guides) identify critters by their scientific names so no matter what language you speak you'll be able to look it up later. For guests who want to learn more about particular species, our Marine Biologists are passionate about sharing their knowledge and we also host marine species presentations in the evening before dinner – ask at the Dive Center what's taking place during your stay.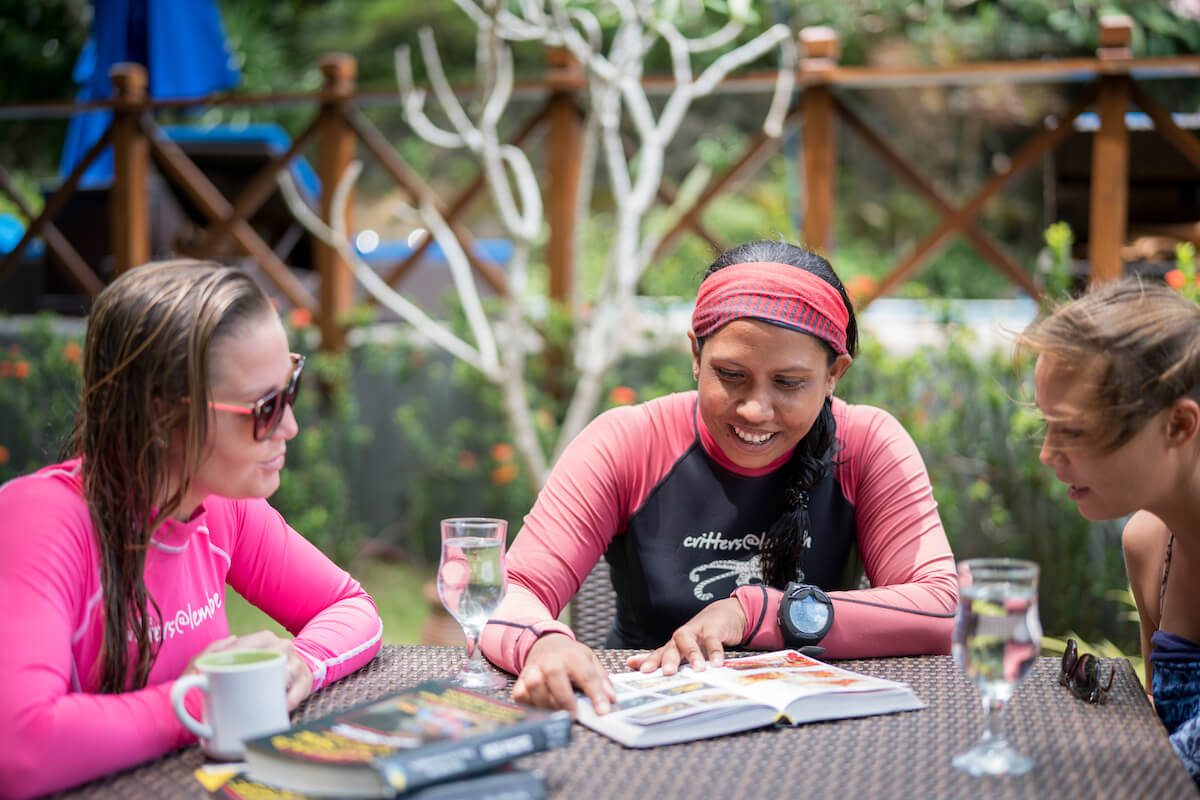 Lembeh's Premier Dive Guides
Our team of professional Dive Guides do so much more than guide you around site to site – although they do that too! Before you even step foot on the boat they will have set up your equipment according to how you like it and they'll be ready to welcome you on board. All of our dive trips include a thorough site briefing from our guides which includes dive site maps, diving conditions, and of course, what you can expect to see underwater. Our Dive Guides have a combined total of over 70,000 dives in the Lembeh Strait alone and they know the dive sites like the back of their hands. Their Marine Biology training means that they are able to make informed decisions about which sites to visit in order to spot the species you most want to see.
For underwater photographers who want to experience the extraordinary diving in Lembeh, we understand how important your photography equipment is to you and our guides are all trained specifically in underwater photography and guiding image makers. They are experts at handling gear, including carefully carrying heavy rigs on and off the boats. Your camera rig and your dive gear will be treated with respect – like it is their own.
To our Dive Guides, their work is not just a job, it's a passion and when they are not guiding they can be found underwater practicing their own underwater photography skills and searching out Lembeh's most iconic critters.
Camera Room and Underwater Photography / Videography Services
At Critters at Lembeh Resort, underwater photography is in our DNA. We understand how important it is that you have the best facilities possible in which to set up your gear, store and charge your accessories. Our Camera Room, is fitted out with individual work stations which have plenty of plug sockets as well as bench top lighting, neoprene mats and camera towels. Outside of the Camera Room you'll also find dedicated rinse tanks and an air gun for drying those hard-to-reach places.
All of our boats are equipped with onboard water tanks and cushioned storage for photography and videography equipment. When you are diving in Lembeh with Critters at Lembeh Resort nothing is left to chance.
Our Photo Center offers a range of spares, accessories and even complete cameras and housings with strobes for rental. We are also able to produce spare parts on site using our 3D printer and we have a drying box for accidental leaks or floods. In fact, our camera facilities are so comprehensive that other dive centers in the Lembeh Strait refer to us for assistance!
We continue to develop our underwater imaging services and we have some very exciting announcements coming soon!
Stay tuned on our Facebook and social media pages to hear our news first!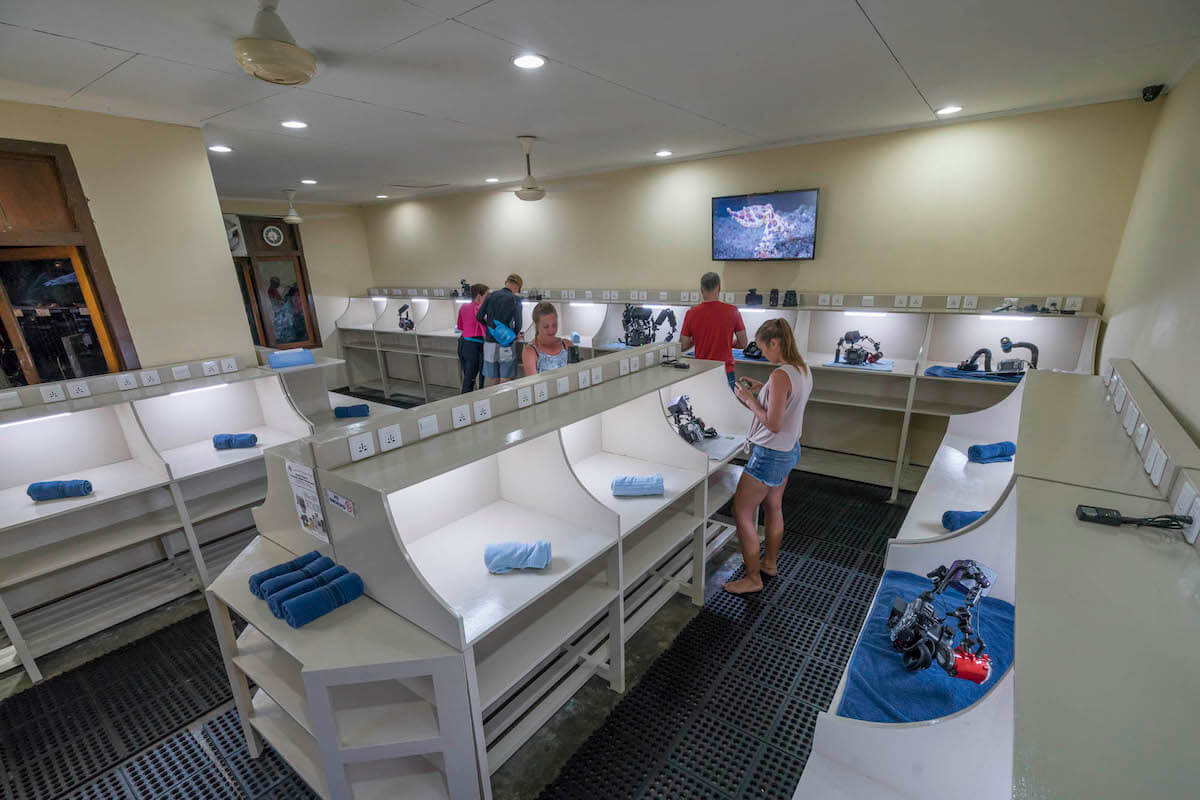 Easy, flexible schedules
You are on holiday and we want you to enjoy phenomenal diving in Lembeh while being able to relax and unwind at the same time. That's why we offer flexible diving options with single dive trips leaving three times a day. In addition to day dives we also offer a full range of dusk and night diving options too (see below).
Not just Scuba Diving in Lembeh
At Lembeh Resort we are commited to exploring new ways of diving the Strait and we are at the forefront of new diving techniques. In addition to day dives we offer dusk dive, night dives, fluo dives and mandarinfish dives as well as bonfire and blackwater diving experiences. During our bonfire and blackwater dives we have been discovering a plethora of larvae stage species which we have not seen previously as well as completely new species which we did not know could be found in the Strait, including paper nautilus!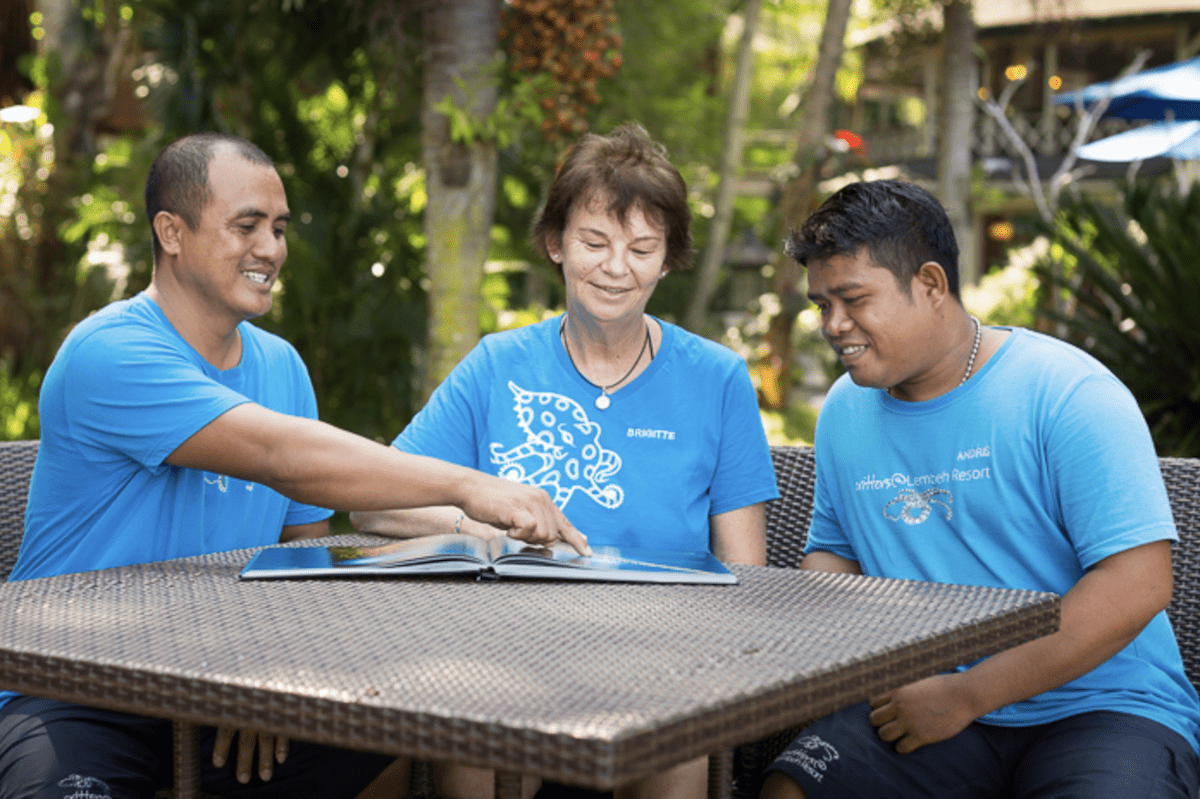 Private Guides
Are you looking for a more exclusive experience when diving in Lembeh? Why not opt for our Private Guide service? Your Private Guide will accompany you on your dives and endeavor to find the species which you most want to see. You won't feel rushed by other divers or pressured by other underwater photographers and you'll dictate the pace of your dives. Private guides may be shared by two divers.
Private Boats
It doesn't get any better than this. Imagine cruising the Lembeh Strait on your own private boat. You dictate the number of dives each day, the schedule and the dive sites. Of course you will be accompanied by your own private guide and boat crew who are committed to providing you with the most exclusive service possible.
Private Guides and Private Boat services are recommended for:
Individuals or couples who want a more exclusive underwater experience
Underwater Photographers who want maximum time with individual critters or who are hoping to capture specific species
Underwater videographers
Anyone shooting for publications / broadcasts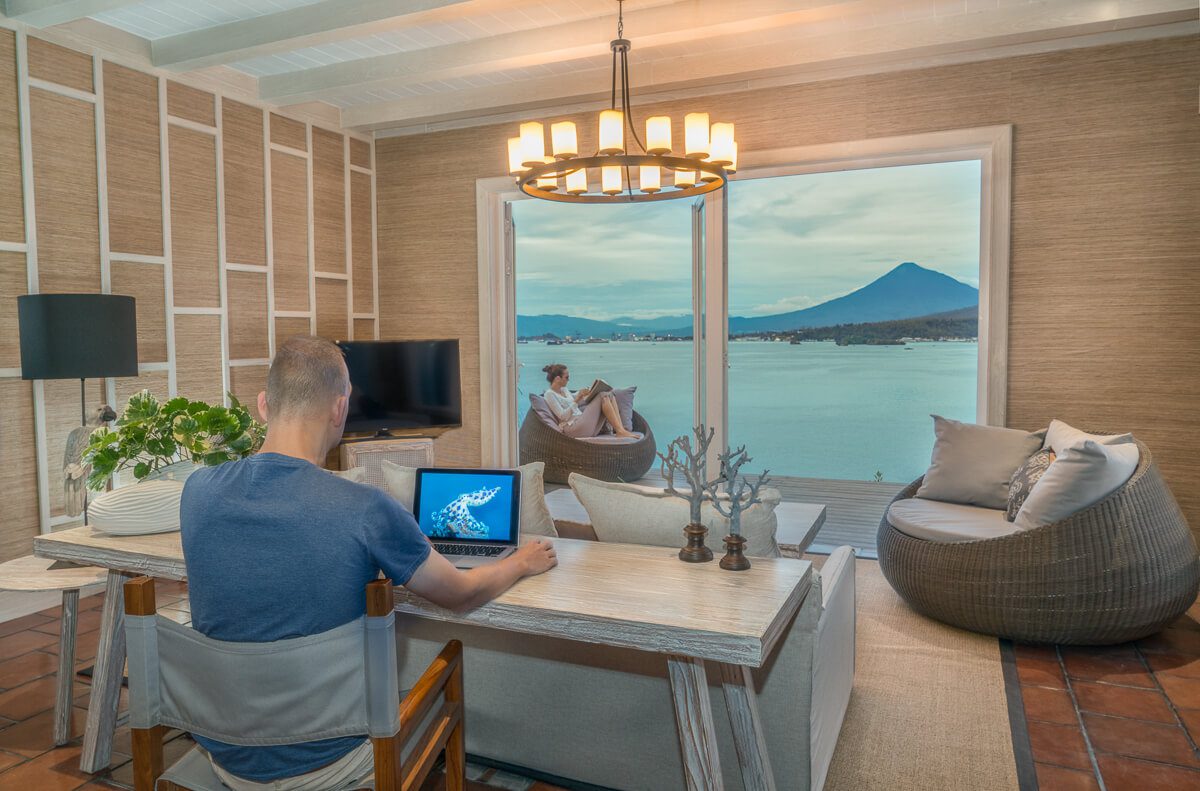 Staying at Lembeh Resort
Lembeh Resort's secluded location on Lembeh Island ensures you enjoy an exclusive and relaxing stay. Tropical gardens, incredible wildlife and exotic flora form a natural backdrop while luxury and elegance come as standard.
Experience the warm hospitality, tropical beauty and unique wonders of this tasteful home away from home in Lembeh. Your expectations will not only be met, they will be exceeded.
We offer three accommodation options (Garden View Rooms, Luxury Cottages and the Cliffside Suite). All accommodation is full board with three exquisite meals a day including a la carte dining in the evenings. Our team of professional chefs can cater for special dietary requirements and requests.
Stay with us at Lembeh Resort, discover the wildlife of North Sulawesi and experience Lembeh with a touch of luxury.