Online UW Photography and Editing Courses with James Emery
Photo Pro James Emery
Our in-house Photo Pro, James Emery, is renowned for his clear and comprehensive delivery of underwater photography and editing courses. At Lembeh Resort, James conducts one-on-one courses for all levels of photographers, across a range of topics as well as tailor-made courses to match individual requests.
Due to COVID19 lockdown, James is now offering the same high quality one-on-one courses online. There is no better time to develop your editing skills or learn a new shooting style than now! Through his online classroom, with screen sharing available, James will guide you through the skills and techniques that you most want to master as well as providing invaluable insight into your chosen photo editing software.
UK born, James has been working in the field of underwater imaging since 2011 when he began shooting underwater videos in Koh Tao, Thailand. Since then, James has been actively shooting underwater images and videos in Thailand, the Philippines and the Maldives before joining our team in Lembeh in 2019.
James's images have featured in numerous publications including Dive Magazine UK, Wetpixel, UWP Mag and TDI training manuals. James's short documentary "200 Sharks" has been exhibited in film festivals around the UK.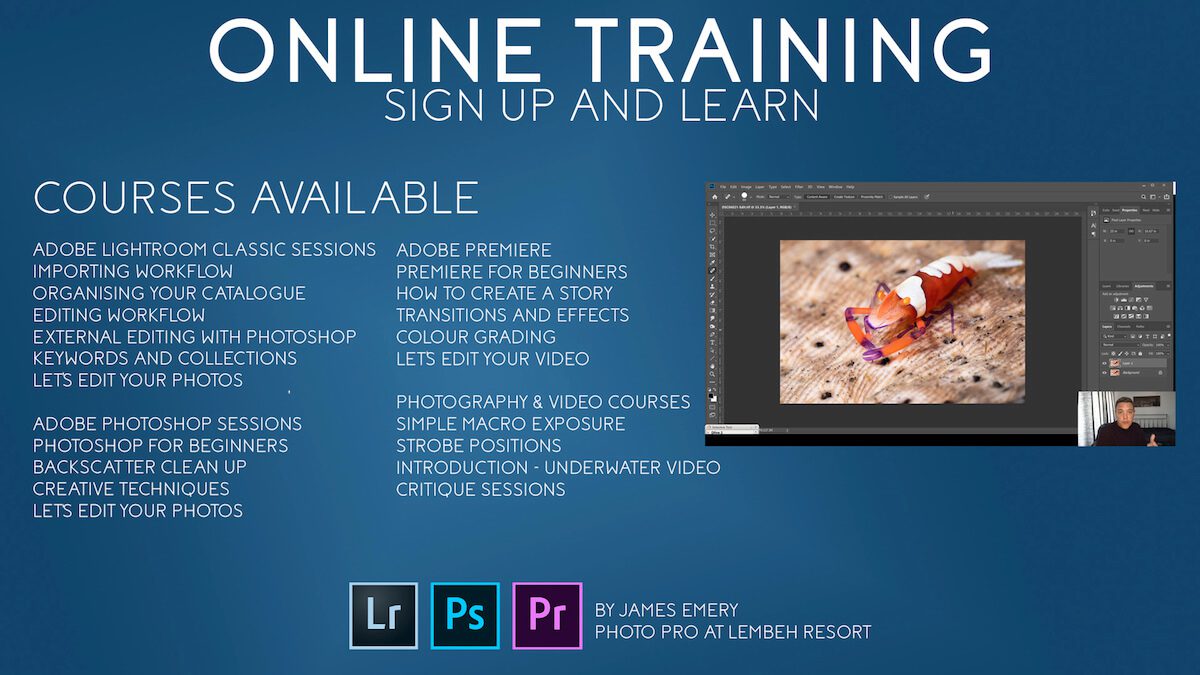 Why not treat yourself to a weekly tutorial and hone a range of photography and editing skills before your next dive trip?
All courses are 1 hour (extensions and follow up sessions are available upon request) and US $80, payable via PayPal.
If you'd like to make a booking for an online training course with James, or to discuss your personal requirements for a tailormade course, contact James by email at: [email protected] 
Online courses are taught using Zoom which can be downloaded here.
James Emery's Lembeh Strait Portfolio