Steve Fish – A Tribute
We are extremely saddened by the recent passing of Steve Fish who was the Photo Pro at Lembeh Resort from 2010 – 2013. Some of you may recall that Steve also returned to Lembeh Resort as one of the Photo Pros for our Capturing Critters in Lembeh Underwater Photography Workshop in 2016 and again in 2018. Steve was a dedicated underwater and nature photographer who we shared many happy moments with. Steve's passion for the Lembeh Strait was contagious and he left a lasting impression on many of our staff and guests.
Steve strongly believed in developing people and giving them opportunities for progression, with that in mind he set about training our Dive Guides in underwater photography with unrivalled enthusiasm. For many of our Dive Guides this was an opportunity beyond what they could have ever hoped for.
Here are a few of our teams' memories of Steve…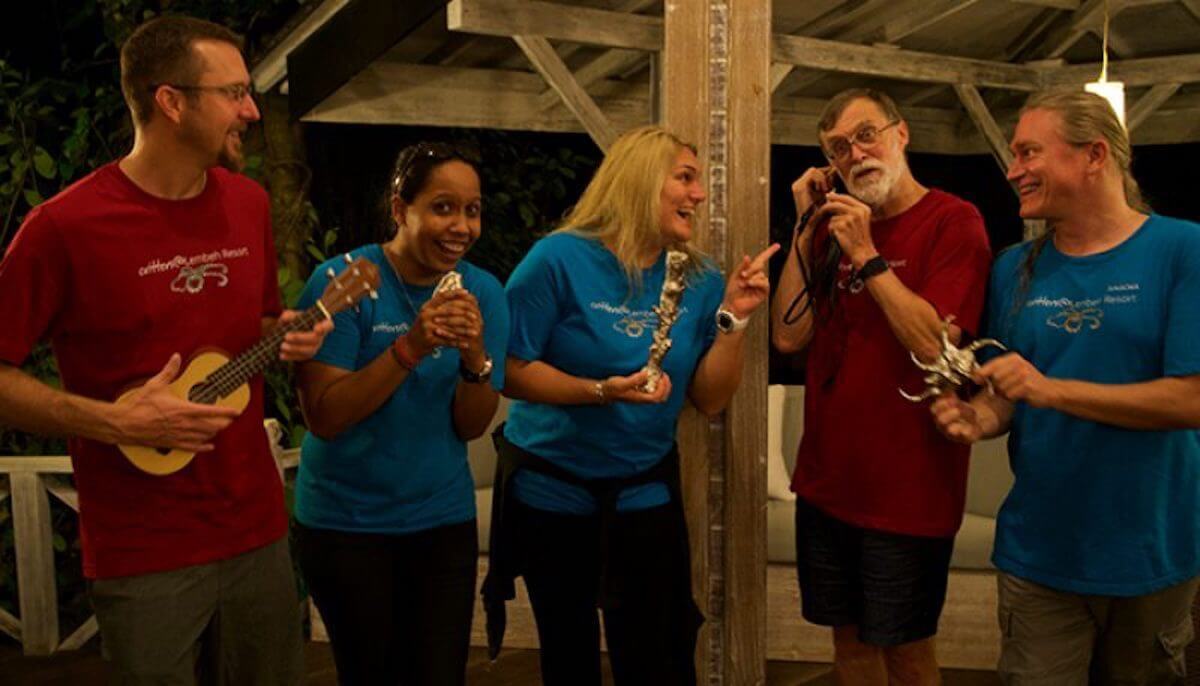 Danny Charlton (Co-owner Critters at Lembeh Resort)
"Steve was an amazing man. Herg & Kerri were instrumental in Steve working at Lembeh. Hergen said if Steve can't fix something, throw it out. No truer words spoken. His dedication to our dive crew will forever be remembered.  My kids would bring stuff to his office, "Uncle Steve can you fix this?".  As a family we loved watching his videos and looked forward to receiving Steve's next link from wherever in the world he was shooting. Two or three of our family Christmas photos were shot by Steve.  His video to help stop fish bombing in Buyat was exceedingly helpful.  His "Stop the Illegal Mine on Bangka" video opened the eyes of many dingdongs who thought the mine was a good idea. I loved how between the 1st & 2nd dives in the Lembeh Steve would call his mom – everyday. Amazing.  It was a privilege to have Steve spend 3 years working with us and an honor to be his friend. He's going to be missed big time by all who knew him and especially by myself, Angelique and our family".
During Steve's time in the Lembeh Strait he showed an unrivalled passion for the marine life of Lembeh, diving, underwater photography and videography. No where was this better portrayed than in his famous 300 Strait Days video. Steve undertook to dive every single day for 300 consecutive days and the video is a compilation of a few seconds from each day. This was just one of many examples of Steve's dedication, creativity and passion for nature.
300 Strait Days by Steve Fish
Dimpy Jacobs (Marine Biologist)
"Steve was my first underwater photography guru and I remember his patience and how my images developed under his guidance. He will always be remembered for telling us all to "get closer" and inspiring us to be good photographers with good buoyancy. Our memories of Steve are unforgettable and he will always be our legendary photography guru. Thank you so much Steve for all that you taught us, you will always be in our memories".
Julia Sangi (Marketing Cordinator):
"Steve had so much knowledge that he shared with our team and his videos of the Lembeh Strait are still used today. Steve was passionate about underwater photography and will be very much missed by all of us. Steve was a lot of fun and we will always remember his humor and him telling us that the three most important things to remember in underwater photography are:
Get Closer
Get Closer
Get Closer!"
Get Closer with Steve Fish
Abner Mangole (Dive Center Supervisor)
"Steve was my first underwater photography teacher and he was so full of knowledge and passionate about sharing it with us. We were very lucky to have Steve on our team, he was a lot of fun and we will miss him".
Opo Sedang (Dive Guide)
"I am very proud that I learned underwater photography from Steve. He taught me so much and made me a better photographer. Thanks to his early lessons I have won the calendar photography competition four times – thank you Steve for your guidance and suppport – we will miss you".
Get The Gear with Steve & Hergen
Andrew Raak (Photo Pro)
"I remember how laid-back Steve always was when I worked with him at the Capturing Critters in Lembeh Underwater Photography Workshop in 2016. Even when everything around him was hectic, he always seemed so calm and never lost his cool. I remember how he joked about wearing his tuxteedo to his son's wedding!!!"
One thing is for sure and that is that Steve left a lasting impression on everyone he met and he will be deeply missed by all of us at Lembeh Resort. If you'd like to share a memory of your time with Steve please do so on our Facebook post – we are sure his family will appreciate it.
Our thoughts and condolences go out to Steve's mother and son at this time.