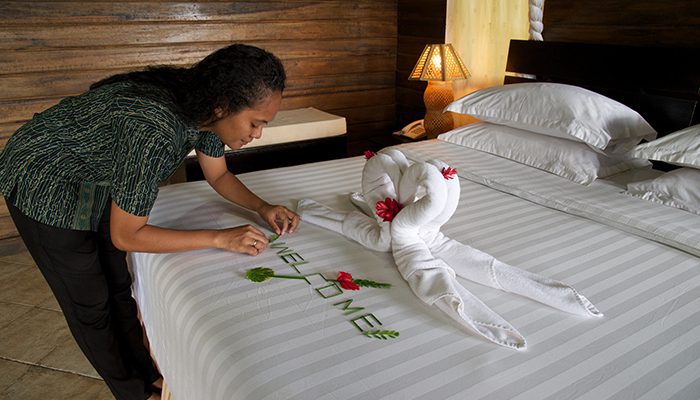 Little Details at Lembeh Resort
Lembeh Resort is not just about diving and accommodation, we believe in delivering you the best dive resort experience possible. From the moment you are greeted at the airport to when we wish you farewell we aim to anticipate and take care of your every need. Here are just a few of the "little extras" which make Lembeh Resort such a special place to stay.
Your Welcome: Our staff will be ready to meet you at the airport, either if you will arrive at day or at night you'll be greeted with warmhearted smile, a refreshing face towel and a cold drink. Needless to say your luggage will be taken from you and you won't need to carry another bag for the rest of your stay. You'll be taken directly to our private jetty away from the crowds and brought directly to the resort on one of our comfortable transfer-boats.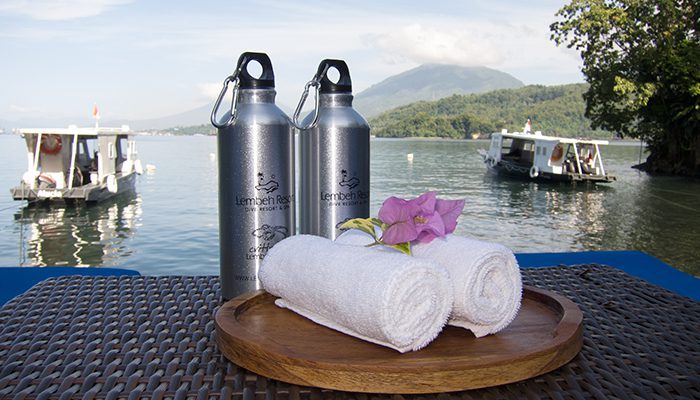 ---
Your Accommodation: Every guest room is serviced daily while you are diving to minimize any inconvenience and each evening while you are dining your room will be turned down, outside lighting turned on for when you return after dinner and our staff leave you a small daily gift from Lembeh. To ensure you have a comfortable nights sleep you can choose between three different pillow types according to your preference.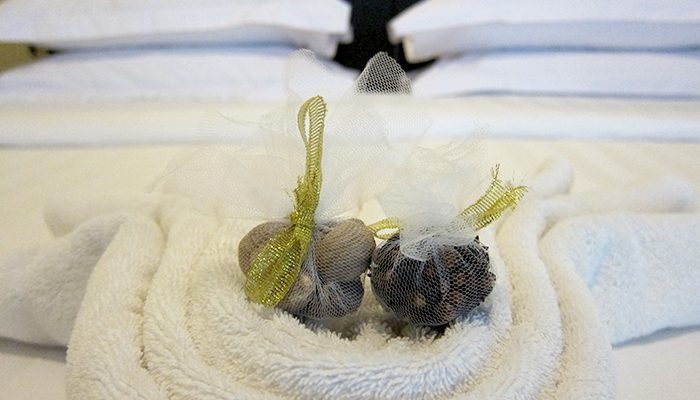 ---
Dining: We understand that dining is an important part of your experience and we can cater to any special requirements or preferences you have. Our meals are prepared using home grown, fresh herbs and spices to deliver authentic flavors. In addition to three beautiful meals a day you can also enjoy delicious made to order snacks and treats at the pool bar between your dives.
---
Environment: We pride ourselves on protecting the environment so you'll receive a complementary Lembeh Resort aluminium water bottle to use during your stay and to take home with you as a small souvenir from your stay with us. If you choose to try one of our beautiful cocktails you'll find they are served with stylish glass drinking straws so you can enjoy your drink plastic free.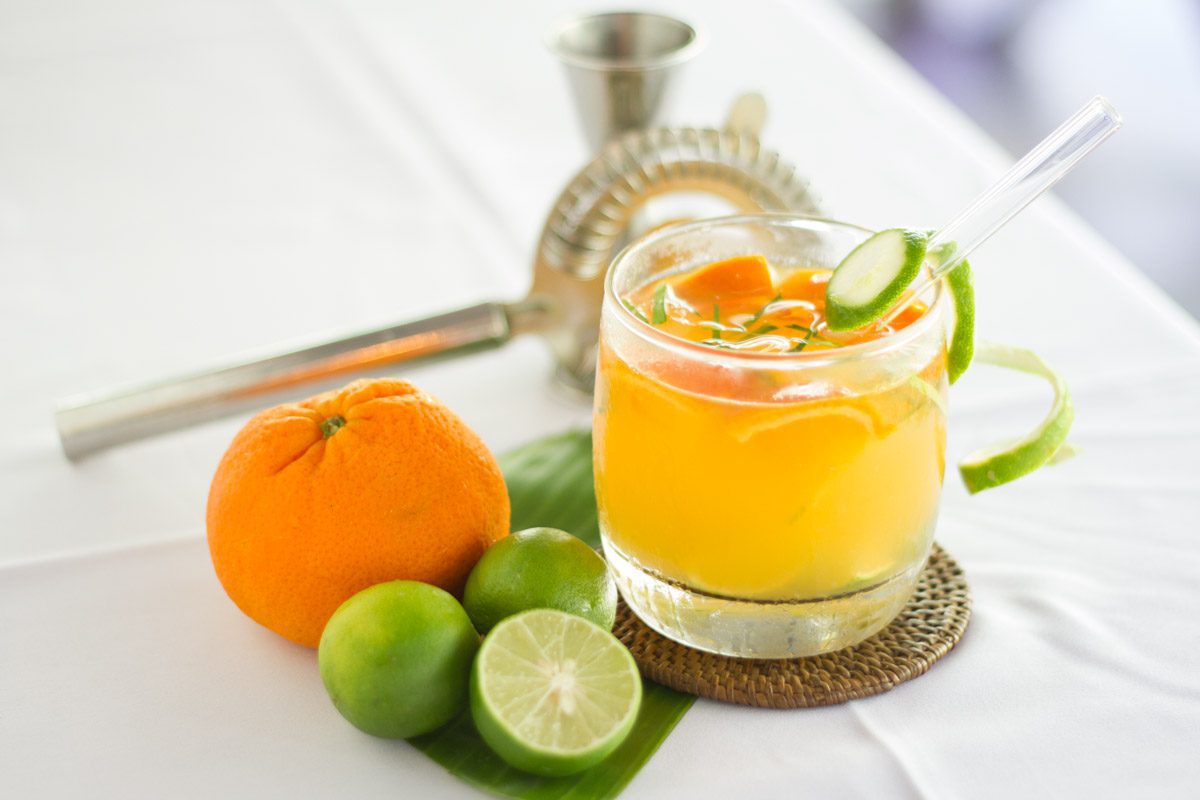 ---
Your Diving: Our small dive-guide to guest ratio of 4:1 means that you won't ever feel crowded underwater and if you'd prefer an even more personalized experience we offer Private Guide and Private Boat options in our packages. With our electable Private Boat services you can dive when you want, where you want for as long as you want – your private boat crew and dive guide will be on standby whenever you would like to go for a dip in the weird and wonderful Lembeh Strait.
---
Your Equipment: Each time you board one of our dive boats you'll find that your equipment is already on board and assembled for you. We only ask that you check it prior to diving; no carrying, no tank changing, no effort – that's all on us. After diving our crew will carefully rinse your equipment and hang it to dry in your private locker.
---
Your Photography: We understand how important your camera equipment is to you and that's why we provide a camera room with individual work stations, power points, towels, drying tank and enough space for each diver to store their spare batteries, strobes and accessories. If you'd like to develop your skills, try new accessories or need assistance and advice our [email protected] Resort facility is open daily and staffed by our full time Photo Pro.
Camera Room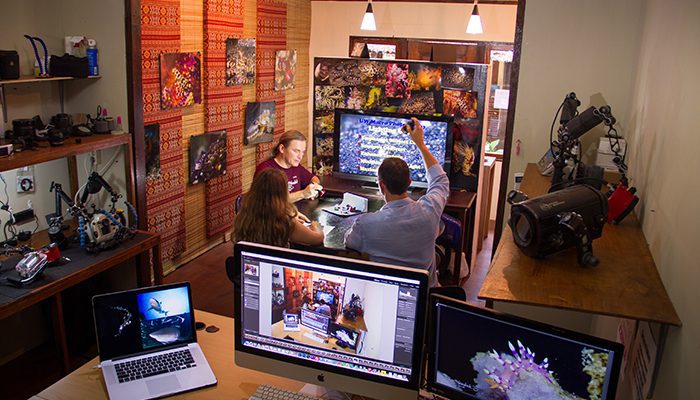 [email protected] Resort
---
Our Passion: Just like you, our passion is for diving and our team also includes a full time Marine Biologist who trains all of our Dive Guides. We also love to share our knowledge of the unique marine life of the Lembeh Strait through informative evening presentations.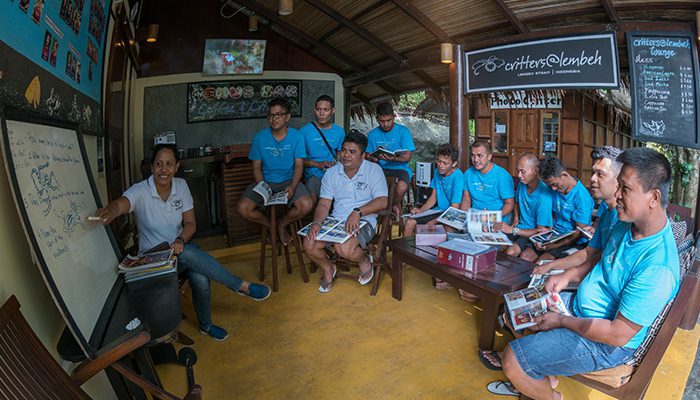 ---
The Cliffside Suite: If you'd prefer a more exclusive experience in Lembeh our Cliffside Suite offers 180 degree views of the Strait from your private pool. The Suite is staffed with your own personal Butler who is on call throughout your stay. You'll also receive a complementary bottle of wine and first mini-bar, complementary spa treatment of your choosing, cookies and fresh tropical fruits.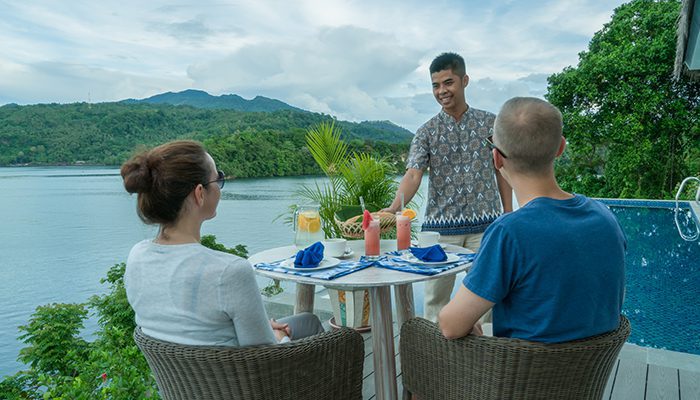 Nothing is more important to us at Lembeh Resort than your experience and enjoyment. If you have any requests or requirements we will do our best to make sure that they are not only met but that they are exceeded, that's why we believe so many of our guests return to us year after year. We hope that you will be one of them too.
We are looking forward to welcoming you to North Sulawesi soon!

If you'd like to book your stay or make an enquiry contact us at [email protected]