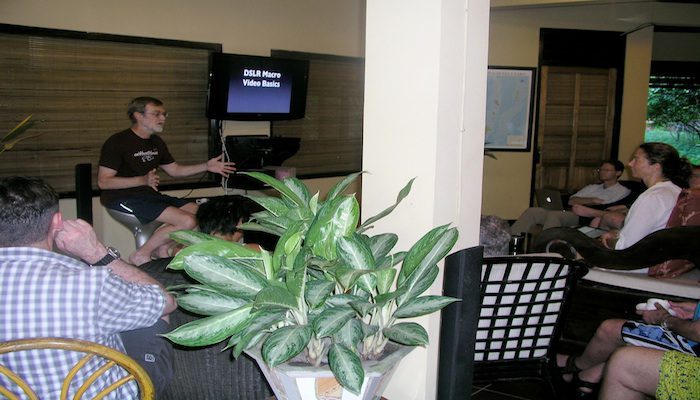 What's Happening On Day Three of 'Capturing Critters @ Lembeh'
Day 3 of the "Capturing Critters @ Lembeh" Photography Workshop has started off with a bang! After a great morning seminar by Steve Fish on DSLR Macro Video Basics, participant Hugh Ross was able to put what he learned into immediate and spectacular use: on his first morning dive he was lucky enough to get video footage of flamboyant cuttlefish babies hatching from their eggs!
Other highlights of this morning's dives included TWO species of hairy frogfishes, numerous seahorses, a large, adult flamboyant cuttlefish (mother of the babies perhaps?), a coconut octopus, and a tiny juvenile painted frogfish.
This afternoon Ethan Daniels conducted a seminar on macro photography lighting and gave participants ideas on how to improve image quality with tips for correct strobe positioning and answering questions about difficult-to-light subjects.
Yesterday evening's Office Hours session with Ethan Daniels and Steve Fish was busy and productive with participants getting some one-on-one help with their camera questions. Several workshop participants also submitted images for the first after dinner Critique Session where everyone was able to benefit from the helpful hints and ideas for improvement given by Steve, Ethan, Carlos and Doug.
This evening, guests will be going out for a mandarin fish dive, and Carlos and Doug will host the evening Office Hours session.
The combination of amazing critters, expert help and enthusiastic photographers means we're getting some exceptional images and video footage.  Stay tuned!