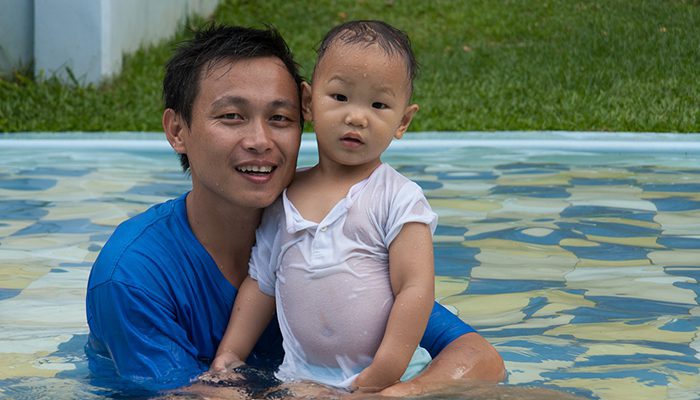 Behind The Scene: November Employee of The Month
Congratulations to our Employee of the Month for October, Roy Pelealu.
Roy works at the Front Office and is always ready to help the guests or his team. He lives right across Lembeh Strait in Bitung and is very attached to his beautiful family. Roy has a small son and daughter that joined him on the Lembeh Resort family day this year, as you can see in this photo. Originally working as Human Resource Manager at a Palm Plantation Roy was very happy to change jobs and work in tourism. He may be a bit shy but he does enjoy meeting different people. "I am very happy to work at Lembeh Resort where I can interact with people from around the world and also learn many new things and especially improve my English level to be able to speak with the guests more fluently.
In his free time Roy enjoys team sports such as volleyball and he is a very talented artist (like his father). Several of his drawings were chosen by the guests for our 2014 calendar that features [email protected] dive guides' photos and drawings from all the staff.  He has tried Scuba Diving in the pool and hopefully will soon try in the ocean to closely observe the critters he draws so well.
We appreciate Roy's sense of responsibility, strong work ethic, positive attitude and punctuality. Most of all we would like to thank Roy for being such a good team player!