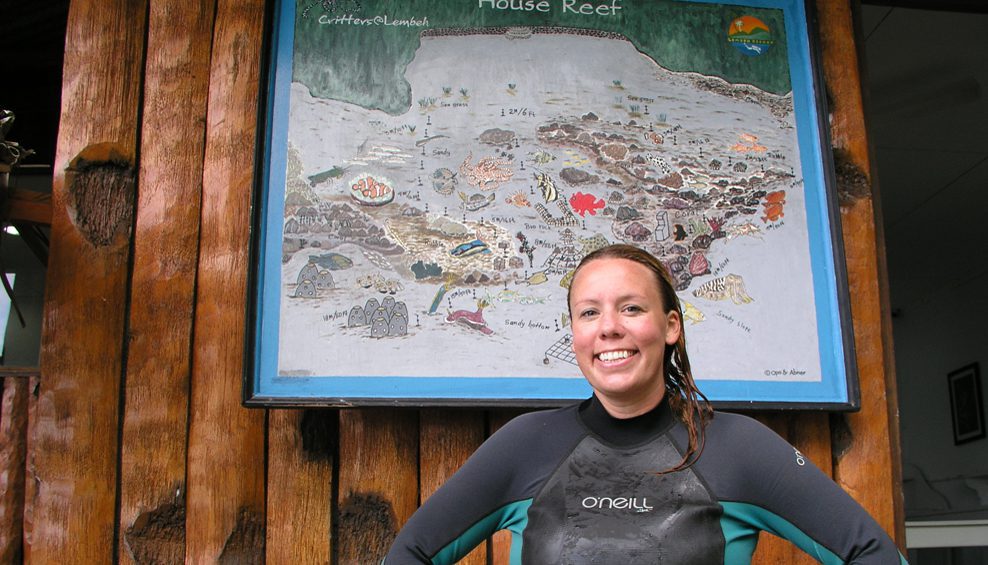 Electric Clam Dive Research
We are very excited to welcome Lindsey Dougherty  to Lembeh Resort.  Lindsay was here before as a volunteer in 2010 and now she is back to do some diving research on the light display of the 'disco clam' or 'electric file clam'.  Lindsay was researching this subject in Australia and now she is conducting further studies here in Lembeh.  We wish her success in her studies!  She will also be doing a short presentation for our in-house guests about the electric file clam, so we're all looking forward to learning more about this amazing critter.
Here's a little information about how Lindsey came to dive with us:
I first visited Lembeh resort in 2010 as a volunteer for a research project on artificial reef systems through the University of Colorado, Boulder. I studied the house reef, which is a phenomenal example of efforts to restore habitats through various artificial mediums. Aside from the obvious draws of Lembeh – including fascinating fauna that is both unique and often endemic, I chose to return to Lembeh to conduct research because of the incredible knowledge and helpfulness of the staff, including their marine biologist, Dimpy Jacobs. I am currently a PhD student at the University of California, Berkeley, in the lab of Dr. Roy Caldwell. I study the light display of the "disco clam", or "electric file clam". My first year and a half of work has focused on how the light display works – including electron microscopy, high-speed video, spectrometry, particle modeling and elemental analysis. My work at Lembeh will be an attempt to learn more about why the clams do this particular display – is it to attract phototaxic prey? To deter predators? To lure in potential mates or juveniles to settle nearby? There is very little known about the life history of these bivalves, and with the help of Dimpy and the knowledge of the divemasters, I hope to find out more about their behavior through observation, time-lapse video, water analysis, transects and intra/interspecfic interactions. I feel very fortunate to be returning to Lembeh, and applaud their dedication to research. After all – it's difficult to protect and preserve what we don't understand. As for why the clams flash – stay tuned!