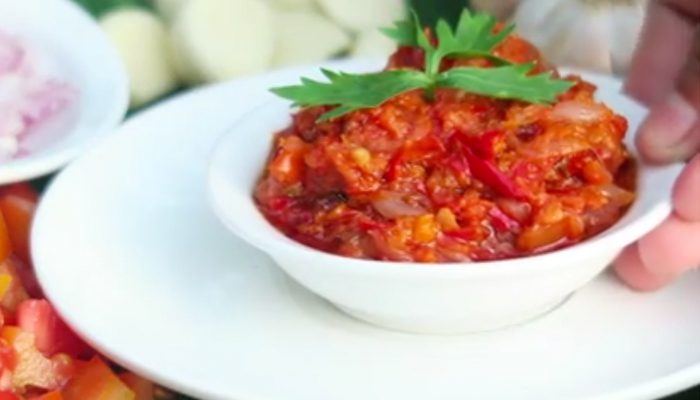 How to Make Dabu Dabu Goreng
At Lembeh Resort no meal is served without the quintessential Indonesian sambal, the Dabu Dabu Goreng. Indonesians and especially the people of North Sulawesi love spicy food. At our restaurant the dishes are adjusted to suit the western palate but should you want for an extra kick of spiciness then you will always find a bowl of Dabu Dabu Goreng on your table.
Made with copious amounts of chili, ginger, garlic and candlenuts this fried chili sauce is a powerhouse of taste, perfect as a marinade for pork ribs, as a topping on a fresh fillet of tuna or even as a simple sauce for steamed white rice.
The Dabu Dabu Goreng is a fried chili sauce and is relatively easy to make, it can also easily be adjusted to different levels of spiciness, the basic recipe for a spicy-very spicy Dabu Dabu can be found here:
Ingredients:
1 x 5-7 cm piece of ginger
4 x Cloves of garlic
15 x large mild chilies
2-10 x birdseye chillies (adjust according to preference of spiciness)
4 x Candle Nuts (can be replaced with macadamia)
1 x teaspoon salt
3 x tablespoons vegetable oil for frying
75 gr shallots (sliced)
3 x Ripe tomatoes (diced)
1 x tablespoon sugar
Add ginger, garlic, chili, candle nuts and salt to a pestle and mortar, pound until it turns into a uniform paste. Put a pan over medium heat, add the vegetable oil and fry the shallots until translucent, add tomatoes and fry under constant stirring for 3-5min until combined. Add the spice paste and sugar, fry for another 5min while stirring the pan to ensure that it doesn't burn.
Now enjoy with your favorite Indonesian food!