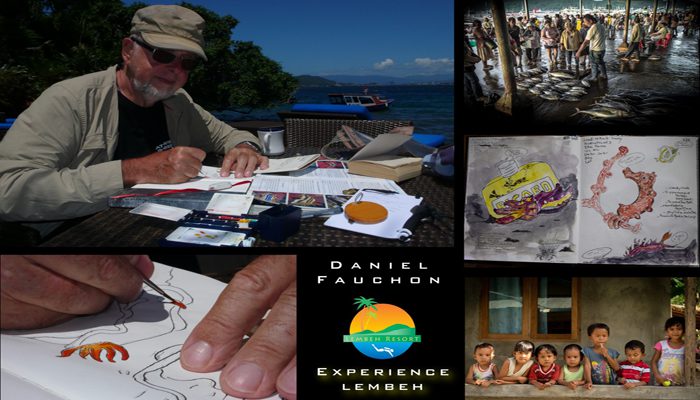 Images and Art
We were very happy to welcome Daniel Fauchon back to Lembeh Resort. He last visited us in August 2013 and came back this year for more adventures. Daniel is a professional photographer but under water he enjoys and observes the critters. Keeping the picture in his mind Dauniel says "I replaced it (underwater photography) with drawings. My logbook is converted to travel book and sketchbook. Each dive is represented by the strongest image on my mind".
Besides the wonderful critter dives Daniel likes to explore the local villages and markets, have a look at some of his amazing photos below. Daniel particularly enjoyed the Bitung Market tour, photographing the fishing boats that arrive at the dock at sunrise, observing and photographing people at the busy vegetables market.
"This is my second visit to this place but not the last. Apart from diving Ana introduced me to the neighboring villages and the markets selling fish, vegetables and fruits. Then I gave up pencils and brushes to use my camera … A real treat."
You can join Daniel on one of his photography workshop trips both in France and Morocco. Have a look at his amazing website for more information and photos.
"J'ai du attendre 60 ans et la Guadeloupe pour commencer la plongée. En 11 ans j'en ai fait prêt de 500, 475 pour être plus précis. J'ai plongé en Guadeloupe aux Saintes, en Martinique, en Dominique, en Méditerranée en Corse, à Bali, dans les Visayas, en Egypte, en Indonésie. En dehors de la Guadeloupe où j'ai des amis de longues dates je n'ai jamais rencontré une qualité et un accueil comme au Lembeh Resort. Un service hors norme 4 étoiles et plus. Entre l'hébergement, la restauration, la qualité de service, des plongées et des guides, c'est un véritable bonheur. C'est mon deuxième séjour. La première fois c'était en 2013. Ana et Miguel étaient là depuis environ 6 mois. Les amis qui m'avaient conduis en ce lieux m'avaient dis tu verras l'on plonge dans une poubelle… J'étai fort inquiet ! Mais quelle poubelle. Certes sur le sable noir sont jonchés des bouteilles, de vieux pneus des boîtes de conserve… Mais quelle richesse. Si en grande partie la flore est remplacée par des détritus, la faune, souvent microscopique, est exceptionnelle, un pure émerveillement, un paradis pour les photographes. Personnellement j'ai renoncé à la photographie sous-marine, le terrestre me suffit. J'ai remplacé cette dernière par le dessin. Mon carnet de plongée s'est transformé en carnet de voyages. Chaque plongée est représentée par son point fort; l'image qui m'a le plus marqué. C'est mon deuxième séjour en ce lieu mais pas le dernier. En dehors de la plongée Ana m'a fait découvrir les villages avoisinants, les marchés aux poissons, aux légumes et aux fruits, la gentillesse de la population, toujours souriante. Là, j'ai abandonné les crayons et les pinceaux pour reprendre mon appareil photo… Un véritable régal. La plus grande difficulté ne fut pas de photographier mais de ne pas photographier. Dans une rue, un marché, vous photographiez une, deux personnes, vous êtes aussitôt sollicité photographier tout le village… Merci le numérique. Si  le dessin est un hobby, la photographie est pour moi une passion. Comme Obelix pour la potion magique, je suis tombé dedans tout petit. Pendant plus de 45 ans ce fut mon métier, où j'ai eu la chance de collaborer en tant que free lance avec les plus grands magasines et agences internationales de publicité. Sans parler un seul mot d'anglais, j'ai travaillé pour les USA, la Russie, la République Tchèque, la Pologne, l'Allemagne, la Hongrie, l'Italie, l'Espagne, le Portugal, le Japon. Maintenant entre mes plongée et la photographie animalière j'organise des voyages et stages photos tant en France qu'au Maroc. Pour revenir à Lembeh Resort, surtout n'en parlez pas à vos amis … Il faut savoir garder pour soi un petit coin de paradis."
About the Artist
Born in 1943, Daniel Fauchon at a young age dreamed of traveling  the world, curious about different societies and cultures. At 22, having had to give up his globe-trotter dream, he satisfies his curiosity by applying to multiple professions. He was successively locksmith, blacksmith, foundry, fitter, longshoreman, fisherman … before finding his way by devoting his professional life to photography and cinema advertising.
During his career as a freelance photographer for over thirty years, he answers the call of many monthly seeking talent: Marie Claire, Cosmopolitan, Your Beauty, Marie-France, Gault et Millau, etc. In commercial photography, he signed a large number of images for national campaigns, display and release, bringing its cases, objectives, and above his eye serving majors and leading brands: Sony, Marie Brizard, 1664 Remy Martin, Lactel, canes, Bonne Maman, Pentax, Peugeot …
Today it is back to the origins, the source of his passion, his childhood dream: "the encounter with the other." What he calls the "humanistic photography" allows it to bind these moments for posterity.
[postgallery_grid content="image" lightbox="yes" slidesetid="2014_Aug_Daniel_Fauchon" id="10″ imageeffect="reflection" imgheight="100″ imgwidth="200″ height="150″ /]